Kingdom Dynamics Bookstore will host a book signing featuring Joy Lister Sticca.
Marketing Manager for the bookstore Chantel Simons said, "On Thursday, November 21, Kingdom Dynamics Bookstore at the First Church of God on North Shore Road will host a book signing for Joy Lister Sticca on Sunday, November 24 after the church service.
"Joy purposefully illustrates in her book that it is her faith in God that allowed her to victoriously overcome the many struggles, challenges, heartaches, and losses she experienced.
"As her relationship with the Lord deepened through the years, the Holy Spirit opened her eyes to see Him and His directions through numerous ways: scripture, nature, gardening, circumstances, music, people, the ocean, travel, relationships, and even meal preparation.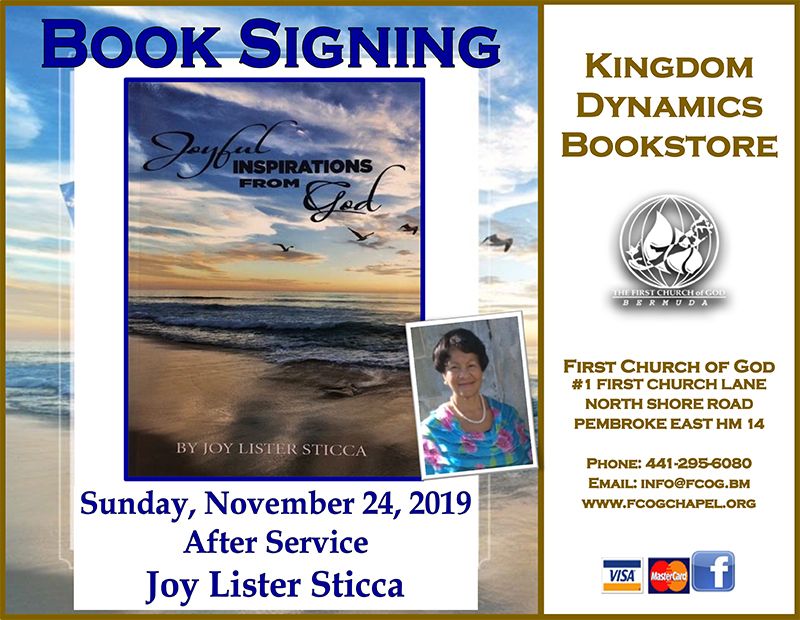 "Writing and spelling were never my academic areas of strength in school. I struggled. But I found comfort in recording my thoughts and feelings about my life's journey in my journals. It didn't matter if I misspelled a word, or a sentence wasn't grammatically correct. I never intended to write a book based on my journaling," Joy Lister Sticca notes.
"However, after sharing some of my stories with two dear friends, Gail Correia and Dr. Audrey Toney, they encouraged me to write and publish the book, Joyful Inspirations from God."
Joy Lister Sticca's journey from journal to book started as she remembered James 1:17, "Every good gift and every perfect gift is from above, and comes down from the Father of lights, with whom there is no variation or shadow of turning. [NKJV]".
Ms. Simons said, "As Joy surveys her life, she remembers how her parents, the late James and Etoile Lister, never ceased praying for her. She knows their prayers, and never giving up on her led her to accept Jesus as her Lord and Saviour while she sat next to her Father's hospital bed almost 47 years ago. In memory of her parents and others who touched her life, Joy wanted to leave a legacy for future generations.
"Currently, people in 22 different parts of the world, including Europe, Asia, the Caribbean, Africa, Switzerland, Germany, the Philippines and various parts of the United States and Canada are enjoying Joyful Inspirations from God. Joy desires to bring hope to others experiencing similar trials in their lives. She firmly believes that God can use anyone to touch the lives of others.
"Join Kingdom Dynamics Bookstore at the First Church of God on Sunday, November 24 after service for a personal book signing by Joy Lister Sticca."

Read More About
Category: All