Some of Bermuda's soldiers praised the career opportunities at the Royal Bermuda Regiment as they celebrated their recent promotions.
They said the RBR offered the chance to develop themselves, network, and boost their chances in the job market, as well as providing a rewarding military experience and the opportunity to travel and gain extra qualifications.
Sergeant Joshua Dawson, 28, an auto technician at Pembroke's Auto Solutions, said his role in keeping the RBR moving as part of the Motor Transport section allowed him to gain wider experience in his trade.
Sgt Dawson, one of more than 20 soldiers promoted last week, added: "You get to work with all different types of people and situations you don't normally deal with – you get all sorts of skills and training.
The 21 soldiers promoted at a special parade at Warwick Camp last week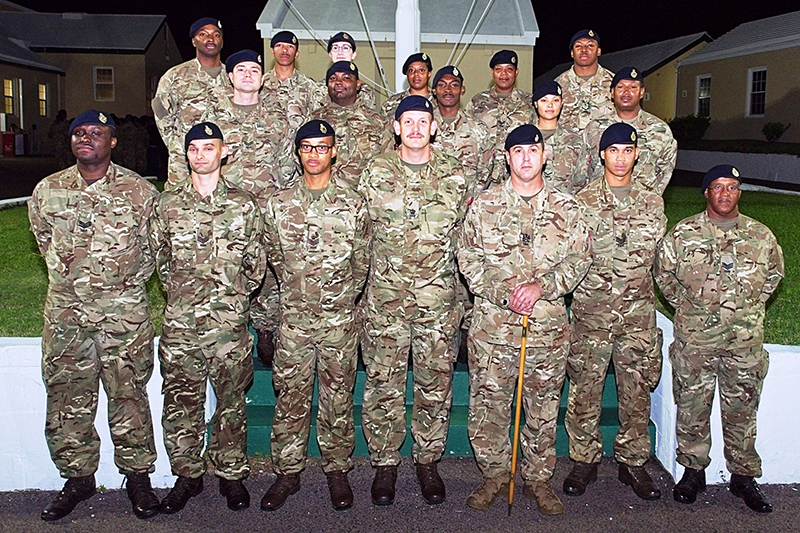 "I fix trucks, drive cars and have done driving on overseas trips. It's definitely helped me improve at work because the things I learned doing the trucks are things I wouldn't learn in my full-time job."
The six-year veteran, from Hamilton Parish, said: "I basically joined because I liked the lifestyle and structure. Going up through the ranks was something I enjoyed doing – it's about gaining responsibility and helping people.
"It's good to have someone of higher rank who's prepared to teach Privates, Lance Corporals and Corporals things and help them to progress too. I have no regrets.
"I have always thought about staying on long term with the possibility of a full-time position if one becomes available."
Sgt Dawson added the modern RBR had continued to develop over his six years of service and now had a more structured and academic approach to training.
He explained: "It's a lot more beneficial to people now because we're looking to teach people and improve people, not just as soldiers, but in terms of their character. People are enjoying it more and learning more."
Corporal Ariana Smith, 22, who works at the Bermuda National Library, said she was pleased to have reached her rank after just two years' service.
Cpl Smith, from Southampton, the clerk for the RBR's Junior Leaders programme, added: "I joined because I enjoy new experiences and learning new skills you can use elsewhere in life.
"I expected it to be really tough when I joined, although I didn't know too much about the modern Regiment. It was tough, but it wasn't as difficult as I'd been told by my father and grandfather, who were both in the Regiment.
"It's very different now – it's a lot more humane and I enjoy it very much."
Cpl Smith added: "It's definitely helped me with my organisation and time management. They've both improved and my discipline, when it comes to doing anything, projects or whatever, is much better."
She said: "I also enjoy the camaraderie – it's like a big, happy family. We all have our differences, but at the end of the day you put them aside and treat each other like family."
Lance Corporal Wayne Willis, originally from North Carolina and married to a Bermudian, said he was motivated by a desire to give back to the country and forge friendships after he moved to the island.
L/Cpl Willis, who has served for a year and was also just promoted, has transferred from the RBR's humanitarian aid and disaster relief specialists in B Company to the Regimental Police.
He said: "It's been a lot of fun and I've been able to meet a lot of people – good people. When I came here I didn't know anyone except my wife."
L/Cpl Willis, 31, who works at wholesalers Viking Food, added: "The RBR has sharpened my leadership skills and it's helped develop me – and the extra money helps. It comes in handy."
New Sergeant Luke Swan, 26, from Pembroke, was one of the last soldiers recruited under the old conscription system.
Sgt Swan admitted: "At the time, it sucked. But it was the camaraderie of the Regiment and the things you would never do in civilian life, the training, the weapons, that got me hooked.
"The camaraderie between troops of all ranks is what really keeps you there. I like the RBR. It's actually fun."
And – six years after he ran through the gates of Warwick Camp – he will be Training Company Sergeant for the RBR's next Recruit Camp, due to run from February 18-26 next year.
Sgt Swan said: "If someone had told me that six years ago, I would have said 'not a chance'. I didn't know what to expect when I joined, but it certainly wasn't being Recruit Camp Sergeant."
The 2018 Corporal of the Year, an insulator with BAC air conditioning, added: "I've learned a lot from the Army. You get so many different people and you have to learn to manage all these different personalities. I can also live in the field anywhere."
He added his military experience helped him in civilian life.
Sgt Swan said: "I find I'm always prepared to deal with any situations just through the years I've been in the Regiment.
"What I would say to my 19-year-old self would be 'take any opportunity in the RBR as it comes and to make the most of it'. At the time, I wasn't going to go away to school – I wanted to get a job. The Regiment became a good source of income. I had a job then, but it was a hustle."
Sgt Swan added: "If people have had trouble finding a job, social problems and can't find their way, the RBR will sort them out. We have so many resources, people from different backgrounds and you can create a huge social network.
"I know a lot of people who have been recommended for jobs based on their performance in the Regiment."
RBR soldiers are expected to complete 30 days of service a year, including a two week training camp, usually overseas, and regular nights and weekends and earn about $5000 in their first year. Further trade and leadership training, at home and overseas, is also available.

Read More About
Category: All