Millions of social media posts have been published relating to the death of George Floyd since he was killed by a policeman in Minneapolis on May 25, with a map released by The Economist highlighting the location of people making social media posts using the hashtag #GeorgeFloyd, including Bermuda.
A report in The Economist said, "His death inspired a movement in America, and may do so elsewhere too.
"It is easy to imagine a world in which the agony of George Floyd, a black man who was killed by a policeman in Minneapolis on May 25th, would have escaped public attention. More than 1,000 Americans die at the hands of police every year — many of them black and unarmed.
Graphic courtesy of The Economist: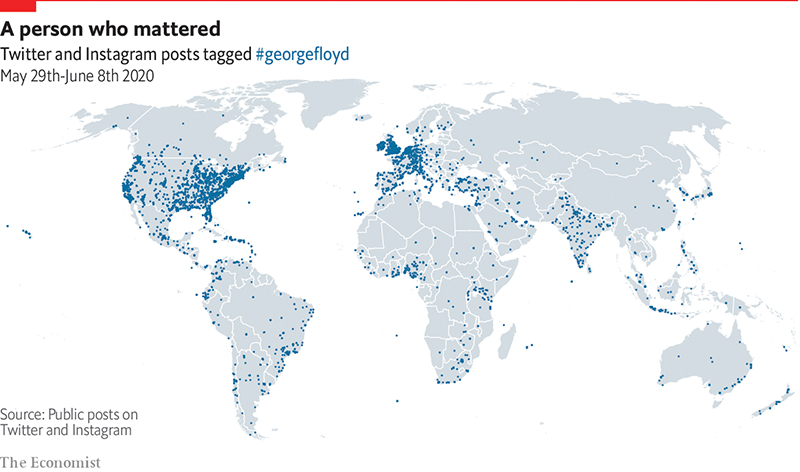 "In this sense, Mr Floyd's experience is not unusual. But after a video emerged of the policeman kneeling on Mr Floyd's neck, and was shared widely on social media, protests erupted first in Minneapolis, then across America and in cities worldwide.
"Millions of tweets and Instagram posts have been published with the hashtag #georgefloyd. On Instagram alone, #georgefloyd has been used 2.3m times since his death two weeks ago—already nearly as often as #metoo [2.5m times since October 2017], which became a global rallying cry against sexual harassment and abuse. [Twitter does not make comparable data available.]
You can read the full story here on The Economist.
Read More About
Category: All, technology