[Updated] The One Bermuda Alliance [OBA] announced that Vic Ball, who previously served as an OBA Senator, will be their candidate in the upcoming by-election for Constituency #9 Smith's West.
The by-election has been prompted by the resignation of OBA MP Trevor Moniz, who was elected to the House of Assembly 27 years ago, with the veteran MP announcing on August 3rd that he will be retiring from politics.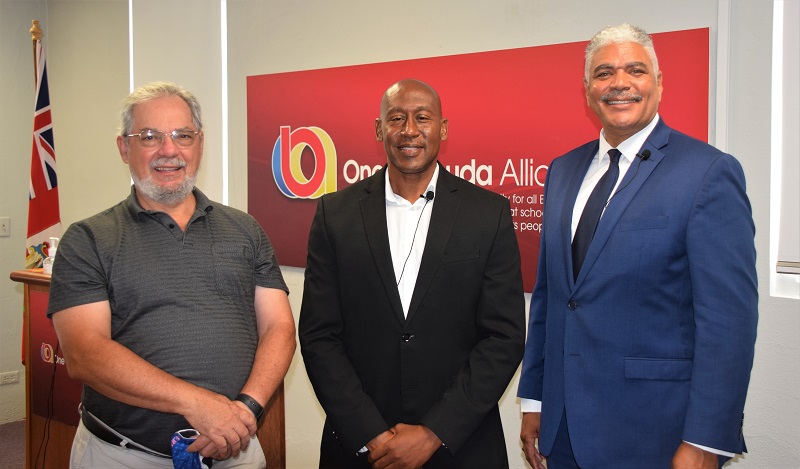 Mr Moniz has won the seat with 56% to 66% of the vote since the single seat system was started. In the 2017 election, Mr Moniz won 57.14% [540 votes] against the PLP's Vance Campbell who received 42.86% [405 votes], and in the 2012 election, Mr Moniz won 66.18% [595 votes] of the vote against the PLP's Vance Campbell who received 33.82% [304 votes]
In the 2007 General Election Mr Moniz [under the UBP] won 58.63% of the vote vs the PLP's Larry Mussenden [506-357], and in the 2003 General Election, Mr Moniz won with 56.39% of the vote against the PLP's Scott Simmons who received 43.61%.
The PLP, who currently hold a 25 t0 11 majority in the House of Assembly, have not yet announced their candidate and the date of the by-election has not yet been set.
The press conference has just concluded and we will update with more information and photos as able, and in the meantime the live video replay is below, we had a poor connection so the stream quality is dubious at best, apologies!
Update: OBA Leader Craig Cannonier's statement:
Good day Bermuda, good day members of the media.

Earlier this week, Trevor Moniz announced his decision to step away from politics and retire as an MP.

Trevor served his constituents and the people of Bermuda for 27 years – an incredible achievement which speaks volumes for the respect he enjoyed.

We will miss Trevor and I wish him the very best in his retirement.

Now we must look forward.

We must look to who will carry the baton – who will give their all to make Bermuda a better place for everyone.

I am delighted to announce today that Vic Ball, a former One Bermuda Alliance Senator and a well-known businessman, has accepted my invitation to stand as the OBA candidate in Smith's West.

Vic is an outstanding candidate. Serving as a Senator means he already has a wealth of political experience and running a business means he understands what it takes to get Bermuda's economy growing.

I know he will do an excellent job representing the constituents of Smith's West and I know he will do an excellent job helping to hold this Government to account.

Bermuda, we are on a cliff edge.

Prior to Covid-19, Bermuda's economy and Bermudians' livelihoods were getting worse.

Retail sales were in a tailspin. Gross Domestic Product – a key indicator of the health of the economy – was falling and was only sustained by projects conceived under the OBA which are now coming to an end.

In December 2017, the Premier said in an interview, 'the first target is to get a balanced budget.' We heard promises of scores of fintech jobs and millions of dollars in investment. We heard of plans for a fintech hub.

What have we got?

While Bermudians have suffered under the weight of new and increased taxes, the Premier increased the size of the Cabinet payroll.

How did the sugar tax affect your grocery bills? Did you know that the PLP's increased foreign currency purchase tax actually put prices of almost everything up?

No-one could have predicted Covid-19, but post Covid-19 there is no discernible economic recovery plan.

Let's be clear – Covid-19 was not the cause of death for businesses. Covid was the coffin. Think about the dramatic fall in retail sales volumes – Covid did not cause that.

Here are three things that could be done:

1. Grow the resident population.

This is what the Premier said in December 2017 'we will grow this economy and the way we will grow the economy is by having more people living and working in Bermuda.'

He believes in growing the resident population as do we – being mindful of putting Bermudians first wherever possible. Yet this had not happened

2. Use the $100 million infrastructure fund to invest in capital projects to kick start the economy

We are told the money is there, so let's put it to good use. Let's invest in some capital projects to help kick-start the economy.

3. Lower taxes. We need to put more money into people's pockets so they will spend more.

When the One Bermuda Alliance was in Government, we had a clear plan and that plan was working. We had inward investment creating new jobs and wealth and we were on course for a balanced budget.

Bermuda, this Government needs to be held accountable.

They have had 18 years to fix things. If there are legacy issues today, it is due to the PLP's inaction. The PLP has run out of excuses.

There is work to be done. The OBA will do that work. It will move the country forward and will give all Bermudians hope.

Thank you.
Vic Ball's statement:
Good Day Bermuda,

I would like to think of today as exactly that, a good day. Let me begin by thanking my immediate predecessor. Trevor Moniz has served Smith's Parish including constituency 9 for twenty-seven [27] years and for that we are all grateful.

I would also like to express gratitude to him for making this an easy transition. I must also thank the leader of the One Bermuda Alliance, Craig Cannonier, for the opportunity to run in this constituency.

I would especially like to acknowledge the people of Constituency 9 for the enthusiastic welcome I have received thus far. I look forward to earning your trust to represent you to the best of my ability in the constituency, the broader political arena as well as in the House of Assembly with your support.

I initiated this speech by saying it is a good day. Like many of you sitting on the sidelines of politics and observing what is going on it is abundantly clear that things are going wrong for our country.

Today, I step forward to do more than simply analyze, evaluate and criticize the Government from the sidelines.

In recent years, Bermuda has been undergoing drastic changes.

There are few, if any, among us would say these changes are for the better.

Almost every living adult can remember when our standard of living was higher, and we were more hopeful and optimistic about the future.

We remember when our major challenge was to preserve and distribute more evenly what we have rather than constantly losing what we had.

Of course, the PLP would love to blame COVID-19. But we all know that all COVID-19 has done is to catch us in a downward spiral making a bad situation much worse.

We had no plan to improve the situation before and presently we still do not have a plan.

Bermuda, we can feel that what we had is steadily slipping away. It is harder and harder to make ends meet, the education of our children is in crisis, it is increasingly difficult to sell our homes or even to buy one, and it is a significant challenge finding a job.

The Premier in one of his speeches long before the pandemic, said that we should forget about how things used to be, basically to stop complaining and suck it up, because there is no going back to the good old days.

Instead, what we are being promised is a harsh reality of an educational system that continues to fail our children blocking their only path to a better life. The debt burden is swelling, for which we and these same children will have to pay more and more taxes.

We are now a hopelessly divided country where instead of pulling together to solve problems, the PLP stoke emotions about race and class to divert our attention away from those problems. The net result is that the problems and challenges are getting worse with no end or solutions in sight.

It is most unfortunate that we do not debate issues on their merits anymore. We hurl personal insults at each other about who is siding with who in an 'us against them' rivalry that benefits no one except the PLP politicians fanning the flames.

Let us think about this, the OBA is supposed to be a white party, no matter how many black people created it, support it, are a part of it and what it offers to improve black lives. My black OBA colleagues and I are supposed to be puppets and surrogates no matter what we say and do.

On the other side, the PLP is pro-black irrespective of the steady ruin and decay of the quality of black lives under its rule over the past two decades.

We are constantly told that the OBA is the new UBP in spite of how many former UBP MPs and former leaders are now in the Cabinet and the heart and midst of the PLP, including the UBP's last standing member.

Nobody can say otherwise because we are not listening to each other anymore. Politicians make fancy, emotional speeches then walk away and nothing is done until the next speech.

In the meantime, all of us feel the pessimism and hopelessness of our future. No matter how we slice it, our country is going down the drain.

There is now talk of rushing to the polls in a snap election. The fact is that a Party with an overwhelming majority in the House and barely three years into a five-year term; would only do this as their best chance of getting re-elected.

They cannot see a way out of our current predicament and challenges, so they want to rope voters in while they still can, to secure political opportunities for themselves and the PLP elite. If their strategy is successful, it is only downhill after that.

It is for these reasons, I have decided to no longer stand on the sidelines without contributing to change course from this downward direction.

I intend to add substance and thought to the debate, to put forward ideas that promise a brighter future and to commit to putting those ideas to action.

At the outset, we must change the tone of our politics. For the love of this country, we need to value good ideas and useful discourse again toward finding solutions that improve our lives.

We must end the finger-pointing, insults and rampant abuse of Parliamentary privilege. The PLP and the OBA are supposed to be vehicles to serve the people of this country, not to serve themselves at the expense of the country.

In addition, I am stepping forward to deliver on the OBA's promise of representing the interests of all Bermudians. Our country will never improve if we cannot get past the idea of a black government representing black interests only just as we were unable to get past the roadblock of a white government representing mainly white interests.

The only brighter future we can possibly have is one where everyone is represented. The role of good Government is to move our country forward for the good of all Bermudians. We need working class Bermudians just as much as we need those who create employment opportunities. No segment of our country is insignificant, unimportant or irrelevant.

The choice that I am presenting today is for us to move forward in a positive direction of Government representing all of our interests while developing and utilizing all of our human resources. We need a growing economy that benefits everyone.

On the other hand, we can stay mired in a defiant 'us against them' attitude where emotional, divisive speeches filled with slogans and empty promises is all we are given, while the quality of our life continues to decline.

Today is a good day because when Bermudians are given a choice we will always choose to move forward positively. That choice begins today.
Update August 8, 9.58am: A spokesperson said, "The announcement of former Senator Vic Ball as the OBA replacement for Trevor Moniz exposes the hypocrisy and cynicism around the vicious campaign that party has waged against the PLP over the past 20 years. It is clear that the OBA has no plan and lack vision.
"During the OBA's Commission of Inquiry, allegations surrounding Senator Ball's involvement in a contract awarded to his father would have been condemned if something even remotely like this occurred involving a member of the PLP.
"Under the OBA's standards, this fits the bill of "friends and family."
"Under everyone else's standards, it fits the bill of lacking transparency and openness.
"And to make matters worse? Senator Ball said he would do it again.
"After Trevor Moniz's claims of fighting against corruption and friends and family, it is surprising that the OBA would select a candidate tainted with these allegations; especially after he claimed that he wouldn't do anything differently.
"The question for people who supported former MP Moniz and supported his fight against "friends and family," is simply this; If the PLP presented a candidate tainted with these allegations and who claimed publicly that they would do it again, would you vote for them?
"The residents of C9 deserve a new start. After years of being ignored by their MP and the OBA administration, it is time they have one who will meet them on their doorsteps and lobby on their behalf.
"The Progressive Labour Party has a long history of putting Bermudians first. We are a party that has a record of strong leadership and who are capable of leading Bermuda through difficult times. The Progressive Labour Party will be announcing our candidate for Smith's West in due course, and when we do, it will be someone who will commit themselves to their constituency, and who will ensure their needs are communicated to the government and actions taken on their concerns."
Read More About