In November, Dynamic Urology Services [DUS] announced their Movember Free Screening Initiative which offered free prostate screenings for all men in Bermuda, aged 40 and up. The screenings consisted of a simple blood test and a prostate exam.
A spokesperson said, "Prostate cancer is the second most common cancer for men worldwide and like many cancers, early detection is the key to survival. DUS's goal was to spread awareness around prostate cancer in Bermuda and start the important conversation around getting tested and screened.
"Dynamic Urology screened 88 men during the month of November aging from 42 to 92. Out of these tests and screenings, 16 [nearly 1 in every 5] men received abnormal results [a high PSA] from their blood test which require further investigation.
"Thirty-four per [34%] of men screened had no health insurance and this initiative provided a service that they could not otherwise obtain. The initiative provided some peace of mind to many and will certainly improve and hopefully save some lives.
"We were happy to be of service in these most challenging times." said Dr. Michael Brooks, Medical director of DUS. "It is our hope that we were able to improve awareness about prostate health and we look forward to seeing more men in November 2021."
The spokesperson added, "Men are encouraged to call 441-601-8002 or 441-296-7296 or email dyanmicurology@gmail.com to book their annual prostate screening."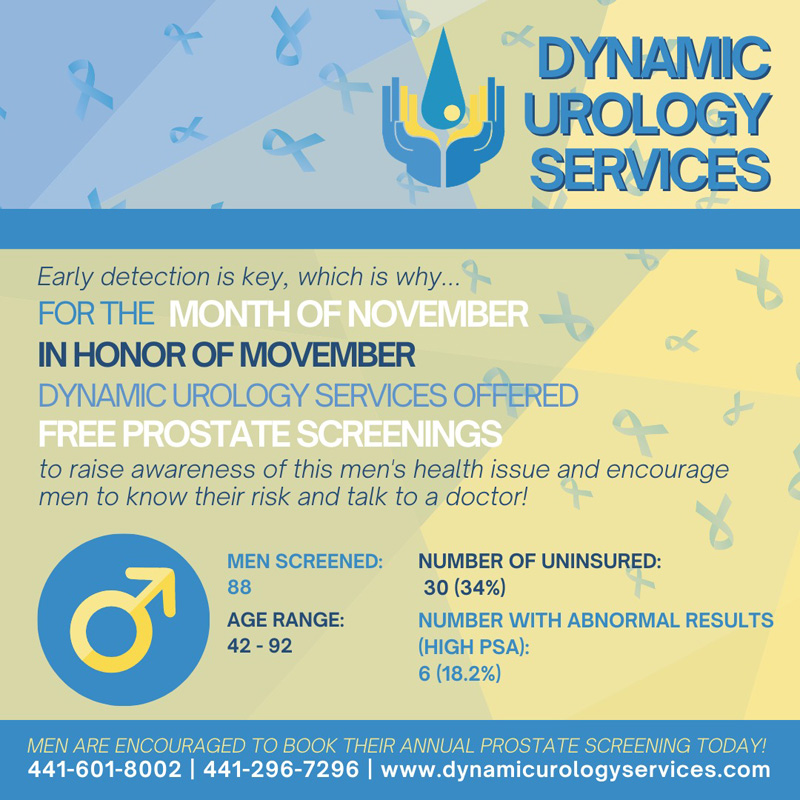 Read More About
Category: All