Seventeen members of the Food Services team at Bermuda Hospitals Board [BHB] completed a 16-week nutrition course this month.
The sessions were led by registered dietitian Arlene MacGuinness, owner of ANEW – Applied Nutrition, Exercise and Wellness. ANEW is registered as an advanced facility with the Bermuda Health Council's Provider Advantage Programme.
"The Food Services leadership team and all the cooks took the course," said BHB Food Services Manager Norman Gardener. "The presenter was engaging and it was good to have our team's nutrition knowledge refreshed."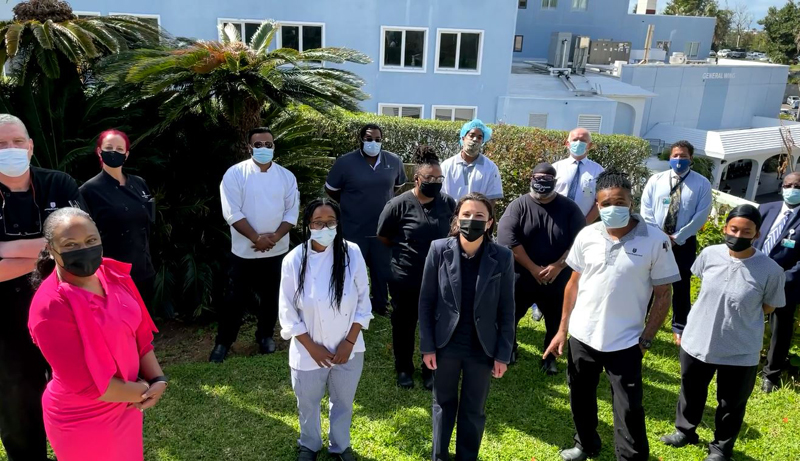 Although already trained in nutrition, BHB Executive Chef Thomas Frost said: "The course was beneficial in that it brought the whole team together where we could pause and focus on how we can improve our service, both to patients and to staff."
"Focusing on nutrition fuels the excitement I already have about cooking and creating meals," said Sivakumar Senthamaraikannan, cook for 7 Point Café, the staff cafeteria at King Edward VII Memorial Hospital [KEMH]. "I thank management for recognising the need for this type of culinary and nutritional training, and I am looking forward to forging a greater relationship with the dietitians."
"Knowing I play a part in the health of staff and patients who eat what I prepare motivates me to do my best," said cook Romey McDonald. "To know what's nutritious and how to retain the nutrition in those items so that they can benefit those who consume it is important."
Assistant Food Services Manager Nathalie Barnett-Dill said: "This focus on training is a part of Food Services' mandate to ensure our team stays current with opportunities that are available in the ever-evolving food industry."
Deputy CEO R Scott Pearman said: "On behalf of the management team, I congratulate the Food Services team for investing in measures to ensure our patient and staff meals have the appropriate nutritional balance, taste and quality presentation.
"With the vast array of dietary restrictions our inpatients have to adhere to, the job of our Food Services staff can be challenging, but they are dedicated to ensuring a positive experience for all our patients."
The culinary training course included the following:
Session 1: The Power of Food
Session 2: Nutrition Standards and Tools
Session 3: Carbohydrates
Session 4: Fats and Oils
Session 5: Proteins
Session 6: Vitamins, Minerals and Phytochemicals
Session 7: Planning Healthful Menus
Session 8: The Flavour Factor
Session 9: Healthful Cooking Techniques
Session 10: Communicating Nutrition Messages
Topic 11: Food for Healthful Living
Topic 12: Serving Guests with Special Health Needs

Read More About