News that Special Olympics Bermuda launched a swim training program, Chatmore School announced its student leaders, Dr Quito Swan's book Pauulu's Diaspora: Black Internationalism and Environmental Justice was a finalist for the ASALH book prize, and Clarien Bank donated $2,500 to Action on Alzheimer's & Dementia were all some of the positive news stories from the past week.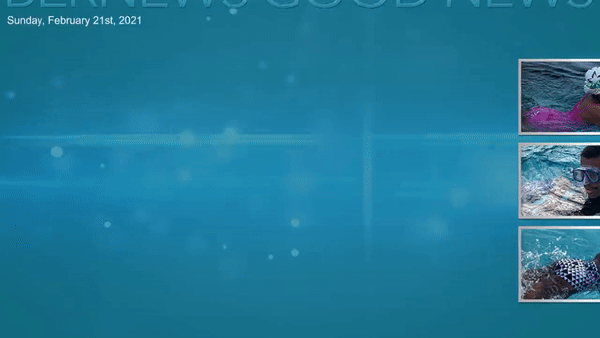 In additional good news, Dr Edward Harris' book was published in Mandarin, Cody Rego won the Schooling Jumper Class in Florida, Cal Athletics featured Dr. Ty-Ron Douglas, HSBC provided 250 grocery hampers to the community, Rodney Smith Jr was featured on the 'Making Money With Charles Payne' show on Fox Business, and Rosewood Bermuda was recognized as a top resort in Bermuda.
We also posted various community photo galleries, including coverage of MoonGate giving back on Valentine's Day, Bermuda Fat Tire Massive action at Admiralty House, the Special Olympics swim training program, a BNAA Carifta Games trial track meet at the National Sports Center, and the final day of the MTM Championships.
In an effort to highlight some of positive news happening in our community, we supplement our standard morning and evening email newsletters with a special Sunday "Good News" email newsletter edition, and also produce a highlight video and article which strictly focuses on the positive news about Bermuda and Bermudians from the past week. You can sign up to have the free newsletter delivered via email here, and/or access the links below.
For more positive coverage, you can also visit other websites in the Bernews Network: ForeverBermuda.com showcases uplifting Bermuda news and the tourism genre, BermudaCovers.com offers free Bermuda themed Facebook covers and phone wallpapers; and you can view almost 200 'Good News' summary videos spanning back to 2017 here on recently upgraded video website Bernews.TV.
Links to some of the 'good news' from the past week are below:

Read More About