"All non-immunised persons travelling to Bermuda are subject to mandatory supervised quarantine which will come into effect on 13 June," the Government said today, adding that there are six approved quarantine hotels and the traveller must cover the costs for the hotel stay.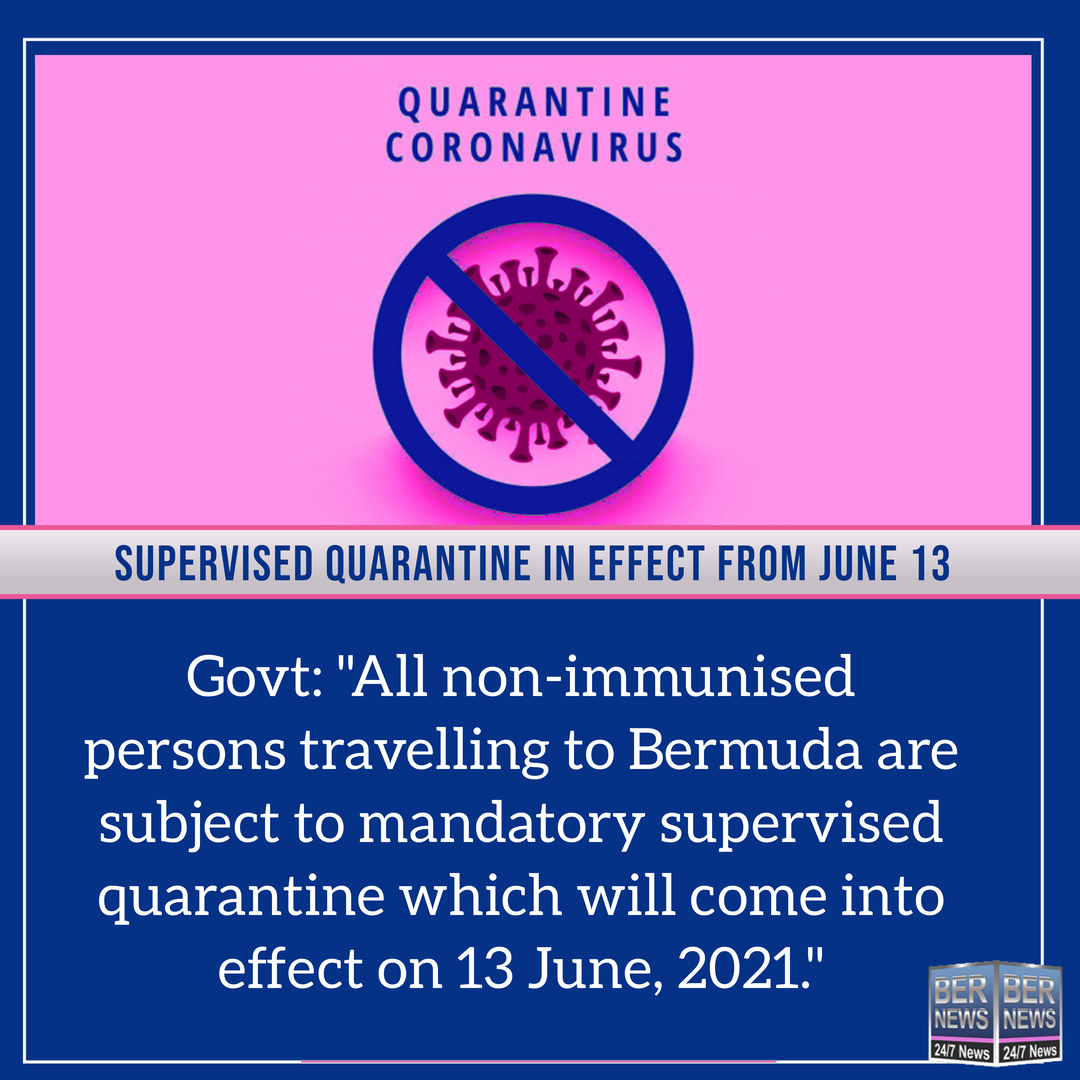 "We must continue to work to keep our island safe," said a Government spokesperson after Chief Justice Narinder Hargun refused an application for an injunction to pause the proposed mandatory supervised quarantine requirement brought by lawyer Mark Pettingill on behalf of certain applicants.
"This argument failed at the first hurdle and the applicants provided no reason for the Court to stop the proposed plans. The application for an injunction was dismissed.
"The travelling public are reminded that the existing traveller continuum remains in force and can be found at: https://www.gov.bm/coronavirus-travellers"
The spokesperson continued, "All non-immunised persons travelling to Bermuda are subject to mandatory supervised quarantine which will come into effect on 13 June, 2021. Mandatory supervised quarantine, means those hotel/guest house properties that have been designated as such by the Government."
There are six approved quarantine locations:
Coco Reef Resort
Grotto Bay Beach Resort & Spa
Hamilton Princess & Beach Club
Willowbank Resort
Coral Beach and Tennis Club
Rosemont Guest Suites
The traveller must:
cover the costs for the hotel stay;
choose from one of the six participating properties; and
book their hotel in advance of arrival in Bermuda.
"Each non-immunised traveller must ensure they have a confirmed [pre-paid] booking at a government-authorized hotel before boarding a flight to Bermuda. The confirmation must be uploaded into the Traveler Authorisation Form. All information about the new Travel Authorisation, including the exemptions process, will be available on gov.bm from Wednesday, 9 June 2021.
"All travellers to Bermuda are still required to have pre-arrival, arrival, day 4, 8 and 14 tests."
The quarantine plans were originally announced as starting on June 6th, however this statement was issued today, and indicates they will now take effect on June 13th. The reason for the date change was not stated, however we have asked and will update if able.
Update 6.11pm: In response to Bernews query as to why the date changed from June 6th to June 13th, a Government spokesperson said, "The Travel Authorisation process begins at least three days before a person travels to the island, including getting pre-arrival test results. Therefore the start date of 13 June gives persons, travelling to Bermuda, advanced notice and sufficient time to submit their information."

You can find more information on the links below and also on our dedicated website BermudaCovid.com, which is the most comprehensive resource and historic record available of Bermuda's handling of the pandemic.
Read More About