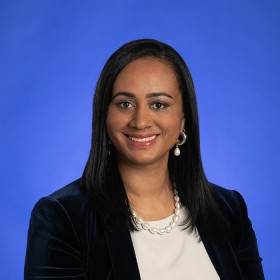 Minister of Social Development and Seniors Tinee Furbert provided details on the long-term care needs of Bermuda's seniors and loans that are available to seniors and persons with disabilities.
Minister Furbert said, "The Ministry of Social Development and Seniors is developing a National Seniors' Strategy that focuses on supporting Bermuda's Seniors while enabling them to age well, with dignity and respect.
"We strongly believe that the first choice of accommodation for seniors should naturally be their home. In their own residence, they will be familiar with the setting and will also be surrounded by family and loved ones. However, we recognise there are a number of factors that can make this difficult for some.
"There may be a need for a caregiver in the home for a senior who has more complex healthcare needs and who resides with their children who may work outside the home. The expense of a caregiver can be a barrier to returning a senior home after a hospital stay.
"Planning for ageing must take into consideration:
the income of the senior;
any support the family can give;
the level of care needed;
home accommodations and equipment;
access to healthcare and insurance; and
"Sadly, many seniors' residences have environmental factors that limit their ability to age safely and comfortably at home. Factors such as stairs, lack of railings, ramps, proper lighting, doorways not being wide enough, or lack of essential equipment are often causes for families to place their loved ones in long-term care facilities."
Minister Furbert said, "It is imperative that a person's home can accommodate their changing needs over time. We encourage those who are homeowners, or looking to purchase a home, to consider environmental factors in the home for ageing safely and comfortably."
"The Government understands that while a senior's residence should be their first choice of accommodation, many individuals need assistance to make this a reality. To support Bermuda's seniors ageing at home, in January 2020 the Ministry of Public Works in collaboration with the Bermuda Housing Corporation and Age Concern Bermuda introduced an interest free loan initiative. This initiative allows family members of persons in need to apply for a loan for up to $15,000 to assist with financing home renovations and modifications that support a safe setting for a loved one ageing at home.
"The Bermuda Housing Corporation is managing the application process and individuals are encouraged to contact them for information."
Minister Furbert added, "The Government understands there is a growing seniors population in Bermuda, and we must continue to provide financial support for our seniors. This Ministry has allocated $1,365,000 in grants in the current budget period which helps to contribute to senior related organizations such as Age Concern Bermuda and a number of seniors' homes."
"As a further means of support, the Department of Financial Assistance also provides help to our seniors and persons with disabilities. Presently, there is a total number of 1,037 seniors and 786 persons with disabilities who receive assistance.
"The assistance helps to pay rent, nursing and rest home fees, food, health expenses, personal home care, medical equipment, fuel bills, and other expenses."
Minister Furbert said, "We also recognise that outside of funding, there is a need for ongoing training and support for family members to help them to understand how to care for a loved one once they have been discharged from hospital care.
"This training and support should be initiated in the hospital and continue after discharge. It will help families to be better prepared to cope with caring for their loved ones at home. Understandably, it can be a nerve-wracking experience to not fully understand a diagnosis or changes in physical and mental health status.
"Families need support until there is an established comfort level to adequately care for their loved ones, but that will only come with opportunities for communication and training along with family members being willing to participate in these initiatives."
Minister Furbert concluded, "Although the long-term care [LTC] regulations for seniors falls under the remit of the Ministry of Health, long-term care for Bermuda's seniors is not only a government matter, it is a country matter. Thus, it is crucial that the private and public sector continue to work together to meet the needs of our seniors.
"Ensuring that our seniors are adequately taken care of takes a village and as we work to develop the National Seniors Strategy, we look forward to continuing to listen to and address the concerns of seniors and persons who work with our seniors to develop methods to better serve their needs."
"The Department of Ageing and Disability Services [ADS] assists with connecting seniors and persons with physical, cognitive, or developmental disabilities and their caregivers with services and resources to support them."
"General public – educational events that are appropriate for anyone with an interest in long-term care;
"Family caregivers– Training targeted at family and friends providing care to loved ones;
"Care professionals – Training targeted at professional caregivers and healthcare professionals. This includes mandatory and approved training for staff from licensed care homes; and
"LTC Management – Training targeted at persons managing long-term care services."

Read More About