[Written by Dale Butler]
This musical event featuring professionals, church members and children broke the book of superlatives: impressive, momentous, awesome and stellar. At its conclusion my sinuses were clear, my leg ceased hurting, my spirit was revived, my energy restored and I felt as though I had conquered the world. Where do I start?
I would like to start with the technical experts who are usually left last in a review. They used the screens to inform us exactly who was singing and who wrote the song and some background. Not one hitch or delay. It was first-class, and I salute Matthew White – audio, Theresa Millet and Gillian Jones – media. Covid has led to a bit of rust at some shows I've attended, but they were on time from start to finish; crisp and neat.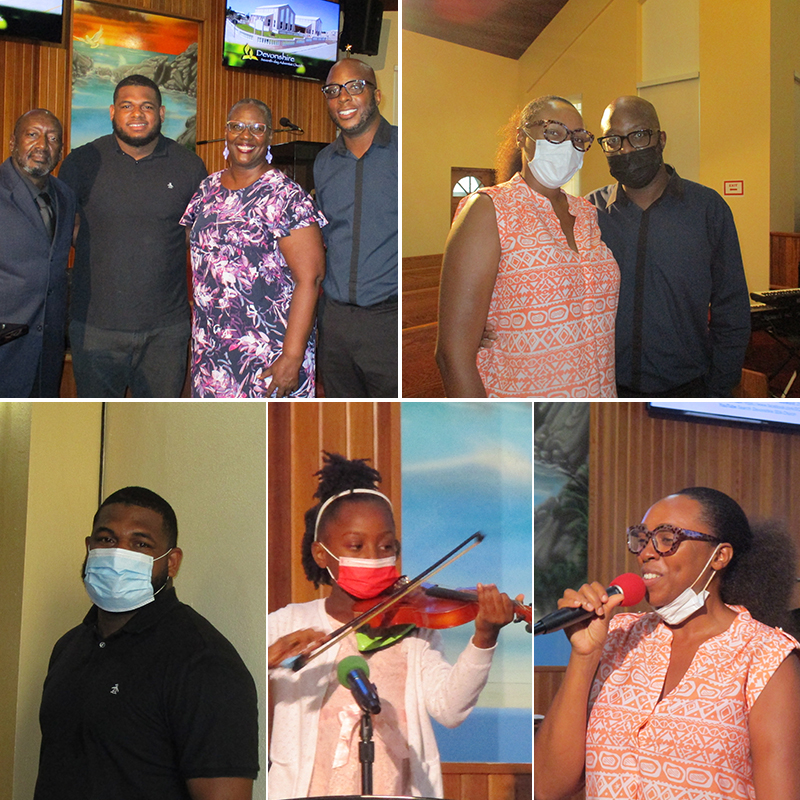 The concert, billed as "Reflections of Hymn," was worth a hundred dollars a ticket, but they decided to take an offering. MC Janice George was professional with her introductions, which led to a flawless performance, as though they were all professionals. Standards were high. Right at the beginning she told us that the concert would present "inspirational music for challenging times".
Blessings then came from all directions at the Devonshire Seventh-day Adventist Church, 62 Roberts Avenue.
Due to strict Covid rules the audience was small. However, I'm sure hundreds viewed it on Zoom. Pastor Simmons, the host, promised a wonderful evening. He was right.
Leading the way was The Devonshire Church of Love Praise Team. Ernie Lewin, Virloy Lewin and Althea White combined "We Fall Down At The Feet of Jesus" with "Holy Holy" as though they had written both songs. The Adventists are known for having excellence in all parts of the music, and they proved it with their beautiful voices that touched our souls. The blessings continued with their rendition of "I Need Thee Every Hour".
Next was the Bermuda celebrity and The Artiste of Gospel, Ms. Toni Robinson, who was accompanied by a first-class band that had three experienced musicians: Jordan Lambe on drums, who has been playing since he was one; Raymond George, Professor of Music, is diverse in so many areas: teacher, jazz pianist, organist, and arranger, a mountain climber and is always impressive.
And, last but not least, Amoti Nyabongo is the coolest and most professional man on bass, with a unique style, that brought it all together with Toni—giving the band passion and flair.
Toni and the band blessed us with "Total Praise" and "Blessed Assurance" which had award-winning jazz arrangements that brought back memories of the late singer Violeta Carmichael. Wow! Toni then performed a less known spiritual, "Sweet Canaan Land." which we were told was one of the motivational songs sung by slaves escaping slavery via "The Underground Railroad". Both songs should be kept near the top of her repertoire.
Just when the concert was hot, the MC introduced the "Swifter Payback" that had young performers – students of Mr. George – doing their own commercial and then performing with poise and great confidence as though they were at a scholarship trial. The old Sunday school production of mistakes and tears had long been buried with this group of up-and-coming professionals. Leading the way were:
Naomi George: The Old Clock and Tightrope Walker
Seraah George" "The Frightened Mouse" on piano and "Andantino" on violin
Camillo Rogers: "Famous People" and "When the Saints Go Marching In" on piano.
Chantori Berkeley: "Paper Airplane" and "Lightly Row" on piano.
Cory Berkeley, our only male student was not to be outdone. Cory, a youth version of the late, great pianist Lance Hayward, is going to replace Mr. Raymond George….soon. He performed "Great is our God." I was in tears and looked at Amoti Nyabongo, only later to learn that we both were feeling the spirit of his late mother, a Professor of the Piano, Dr. Ada Nyabongo, a New York University PhD. and an outstanding teacher who would have been in awe of the students' performance.
At this stage, a show is capable of going a step down, but this was not to be. The youth were polished and confident. We were then treated to a video presentation from one of my favorite flutist, Michael J. Taylor, who was accompanied by Ms. Constance Ridley-Smith, pianist, with whom I was unfamiliar. What an outstanding duo!
I later learned that she started to perform at the age of 6 after listening and watching her mom. Having numerous qualifications, festivals and churches under her piano fingers, Ms. Smith has a wealth of experience which she brought to the fore in person with "Clair de Lune" by Claude Debussy, paired with "Great is Thy Faithfulness" by William Runyan and Liebestraum Franz Liszt paired with "It Is Well With My Soul".
I was pleased to hear that a CD is available on Amazon entitled "So Into Hymn" with Michael J. Taylor. Wow! I got the feeling she was the winning contestant and final choice in a piano festival of 100. Yes, she was excellent! You start to wonder why these great artists remain in Bermuda.
Just when you might have thought this was the end, we learned that the well was NOT going to run dry. Toni Robinson and the band returned. "In Christ Alone" by Keith Getty and Stuart Townsend was beautifully and masterfully executed by her and was followed with:
"Lord I Lift Your Name on High"
"I Want Jesus to Walk With Me" has been my favorite since I was 5 years old. I've used this hymn in a number of my plays. This version moved a long way from the traditional standard spiritual to a new level that brought tears to my eyes as I remembered my late aunt, the "supreme contralto" of St. Paul A.M.E. Church, Una Butler-Joell who regularly performed it. The band and Toni would easily earn a Grammy for this version—must ensure that it isn't forgotten. Raymond George, arranger, stand up and take a bow with the band. Mesmerizing, filling, soulful, thoughtful!
The evening was already infused with great sound and orchestration and it was left to Toni to bring closure with "Take My Life and Let It Be," and a reggae/jazz version of "Pass Me Not, Oh Gentle Savior" which highlighted the refreshing, compelling and memorable arrangements of the band.
Readers, this concert was exceptional in so many ways and the host pastor concluded with remarks that sent us all home feeling refreshed and revived. The night should see the development of The Bermuda International Gospel Showcase. "Reflections of Hymn" was better than good. It was all the sugar-free icing on the cake. The book of superlatives is empty.
- Dale Butler is a former principal and Government Minister for Culture. He currently writes reviews for Bernews and previously wrote the popular "Eating with Ed" for the Bermuda Sun in the 1980s. As a former director with the Little Venice Group for 20 years he has a broad knowledge of food and service.

Read More About
Category: All, Entertainment, Music, News