The Minister of Health Kim Wilson is encouraging all residents to "get a flu shot to help contain the risks of influenza in the upcoming season."
"Today, Minister Wilson received her annual flu shot at the Flu Express at National Stadium. The seasonal influenza [flu] vaccine is available for priority groups through their doctor or the Flu Express at the cost of $15.00 per shot [for both adults and children]. Persons over the age of 65 will receive the seasonal flu vaccine free of charge," a spokesperson said.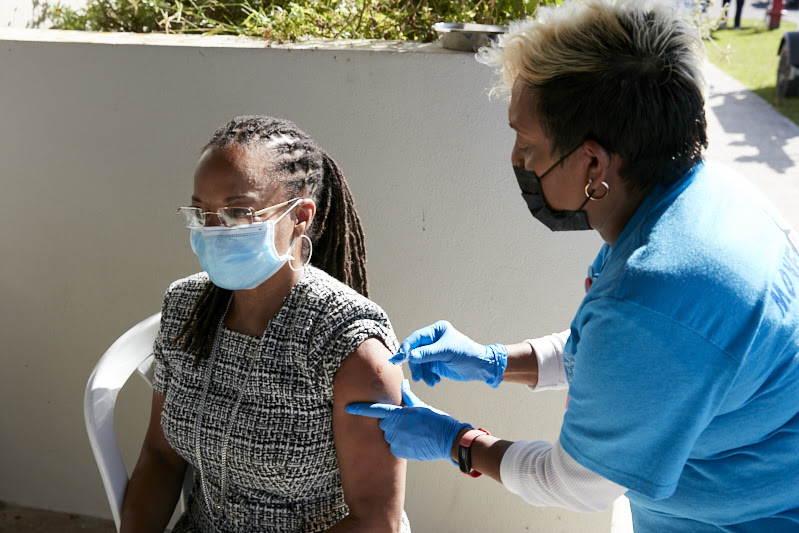 "The public can pre-register for the flu vaccine to minimise paperwork on arrival and reduce wait times by going to the Government website https://www.gov.bm/.
"Click on the yellow tab 'Flu Vaccine Registration' on the top right-hand corner of the page, follow the consent prompt, and enter the required information. The direct link is https://forms.gov.bm/Influenza-Vaccine-Consent. An email will be sent to you and is required to be shown when you arrive for vaccination.
"Alternatively, persons can call the hotline at 799- 1524 / 332-8902 to pre-register. If you cannot pre-register online or by phone, you can fill out the consent at the vaccination express location.
"The Flu Express days and locations are as follows:
National Stadium Pavilion #65 Roberts Avenue, Devonshire DV 01, Bermuda Wednesday, 3rd December 10 am – 2 pm
Clocktower, Dockyard, Royal Naval Dockyard, Sandys, Monday 6th December, 10 am – 2 pm
Penno's Wharf, St George's [Drive Through Not Available], Wednesday, 8th December, 10 am – 2 pm
Clocktower, Dockyard, Royal Naval Dockyard, Sandys, Friday, 10th December, 10 am – 2 pm
"Priority persons who should attend the "Flu Express" are:
Healthcare workers, caregivers and essential service workers
Persons aged 65 years and older
People with chronic medical conditions that are at risk of complications from the flu, e.g. diabetics, asthmatics and those with heart disease.  They should inform their doctor when they have been vaccinated.
Children 10 years and older. Those 6months – 9 years old should attend their usual doctor's office for vaccination.
"Please dress comfortably to allow the nurse easy access to the injection site in the upper arm."
Minister Wilson said, "The flu vaccine is a safe and highly effective method of preventing most cases of flu. Side effects are rare and usually mild. The best way to protect yourself and your family from influenza is with the flu vaccine."

Read More About