eMonday took place on Monday [Nov 29] with Shi-Vaughn Lee of Dove & Butterfly winning the top e-tailer prize, while shoppers Marisa Stones, Jeannine Menzies and Holly Sinclair all won $250 gift vouchers.
A spokesperson said, "Globally, the pandemic has forced many local businesses online – and Bermuda is no exception. To nurture these new digital efforts and to encourage Bermuda to continue to patronise local vendors by shopping online, the Bermuda Economic Development Corporation [BEDC] and the Economic Development Department [EDD] teamed up to bring back eMonday.
"eMonday, an online initiative that was first launched in 2010 during Global Entrepreneurship Week, aimed to motivate residents to shop local online. Its goal for 2021 remained the same.
"On November 29th, 2021, eMonday took place to benefit both shoppers and e-tailers: the rewards included a $500 cash prize to the e-tailer that made the most individual sales during eMonday as well as three $250 vouchers for online shoppers to use at any of the participating online shops.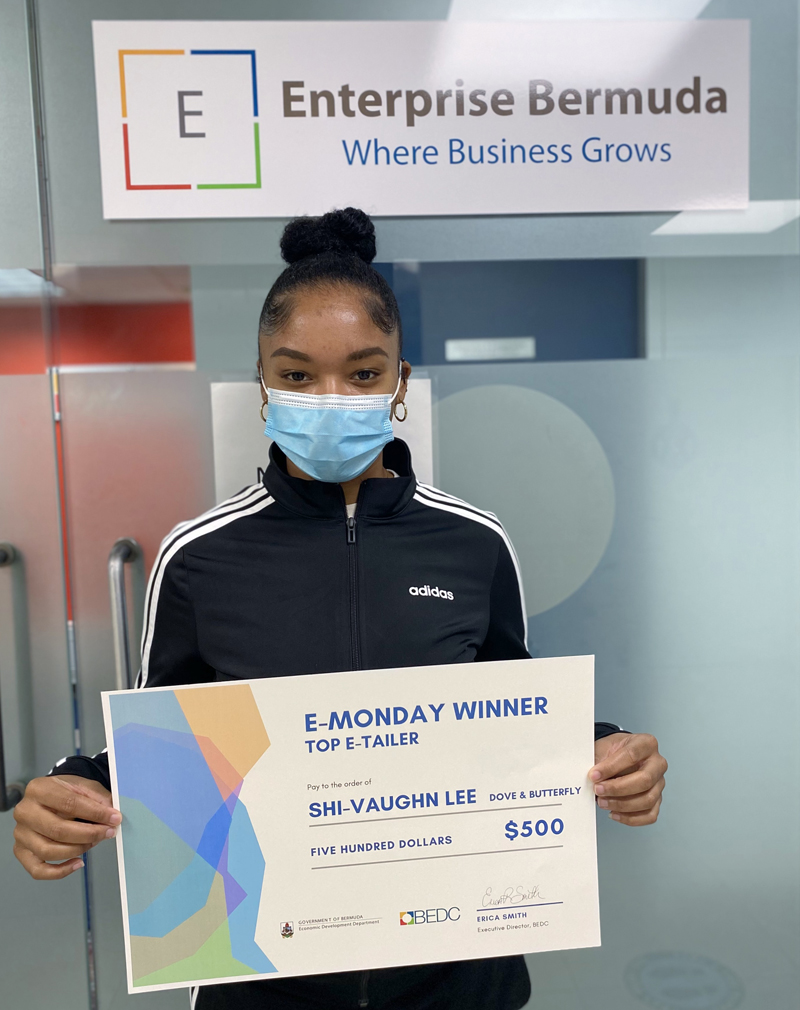 "Twenty-seven e-tailers [local businesses with online stores] participated in the effort. The e-tailer with the most individual sales, winning a $500 cash prize, is Shi-Vaughn Lee of Dove & Butterfly.
Ms Lee said, "I entered eMonday last year for the first time after being in business for 5 months and was surprised to have placed third. I entered then as an opportunity if I placed to have additional funds for inventory from the prize money. Starting out, every dollar counts!"
"I then wrote down in my congratulatory post last year on Instagram that Dove & Butterfly will win eMonday this year. I've learned the power of my words and I've watched the business grow exponentially and I knew we would outdo ourselves from the previous year.
"To win just confirms that we can achieve all that we put our minds to. I also feel appreciative and humble because I have really grown a group of Love Doves who love the products and really go hard for the business. They were aware of the competition and made sure that we came out on top."
Three lucky online shoppers: Marisa Stones, Jeannine Menzies and Holly Sinclair, each won a $250 voucher for their participation. All participating shoppers were entered into a draw for the prize. To qualify, they had to shop online at any of the participating eTailers and upload their receipt/purchase confirmation via the BEDC website and were chosen at random.
Marisa Stones said, "I always support eMonday and am so happy to be able to kick off my holiday shopping with local vendors. With the added concerns related to Covid, it was so useful to do some shopping and know that it would result in contactless delivery to my home in many cases. Thank you to the BEDC and other sponsors for continuing to promote local e-tailers!"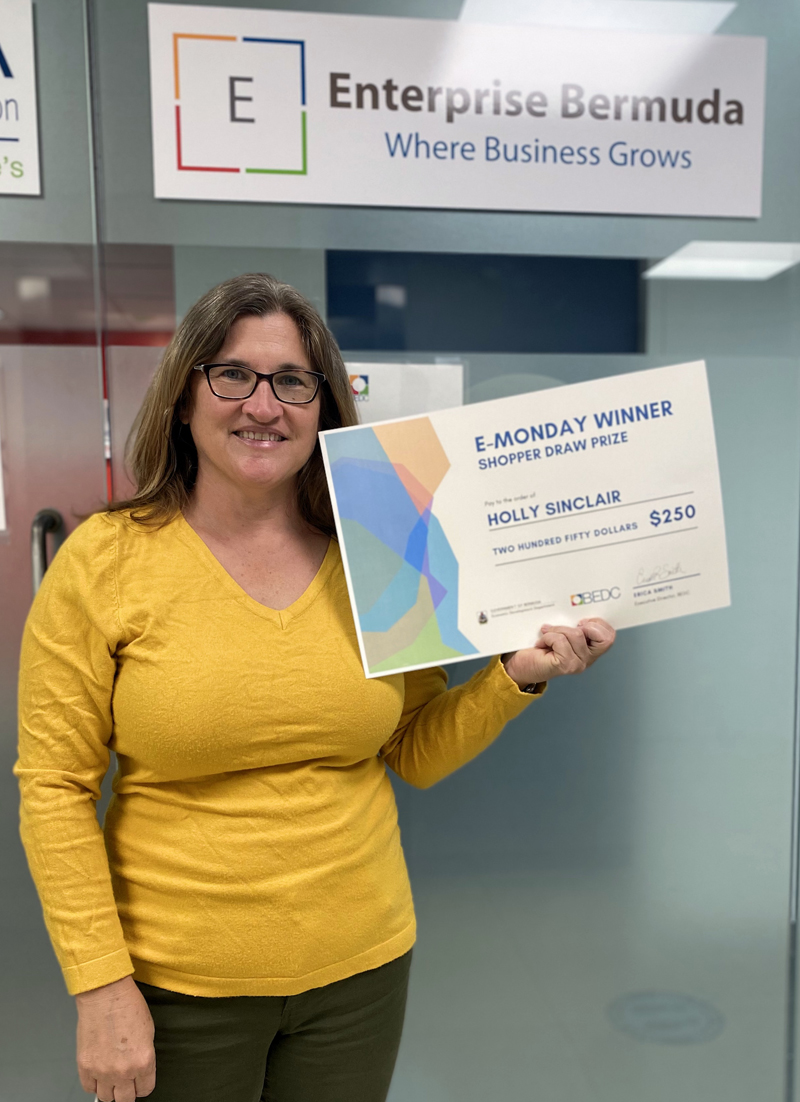 A BEDC spokesperson said, "The ByBermuda website, launched in conjunction with the eMonday initiative, has seen a steady number of entrepreneurs sign up for the virtual market, with 12 vendors signing up over the weekend leading up to eMonday and steadily adding new vendors.
"ByBermuda is a virtual space for local retailers and vendors to sell their products, goods, and services online, without the expense and challenges of running their own website. If you are a local small business, we would like to invite you to sign up to be a vendor at vendor.bybermuda.com, and begin to add products/services to your shop on ByBermuda."
"Bermuda's Economic Recovery Plan promised to deliver an online SME marketplace that will allow entrepreneurs easy access to sell their goods & services online," said Premier David Burt.
He continued: "In Bermuda the costs associated with establishing an online presence can be prohibitive and as a result the Government of Bermuda charged the BEDC with establishing an online platform to remove that barrier.
"We are pleased that the ByBermuda virtual market has launched just in time for the holiday season, and we encourage vendors and other small businesses to register with the BEDC to sign up to the platform."
"eMonday aims to support and encourage the continuous development of secure e-commerce on the Island," said Ray Jones, Director of the EDD.
"We were thrilled to once again partner with the BEDC to bring back this initiative that supports local businesses and encourages secure online commerce. eMonday encourages shopping locally online and motivates sellers and buyers alike to use the Internet when transacting, especially as the Island gears up for the holiday season."
BEDC Chairman of the Board Neville Grant said, "The BEDC partnered with the EDD to deliver on a shared vision to encourage e-commerce in Bermuda. Increasingly, local businesses are building secure websites which not only highlight their products and services but also allow online transactions, enabling both local and overseas consumers to partake of their offerings. The development of the ByBermuda platform supports the future of e-commerce in Bermuda and the BEDC will continue to champion the development of a dynamic and secure online economy."
Read More About
Category: All, Business, News, technology