"Bermuda [re]insurers should return to underwriting profitability in 2022, as combined ratio improvement and continued premium rate increases more than offset increased catastrophic losses," according to Fitch Ratings.
A statement from the ratings agency said, "Fitch expects pricing to continue to rise but at a declining rate for [re]insurers through midyear 2022 renewals, with continued material differentiation based on loss experience. Market pricing increased at the January 2022 reinsurance renewal, sustaining the overall rate rises that have continued since early 2018.
"The 2022 fundamental sector outlook for global reinsurance is improving, while the sector outlook on U.S. property/casualty [P/C] insurance is neutral. The improving outlook for global reinsurers reflects better expected financial performance from higher prices in a hardening market environment and a strong economic recovery, depending on the evolution of coronavirus variants.
"The hardening market is supported by heightened catastrophe losses, climate-risk concerns, continued record low interest yields and deteriorating loss-cost trends, as well as rising economic and social inflation, declining casualty reserve adequacy and growing cyber claims.
"The 2021 full-year combined ratio for the eight [re]insurers that Fitch actively follows will be slightly below the 99.1% posted through 9M21 and down from the 103.4% in 2020. Global [re]insurance catastrophe losses were $120 billion in 2021, up from $82 billion in 2020 according to Munich Re's NatCatSERVICE. Catastrophe losses will represent 13-14 points on the 2021 combined ratio compared to 13.6 points of catastrophe [6.7 points]/coronavirus [6.9 points] losses in 2020.
"Bermuda's advantageous tax status will be reduced at the margin under the multilateral agreement to establish a 15% global minimum tax rate under Pillar Two of the OECD Inclusive Framework on Base Erosion and Profit Shifting [BEPS]. Near-term rating actions for Bermuda [re]insurers are not expected as a result of the agreement, although long-term implications remain to be seen."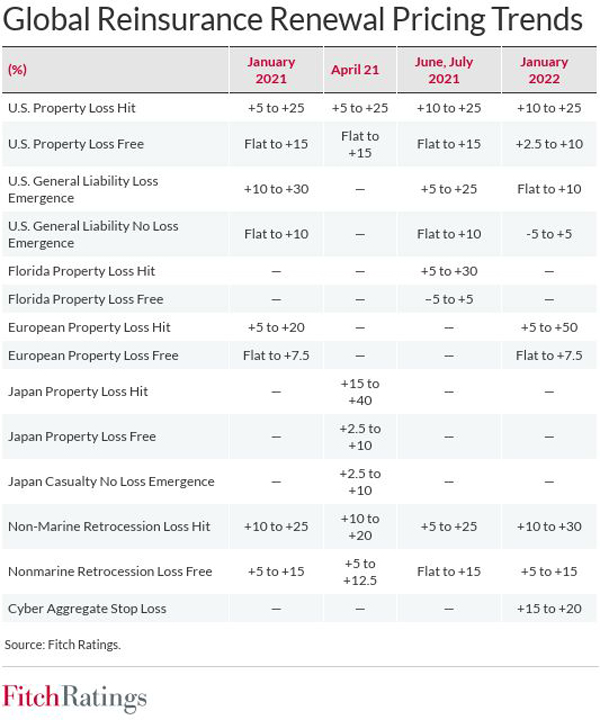 Read More About