The news that Renee Ming will no longer serve as a Cabinet Minister marks the latest in a series of changes to the Cabinet/Senate; the second in recent weeks, the third this year, and the sixth since 2020.
The six all varied — from statements the position was 'revoked,' voluntary resignations to 'invitations to resign' — however the two latest changes [Renee Ming and Curtis Dickinson] have something in common, they held Cabinet Ministries and there were no calls from the public for them to resign/be removed, which there was in other cases, most notably with Rolfe Commissiong [Cabinet/Senate] and Curtis Richardson [Senate].
Ms Ming originally took over the National Security Ministry after Wayne Caines received an "invitation to resign" from the position following the party incident back in 2020, with the St George's MP becoming the first woman to serve in the position.
After Mr Dickinson resigned, Premier David Burt took over the finance portfolio and transferred some of his economic responsibilities to Minister Jason Hayward, effectively reducing the size of Cabinet by one person.
With Ms Ming departing Cabinet — with conflicting reports of whether she resigned or had the appointment revoked – Wayne Furbert is serving as the Acting Minister of National Security, and the Premier is expected to announce the new Cabinet configuration in the coming days, and whether he will adjust the current Ministers' positions or bring a new person into Cabinet remains to be seen.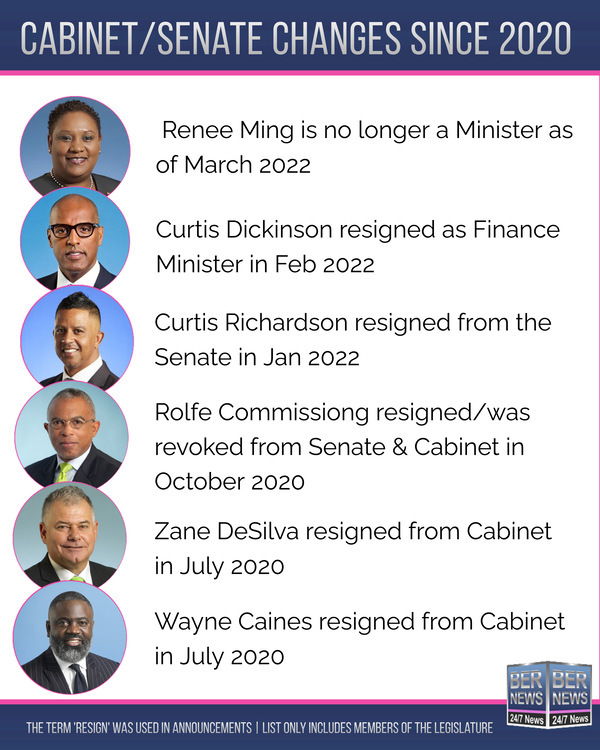 Read More About