The fourth instalment of the Bermuda Underwater Exploration Institute's [BUEI] eight-part Island SOS [Sustainable Ocean Strategies] series is slated to take place at BUEI on Saturday [May 21] at 4.00pm.
A spokesperson said, "This month's island nation being highlighted is Barbados, with a presentation by Carlos Gilkes, Technical Officer of the National Conservation Commission [NCC].
"During his presentation, Carlos will share methods used by the NCC to manage protected areas in Barbados focusing on highlighting the many facets of beach management including beach maintenance, beach risk analysis, beach carrying capacity, beach stability mapping and communication planning.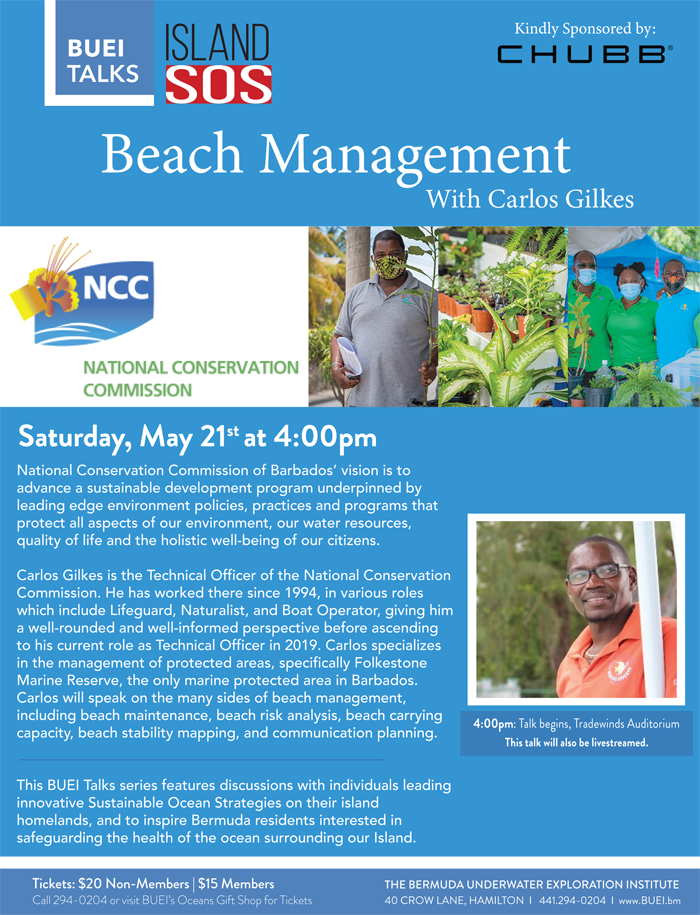 "The NCC is an organisation whose vision is 'to advance a sustainable development program underpinned by leading edge environment policies, practices and programs that protect all aspects of our environment, our water resources, quality of life and the holistic well-being of our citizens.' The NCC's main projects include the construction of marine protected areas including the maintenance and protection of the Folkestone Marine Reserve and the Barbados Beach Management Project.
"Both Bermuda and Barbados are recognised as tourist destinations with beautiful beaches and reef systems. With nearly 90 kilometers [56 miles] of coral reef just offshore, Barbados faces similar challenges to Bermuda in the protection of their coral reefs and the creatures that inhabit them. Despite the environmental similarities, you can expect beach weather all year long in Barbados whereas Bermuda experiences a drop in temperature during the winter months."
"It is important to be mindful that our beaches are not only beautiful but provide habitats for numerous plants and animals that support our island's unique eco-system. The health of our beaches is of equal importance to the health of our waters. Beach Management is a widely accessible multifaceted protection scheme, and we hope this BUEI talk encourages and inspires new ways to protect and appreciate our natural environment." said Karla Lacey, BUEI CEO.
"Each BUEI Talk: 'Island SOS' presentation focuses on a different island and topic, covering subject matters ranging from beach management master planning, and zero waste event management to balancing community and cultural interests. The entire series has been generously sponsored by Chubb.
"BUEI Talks take place in front of a live audience in BUEI's Tradewinds Auditorium, with overseas guests presenting online in real time. Each talk allows interactive Q&A between the presenter and the audience. Scheduled monthly from February through September, other islands to be featured include Bahamas, Isle of Man and Tobago. Tickets to each BUEI Talks: Island SOS presentation are $15 for members and $20 for non-members. Email info@buei.bm, or call BUEI's Ocean Gift Shop at 294-0204 to reserve a space."

Read More About
Category: All, Environment