[Written by Stephen Wright]
Jediah Cumbermack admits he was surprised by the speed of his North American Talent Cup rivals during his race debut in Washington State last month.
Cumbermack missed the first two rounds of the seven-race series after suffering a broken leg in a practice session before the opening race in Austin in April.
He spent two months recovering from his broken tibia but returned to action at the Ridge Motorsports Park in Shelton, Washington, from June 24 to 26.
Cumbermack finished fifteenth in the first race but could not compete in race two as he suffered a crash during qualifying and could not appear on the grid because of mechanical issues with the bike.
"It's taken two months for my injury to heal," Cumbermack told Bernews. "It's been a frustrating time.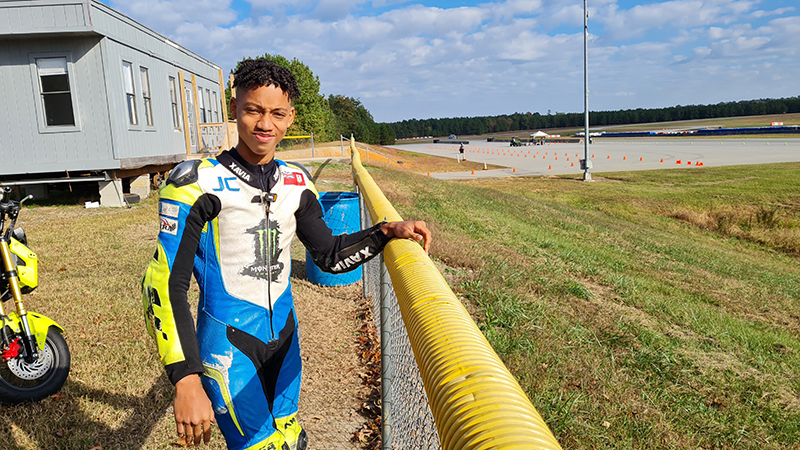 "It was a great experience to make my debut, though, and race at the Ridge Motorsports Park. It was my first time on the bike [Aprilla RS 250 SP2] for three months.
"I underestimated the other riders. I thought I was going to smoke them! They were quick kids.
"The last two laps [of the first race], I was pushing to keep my position and messed up. I had to go on the grass and got passed by the two riders behind me. I gained two championships points, though."
The 16-year-old hopes to build on his first taste of action when he competes in round four at the Roebling Road Park Raceway in Savannah, Georgia, which starts on Friday.
"I'm looking to get more used to the bike and get a higher grid position," the CedarBridge Academy pupil said.
"Hopefully, I can get faster qualifying times and keep within the points range.
"My goal is to get a top-six finish. It's my only second race, and I'm still getting used to the bike."
Cumbermack was among 20 riders aged 13 to 16 from more than 2,000 applicants chosen to compete in the United States-based series, a pathway to the MotoGP – the biggest championship in the sport.
Initially, he was to race for 2B MotorSports; however, he has parted ways with the local team because of contract issues and is now competing as an independent rider under the banner of JCYK Racing.
Cumbermack hopes to raise funds through sponsorship and donations to buy an Aprilla RS 250 SP2 motorbike as his former team owns the one he was due to ride this season.
Anyone interested in helping Cumbermack through sponsorship or donations can e-mail his mother, Patrina, at jcykracing@gmail.com.

Read More About