[Written by Stephen Wright]
An online professional male auction as part of the Bosom Buddies Girls' Night In raised more than $83,000 for Pals Cancer Care.
Bosom Buddies are a local group of women who have raised more than $1.5 million for cancer care on the island since forming 17 years ago.
The recent Girls' Night In, hosted by Chrissy Wetherhill, the Bosom Buddies founder, attracted more than 160 women and featured fundraising games, and silent auctions, including an auction where 15 men offered an array of professional services.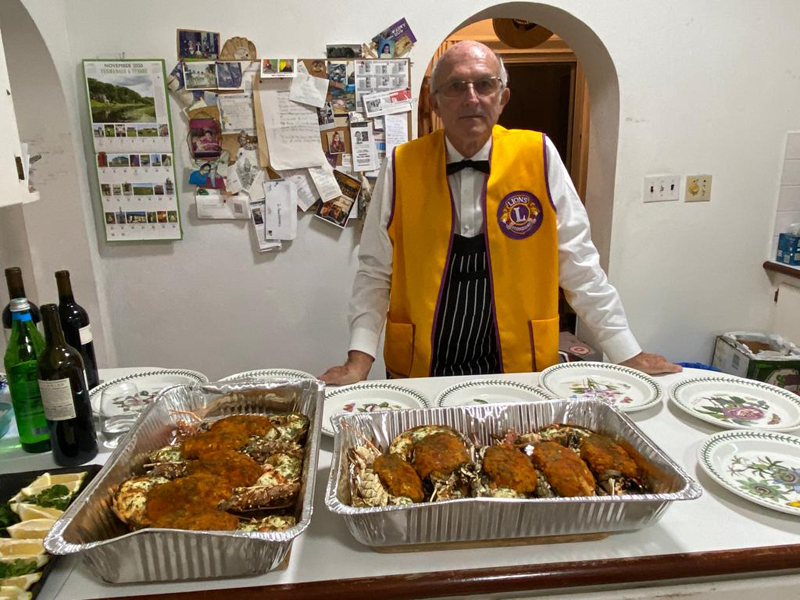 Among the services were handy work, surfing lessons, small construction jobs, personal training sessions, a boat cruise, and a lobster dinner for ten people cooked by Dai James, a former president of the Hamilton Lions Club, which raised $1,600.
Mr James, a former policeman who moved to Bermuda from Wales in 1970, has been offering his culinary services at the male action for the past four years thanks to the persuasive skills of Ms Wetherhill.
"Dai had offered maybe four years ago to cook a five-course lobster dinner for the event," Ms Wetherhill told Bernews.
"It was so popular and fetched the highest bid of the night. Dai does such an amazing job. The dinner is unbelievable, and he even catches the lobster himself!"
Ms Wetherhill, who was among Mr James's three "kitchen helpers" on the night, added: "I promised it would be a one-off, but, as soon as the event gets close, everyone is asking, 'Is Dai going to cook the dinner?'
"So, I go back to Dai with a pitiful look and ask, 'Dai, do you think you might consider…' Before I even finish, bless his heart, he agrees."
Mr James, who cooked the meal at the auction winner's home in Paget, said: "I'll definitely do it again. Chrissy prepped all the veg for me this time and brought a dessert.
"All I had to do was make the salad, the clam chowder and cook the lobster. It made it much easier for me."

Read More About
Category: All, Entertainment, News