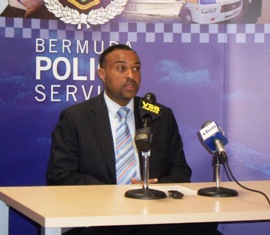 Police have officially confirmed the arrest of two men in relation to Saturday night shooting of Jakai "Juicy" Harford [who has not officially been confirmed as the victim], and also stated they believe the attack may be gang related. They also revealed that the victim was ambushed while still in the taxi.
The two men arrested are 18 and 23 years old and are both Bermudians and residents of Pembroke. The 18 year old was arrested on Saturday at his residence, and the 23 year old was arrested on Sunday. They are presently in police custody.
Mr. Harford was shot at approximately 4am on Sat March 27, after returning from a night out in St Georges. The assailant[s] waited in the 42nd area, and fired into the taxi Mr. Harford was in, damaging the taxi as well as striking Mr. Harford multiple times. The victim was able to get out and run to safety. The police have stated other gentlemen were traveling in the taxi with Mr. Harford, whom they not spoken with and are interested in doing so. The taxi driver is assisting the police.
It is believed the shooter[s] were traveling by foot.
The 27 year old victim is in King Edward Hospital, with severe but not life threatening injuries. He received multiple gunshot wounds to the upper body, and underwent surgery on Saturday. The Police plan to speak with him today.
The police also confirmed that they are collecting empty shell cases at the scene of these shootings. This indicates that semi-automatic pistols, rather than six-shooter revolvers, are being used in these shootings.
Superintendent Antoine Daniels [pictured above and in video] stated the police believe this, and other shootings may be gang related saying that they are looking at the individuals being shot, as well as who the police suspect of being involved in the shootings to make this determination.
Superintendent Antoine Daniels describes the shooting:
The Police have made no direction connection to last weeks fatal shooting of James Lawes, but stated they have "not ruled that out".
The shooting took place in the same area Mr. Harford's 30 year old brother Kumi Harford was murdered only three months prior.
In the photo to the left Mr. Harford is displaying 4 and 2 fingers, which we understand carries a significance.
There have been a spate of shootings of individuals stemming from the 42nd area, resulting in the death of three men in the last 10 months.
Perry Puckerin who was fatally shot in Hamilton Parish in January 2010 was from the 42nd area, Kenwandee "Wheels" Robinson was killed on May 22 2009, and Mr Harford's brother Kumi Harford was killed on Dec 5, 2009. All three murders remain unsolved as of this writing.
This is the second time Mr. Harford has been the victim of gun violence, as in the early hours of 2007 Christmas Day he was shot in the shoulder while in the Camp Hill, Southampton area.
According to the Bermuda Sun newspaper, the 2007 murder of 30 year old Aquil Richardson and shooting of Levar Smith was:
Widely believed to have been retaliation for another attack, on Christmas Day, when 24-year-old Jakai Harford was shot in the shoulder.
Former UBP Senator Gina Spence-Farmer, whose recently suffered her own gun related tragedy with the murder of her son-in-law James Lawes on March 19, spoke of Jakai Harford after the 2007 shooting with the Bermuda Sun:
Here is a young guy who had been through the system but who had never gone through the proper treatment to address the behaviour that he went in for. So he's out, nothing's changed, and he's fallen back into his old life. He's back in those dangerous circles.
In 2007 while Jakai Harford was serving a four year prison sentence for grievous bodily harm relating to the torture of Mr. Dwayne Trott, there were protests from his family who claimed he was near incapicatated from pain and that Westgate prison officers failed to help him.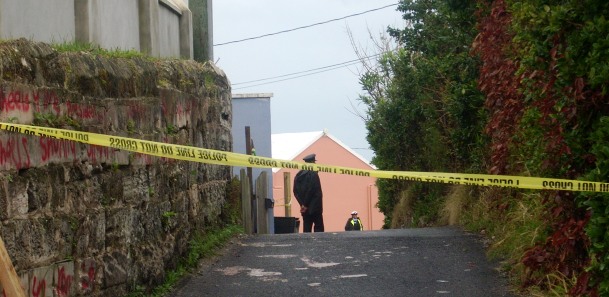 On an encouraging note, the Police have made swift arrests in both the last two shootings incidents. With gun violence undeniably increasing, someone has been shot on each of the last three weekends in Bermuda, with one firearm incident resulting in death.  There have been over 40 firearm incidents so far this year.
Previous gun incidents in March 2010 include:
The Police have appealed for assistance, contact details below:
Contact the Serious Crime Unit on 299-8115
Contact the independent 24 hour confidential Crime Stoppers Bermuda hotline on 800-8477.
Send an anonymous tip via the Crime Stoppers Bermuda website crimestoppers.bm
Read More About