[Updated with videos] Before a large assembly in Town Hall St George's this afternoon (Oct 21), Premier and Minister for Tourism, Dr Ewart Brown announced that Hyatt Hotels Corporation had officially agreed to become a capital investor in the development of the hotel proposed for the old Club Med site.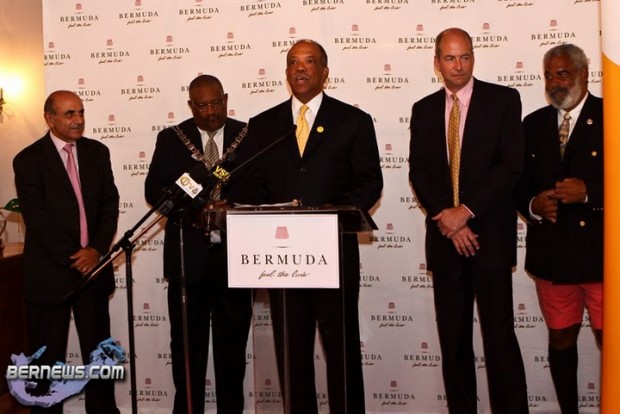 Acompanying Dr Brown were longtime involved Carl Bazarian and a new face, Pat McCudden, Senior Vice President for Real Estate Development for the Hyatt Hotels Corporation. Dr Brown said that it was hoped that construction would begin in late 2011.
Mr Bazarian said that the 'capital commitment' by Hyatt Hotels is evidence of a commitment to Bermuda. Mr Bazarian also thanked HSBC for being so patient and said that the whole process had, in is view, been: "The best experience I've had for private sector and government involvement."
Pat McCudden, Hyatt Hotel Corp's SVP for Real Estate and Development, said their investment was a strategic investment and that the Corporation was excited to be part of the opportunity. He went to say he was convinced that Government was committed to the development.
Answering Bernews question about how many dollars had been committed to the development, Dr Brown passed the question to Mr Bazarian who stepped forward and replied that there would be "hundreds of millions" committed to the development.
At a meeting held earlier this month, it was explained that it would be a 100 room hotel to Park Hyatt standards, with a 5,800 yard Nick Faldo designed golf course complementing the newly constructed hotel. Other condominium and family units would also be built at this time.
The hotel would build staff quarters for about 160 staff and its design would seek to harmonize with local architecture and the general tone of the World Heritage Site of the town of St George's. The plans called for the hotel to have only one shop, several restaurants, and a luxury Spa, while still ensuring that its guests would want to go into the town and dine in local restaurants.
In addition, there is another proposed hotel development for the east end; with plans for a 60-room boutique hotel and marina. The Corporation of St George's has entered into an agreement with Leading Edge Ltd to further investigate and develop the marina/hotel over the next few weeks.
Click to enlarge images:
(Photos and footage by Only the Best)
Read More About