This evening [Oct 4] a standing room only audience of about 180 people listened to Mr Carl Bazarian, developer for the old Club Med site in St George's, who promised the tightly packed group that construction would begin in November 2011; with completion anticipated some twenty-four months later.
He said that the Park Hyatt hotel group was still actively involved, that he had put in a 150 page design, concept, and preliminary plans package to the Department of Planning; and that in doing so he had met the deadline for having these plans in by September 1st 2010.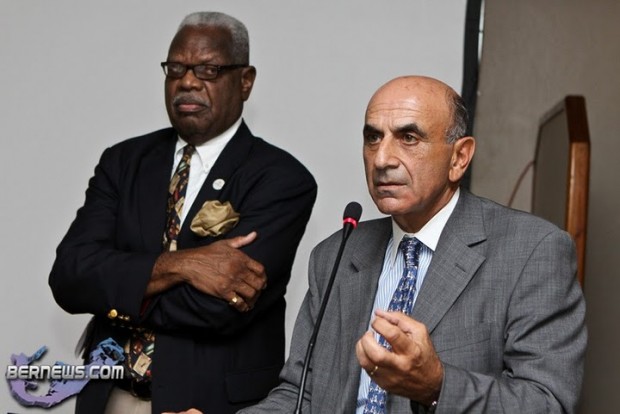 In a presentation filled with glitches caused by an un-cooperative slide projector, he said that the existing development plan still called for the building of a 100 room hotel to Park Hyatt standards and that there would be a 5,800 yard Nick Faldo designed golf course complementing the newly constructed hotel. Other condominium and family units would also be built at this time.
He pointed out that the hotel would build staff quarters for about 160 staff and its design is sensitive and seeks to harmonize with local architecture and the general tone of the World Heritage Site of the town of St George's.
The plans called for the hotel to have only one shop, several restaurants, and a luxury Spa, while still ensuring that its guests would want to go into the town and dine in local restaurants.
Mr Bazarian assured the audience that the golf course and beach would remain open to Bermudians, but that golf course tee times would likely see hotel guests getting preference.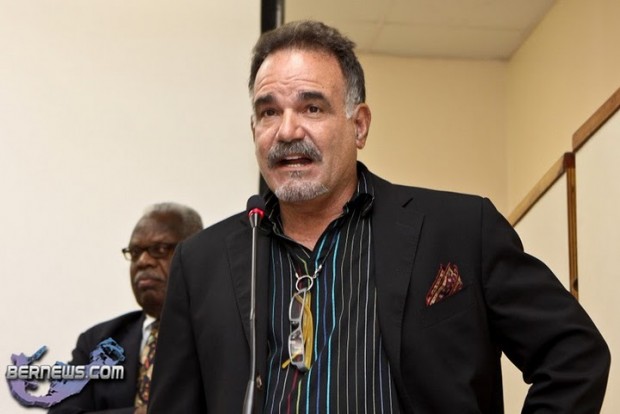 Late in the presentation, Mr Bazarian was joined by two senior representatives from the Park Hyatt group. These were Cuban-born Carlos Cabrera – Senior Vice President for Operations – Hyatt Resorts; and Olivier Gompel, Vice President for Feasibility, Development, and Finance. Both men had come in of the AA evening flight and had come straight from the LFW Airport.
Mr Bazarian said that in his view, the Park Hyatt would be a catalyst operation. That once this development got underway, he envisaged other operations – he named Ritz, Four Seasons, Regis – would then also start.
Mr Bazarian said that in hotel development, Bermuda was competing directly with the rest of the Caribbean for both development dollars and tourists; and that Bermuda was getting the same brands as the rest of the Caribbean.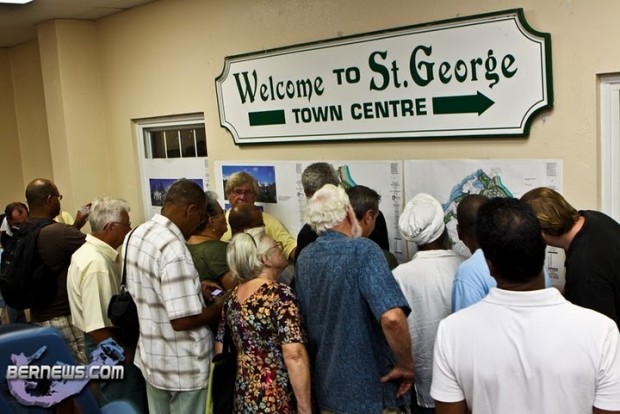 In the question and answer period, several St Georgians raised the issue, as one candid St Georgian put it, of 'crap'; more politely known as sewage. It seems that the town of St George's currently produces about 40,000 gallons of this everyday and that there is a serious concern that the addition of a new major hotel property will create a greater issue.
Mr Bazarian assured that the plans called for a reverse osmosis sewage treatment plant that would so treat the hotel's effluence, that it might almost be drinkable; and that some of it could be used as 'grey water' for irrigation etc.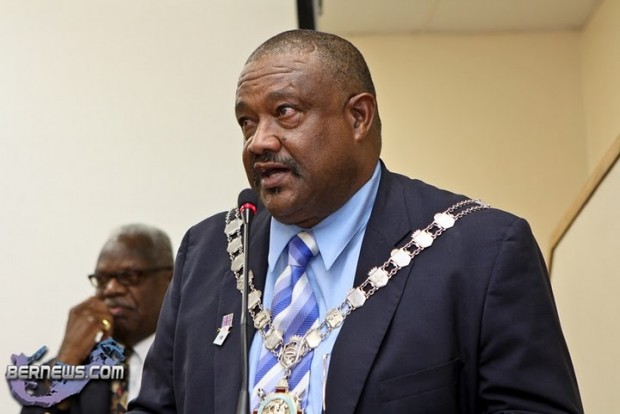 There was some apparent but mild resistance to the idea of a golf course. However, Mr Bazarian reminded that the 'high-end' clients who frequent Hyatt properties liked to play golf.
Two St Georgians who live in houses that adjoin the golf course expressed concern that the new design should ensure that errant as well as well-driven shots should no longer endanger or harm their houses and cars and family. E Michael Jones, who is part of the Bazarian team, assured these residents that this avoidance of danger was a serious consideration.
Closing of, and answering a query about Bermudian jobs as well as job promotions and careers for Bermudians, Mr Bazarian said that the Park Hyatt group were exploring initiatives with the Bermuda College and other on-Island hoteliers that should result in enticing more Bermudians into the hospitality industry.
Further, that the Park Hyatt group believed in pre-training as well as cross-training and expected their key staff to move around their chain of global properties. This meant that Bermudians who took employment with the new hotel and who were good, could, as a matter of career advancement, expect to spend time in Caribbean and European Hyatt properties.
Mayor Kenneth Bascome thanked Mr Bazarian and his team for the presentation and invited persons present to put any other questions that they might still have.
The photos below depict the proposed hotel and plans: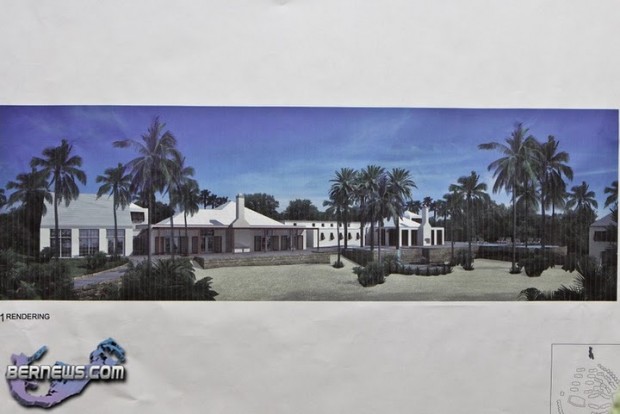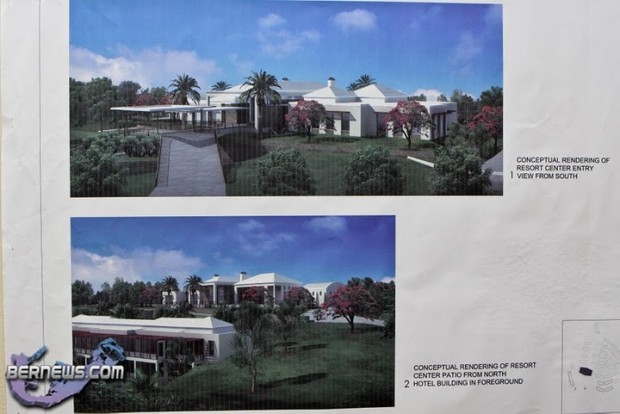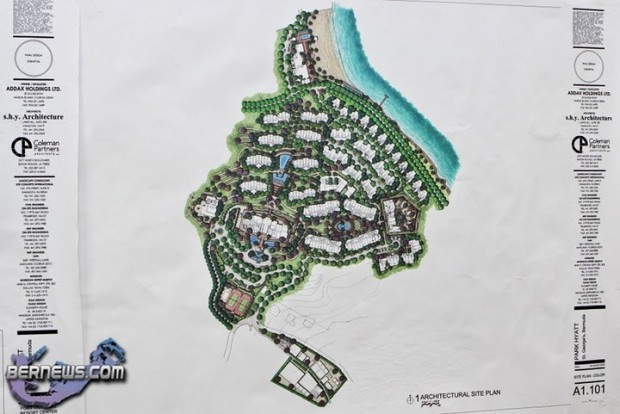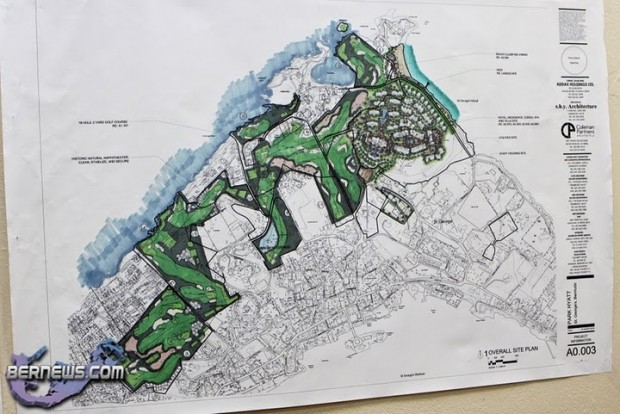 Read More About