Today [Oct 11] the Ministry of Tourism and Transport launched a public appeal to principals and parents of students attending Bermuda's schools to ensure their children take advantage of the dedicated school buses provided by the Ministry.Currently the buses run from the various schools to the east and west ends of the Island as opposed to operating out of the central terminal.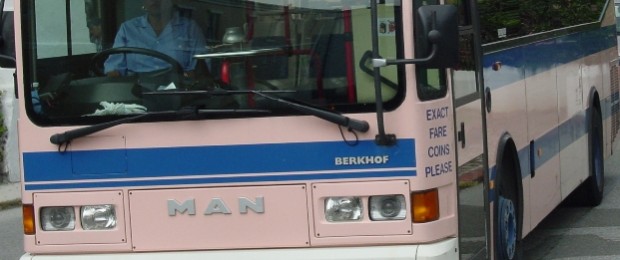 The appeal comes following ongoing public complaints being filed with the Ministry and the Department of Public Transport regarding the volume of school students who congregate at central terminal, and congest the regularly scheduled buses during peak commuter periods. Meanwhile, available space on the dedicated school buses goes unused on a regular basis.
A Ministry spokesperson said:
We are looking for the public's cooperation on this matter. It is really up to parents to encourage their children not to come into Hamilton after school but rather to take the school bus and go home. In these circumstances, it is difficult to continue to justify the provision of underutilized equipment. However the Ministry will continue to assess school usage and should the under-utilization of dedicated school buses situation persist, adjustments to the school bus programme may be required.
A recent complaint filed with the Ministry says:
It is extremely difficult to move through the terminal area with so many school children there, many who have gathered just to socialize with their friends…school children need their own buses and should not be allowed on city buses – mornings when we are all trying to get to work, or in the evenings.
The Ministry advised that dedicated school buses are available to and from the following schools:
Private Schools
Bermuda High School
Bermuda Institute
Mount Saint Agnes
Saltus Grammar School
Somersfield Academy
Warwick Academy
Senior Schools
Berkeley Institute
CedarBridge Academy
Middle Schools
Clearwater Middle School
Dellwood Middle School
Sandys Secondary Middle School
T. N. Tatem Middle School
Whitney Middle School
Primary Schools
Elliott Primary
Francis Patton Primary
Harrington Sound Primary
Heron Bay Primary
Northland Primary
Paget Primary
Prospect Primary
Purvis Primary
Victor Scott Primary
West End Primary
West Pembroke Primary
Read More About