During a press conference this afternoon (Dec 1) the Minister of Education Dame Jennifer Smith publicly recognised members of the community who have signed up to be a part of the Adopt A School initiative, which included former Premier Dr Ewart Brown, Minister Zane DeSilva and Senator David Burt.
The Adopt A School programme is the brainchild of Minister Smith, and involves members of the community agreeing to "adopt" or "sponsor" a school and provide $10,000 per year to assist in infrastructure upkeep. To date combined sponsorship from participants amounts to $60,000.
Burt Construction agreed to sponsor Northlands school. Minister Zane Desilva, his wife Joanne and Island Construction Company Limited agreed to adopt Heron Bay Primary School. Mr. James Kerwin and Rock Media adopted Francis Patton Primary and Harrington Sound Primary, and former Premier Dr Ewart Brown and Bermuda Healthcare Services have also adopted two schools – Victor Scott Primary and Harrington Sound Primary.
All of these adoptions are for up to $10,000 for repairs per school, per year.
Pictured below are the Minister of Education flanked by the Adopt A School participants and recipients. L to R: Front Row: Heron Bay Primary School Principal, Mrs. Joanne Dill, Joanne DeSilva, Minister Zane DeSilva, Minister Smith, David Burt Sr. and Francis Patton Acting Principal Suzette Cheeseman. L to R: Back Row: Victor Scott Primary Principal Valerie Williams, Sen. David Burt, Oxford Communications CEO, Jim Kerwin and Harrington Sound Primary Principal Lisa Smith.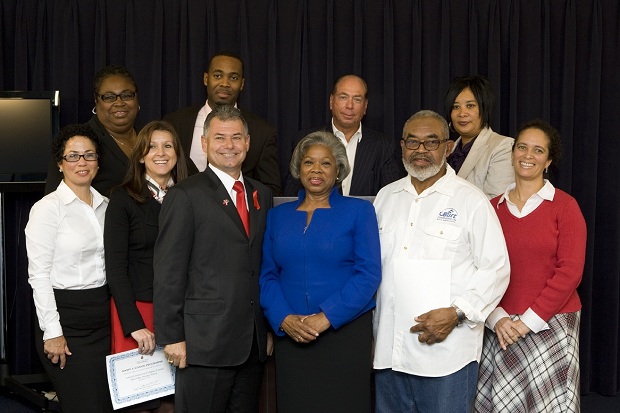 Dame Jennifer`s full statement is below:
Good afternoon.

There's a hard, but honest truth that we have all come to understand in Government; and that is that we can't do it alone!

Everything that we do is a joint effort. Likewise, trying to ensure that our public school facilities are clean, safe and sturdy environments for successful learning, needs the support of Government and the private sector.

Today, I am pleased to recognise just two of our private partners. Minister the Hon. Zane DeSilva and Mr. James Kerwin.

These gentlemen have partnered with the public education system to ensure that our school buildings are repaired, painted and physically in order on a timely basis.

They, and we, understand the importance of a supportive environment if our students and their teachers are to do their best work.

This is not to say that great work can't be done in bad circumstances – it is!

But, even greater work can be done when the environment is conducive and supportive.

I want these two gentlemen and former Premier the Hon. Dr. Ewart Brown to be recognised as the vanguard of a movement to give back to the schools that nurtured us. None of us would be where we are without education.

Sitting in a classroom right now is the future scientist who will discover the cure for cancer, the future leaders of this country in all areas – government, business, religion, education, community service – are sitting in classrooms right now!

And it is our job to make sure they are the best!

Ladies and gentlemen, I have to single out Minister DeSilva because shortly assuming the post of Minister of Education, he offered to help in any way he could. When I told him about my plan to ask construction companies to adopt a school – he immediately offered the services of Island Construction Company Limited.

Principals and teachers are intimately aware of the difficulty encountered in making schools physically ready each year.

Sometimes a small problem unattended becomes a larger problem.

All because we have aging facilities with no current means of responding to their maintenance issues on a timely basis.

It was this situation that sparked the "Adopt A School" programme. I chose to focus on Primary Schools because they lay the foundation for all other learning and because they are (generally) the older facilities.

The response – largely generated by Minister DeSilva's enthusiasm – has been such that I want to announce today that the program will be extended beyond construction companies to individuals, businesses and organisations who want to give "in kind" donations.

This would include offers to paint and repair; offers of plumbing, electrical or carpentry services, and offers of landscaping services. Additionally, individuals could band together to purchase paint and materials.

He agreed and immediately offered to adopt a school and to get others involved in the programme.

Today, the Ministry of Education wishes to publicly recognise and thank the Hon. Zane Desilva and Island Construction Company Limited; Mr. James Kerwin and Rock Media and former Premier the Hon. Dr. Ewart Brown and Bermuda Healthcare Services

Minister DeSilva has adopted Heron Bay Primary School and the Principal, Mrs. Joanne Dill is present.

Mr. Kerwin has adopted two schools – Francis Patton Primary and Harrington Sound Primary. And their Principals are also present. Acting Principal Suzette Cheeseman and Principal Lisa Smith respectively.

The Hon. Dr. Brown has also adopted two schools – Victor Scott Primary and Harrington Sound Primary.

Their Principals Valerie Williams and Lisa Smith are present.

All of these adoptions are for up to $10,000 for repairs per school, per year.

It is important to publicly recognise such acts of generosity which demonstrate, for our students, in a very tangible way that the wider world does care about them.

Minister; Mr. Kerwin; thank you for your commitment to the children of Bermuda and to enhancing their public education experience.

Your willingness to Adopt-A-School in the amount of $10,000 in labour per school year means that our students' studies will not be interrupted by the need for repairs or maintenance to an aging facility.

Not only will your contribution see an improvement in the physical plant of our schools but the adoption of a school means that the student body will benefit from the special interest you take in ensuring that their physical plant is maintained to the best of your ability.

Ladies and gentlemen, again, if we are to successfully address the concerns expressed by parents, the community and yes the media, it will require the help of every resident and business in Bermuda.

For this reason, I am particularly pleased that you Minister DeSilva and you Mr. Kerwin agreed to make a contribution of this nature.

Your donation is a positive step forward in the relationship between schools and community, and you are setting a standard that will reap immense benefits for the entire Island.

It is my sincere hope that other organisations will follow your lead.

Thank you very much.
Read More About