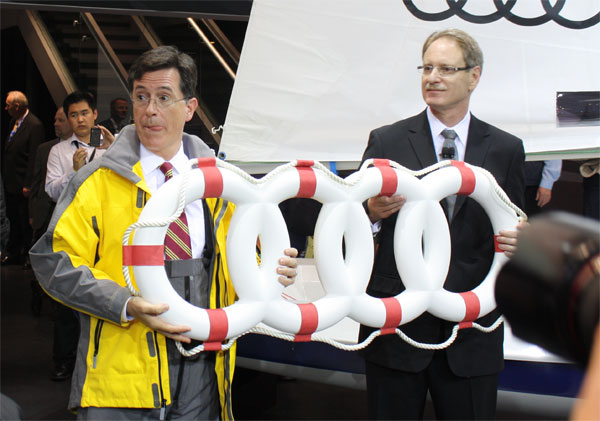 TV funnyman Stephen Colbert is serious about one thing — winning the the Charleston Bermuda Race which gets underway on May 21.
In a recent interview with E! The Entertainment Network, the faux-conservative talk show host said he hopes to be first across the finish line at the Royal Bermuda Yacht Club — in part to erase memories of his humiliating showing in the 2005 event.
"I came in dead last last time; I finished four days behind the lead boat," Mr. Colbert told E!. "We lost a sail, didn't have any diesel power so we couldn't charge any of our batteries. Both of our toilets became nonfunctional. That was on day two."
Mr. Colbert is  Honorary Captain of the Charleston Bermuda fleet this year [as well as serving as "Morale Officer"] and showed off  his Audi-sponsored 65-foot vessel — christened "The Audi"— in New York last month [pictured above].
"It's serious. You're going over 777 nautical miles—well over 1,000 miles. The first night you get scared, but you get used to it," he said. "We'll all be strapped in, jacklined to the boat. Because if you fall overboard at night, good luck being found. And so that's nerve-wracking, but you get used to that right away."
Mr. Colbert, who grew up in the sailing community of Charleston, South Carolina, told E! he was never able to sail as a kid because he's missing an eardrum in one ear, and "that didn't work in the water." Later in his life, some experienced boaters taught him how to sail anyway and he fell in love with it.
"Yes, we hope to do win," he said. "I will get a cup. And eternal glory. I will make everyone laugh, that's the way to keep from getting scared.""
The race — which has drawn major interest from both competitors and the media this year thanks to Mr. Colbert's participation – begins in Charleston Harbour on May 21. The comedian hopes to arrive in Bermuda four days later. And if he doesn't make it? Well, that won't be his fault: It'll be due to Armageddon.
"There is a cult out there that believes the world is coming to an end on May 21, so that's one of the reasons I wanted to be out in the ocean," he said. "I'll have nothing above me and I'll fly straight up."
The event's principal sponsors include Bermuda's Department of Tourism and Goslings Rum.
Read More About
Category: All, Entertainment, News, Sports