[Updated with videos] One Bermuda Alliance interim leader John Barritt will be sworn-in as Bermuda's new Opposition Leader at a Government House ceremony this morning [May 17]. It is expected to begin in a few minutes and you can tune in live below.
While St. George's Parliamentarian Kim Swan remains leader of the UBP, he announced yesterday [May 16] he had resigned his constitutional post as Opposition Leader to make way for Mr. Barritt — who now commands the loyalty of the second-largest grouping of Parliamentarians in the House of Assembly.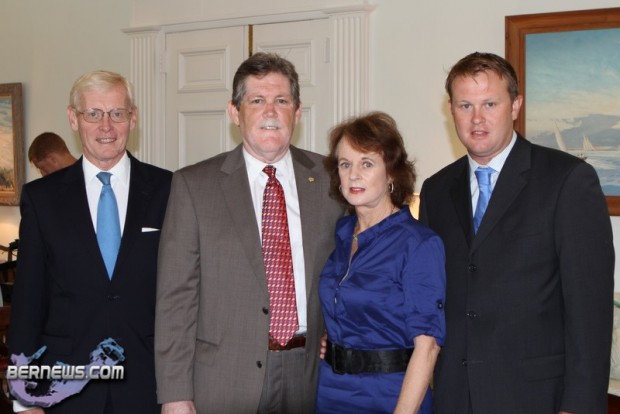 On May 3, months of speculation ended when members of the United Bermuda Party [UBP] met and voted to authorise party officers to dissolve the party and merge with the Bermuda Democratic Alliance [BDA] to form a new combined Parliamentary opposition bloc. The UBP was formed in 1964, while the BDA was founded in 2009 after disillusioned UBP members split to form a new political group.
The OneBermudaAlliance.bm website is presently under construction and details of the new party's agenda and its vision for Bermuda are expected to be announced at a Vasco De Gama Club press conference being held this afternoon.
Not all UBP members were in agreement with the merger. On May 10 party leader Kim Swan launched a rearguard legal action to prevent the amalgamation going ahead, filing a Supreme Court injunction seeking to stop the UBP from dissolving. Other complainants included UBP Parliamentarian Charles Swan, former candidate Devrae Noel Simmons, former MP Erwin Adderly, ex-Senator Charlie Marshall, Robert Lewis, Ola Gabisi, Patience Godfrey, Austin Woods and party joint chairman Montell Currin.
But seven UBP MPs resigned from the party last Friday in order to "pursue their right to free association". No longer legally bound by being members of the UBP, they were free to pursue the merger with the BDA. Only Kim Swan and Southampton backbencher Charles Swan will now sit in the House of Assembly as UBP MPs.
Mr. Barritt has been elected as interim leader of the OBA until internal elections can be held later this year.
He has been a Member of Parliament since 1993 when he was first elected MP for Devonshire South. He has served in the Cabinet, having held the portfolios of Telecommunications & Information, Youth Sports Recreation & Parks, and Legislative Affairs.
Mr. Barritt has so far managed to squeeze three careers into his lifetime. He was first a journalist who worked for "The Royal Gazette" and "The Bermuda Sun" — and then ZBM TV and radio, including a stint as a radio talk show host.
At age 30, he went back to law school in Canada and qualified as an attorney in 1986. He first practised law with Appleby Spurling & Kempe where he rose to be partner for 12 years until his retirement from the firm in 2004. He now works as a consultant attorney with Mello Jones & Martin.
Mr. Barritt is a member of the Bermuda Bar Association. He has served as a member on the Christ Church Vestry and the St. John's Church Vestry and remains an active member of Christ Church in Devonshire. His community involvement includes service and membership in the Bermuda Junior Golf Association, the Bermuda Debate Society and the Bermuda National Trust.
Update 12:49pm: The OBA are presently holding a press conference. Pictured below left to right are Dr Katherine Michelmore, Michael Fahy, John Barritt, Craig Cannonier, Bob Richards and Trevor Moniz: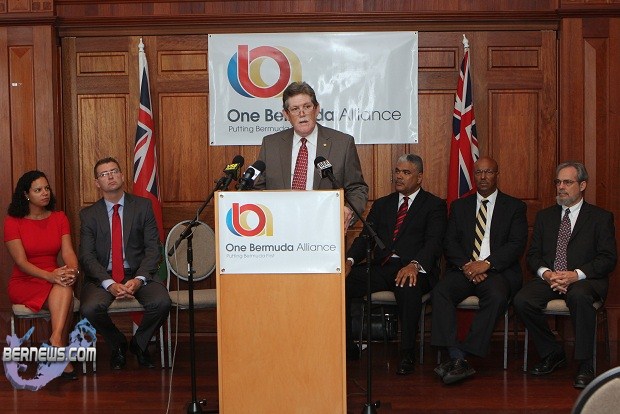 Governor's remarks:
Mr Barritt signing:
Mr Barritt's remarks:
Read More About