St. Paul A.M.E. Church on the corner of Court and Victoria Street hosted its first service after transitioning from its Centennial Hall to the renovated sanctuary this morning [Sept.4]. Before the morning's worship, a tree planting ceremony took place in the 'Missionary Garden', after which the service got underway.
The Church's congregation will now worship in air-conditioned comfort, on comfortable pews and enjoy modern screens and audio amenities.
A totally new balcony and exposed original beams add to the new look and feel of the sanctuary, while the Church's famous stained glass windows – donated by many prominent Bermudian families – have been preserved and restored.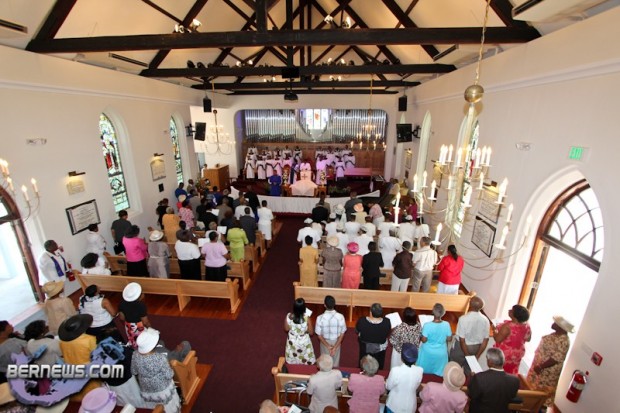 In a statement issued before today's service, Pastor Rev. Lanel Guyton said, "The vision has become reality. We feel truly blessed to worship in a sanctuary that renews St Paul's promise of a welcoming, spirit-filled and vibrant part of the community."
"African Methodists are a singing people and true to our tradition we are very proud of our new Rodgers pipe and digital organ which will be a centrepiece of our worship experiences."
The historic church describes their history on their website: "It was on Christmas day in 1881 that the first service was held at the 'BME Chapel' in Hamilton. The British Methodist Church had gained a foothold in Bermuda though the efforts of Bishop Willis Nazary who marshaled men from every parish to advance the cause. 1885 saw the emergence of the AME Church from the established BME."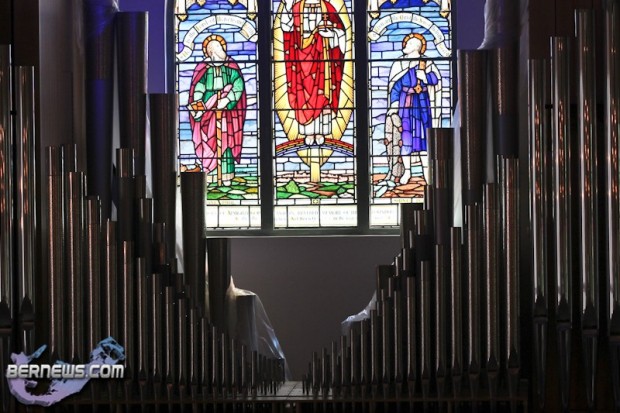 Their site goes on to say: "The corner of Court and Victoria Streets in the city of Hamilton is poised to prosper and it will forge its mark on the history of this Island nation. Bermuda has sought solace within her walls, has petitioned Him from her altar, and sings His praises in her pews. With God's help, Bermuda will do that for many years to come."
Click to enlarge photos:
Read More About