The Bermuda Open and National Optimist Championships got underway yesterday [Nov.12], a day later than planned due to high winds from TS Sean which slid by the island on Friday.
The event is hosted by the Sandy's Boat Club (SBC) and is run in conjunction with the Bermuda Optimist Dinghy Association (BODA).
Race Officer Peter Bromby started the day off setting the Championship course in Mangrove Bay, which was a new experience for the 20 locals as well as the 34 foreign guests making up the record fleet this year.
A number of general recalls (false starts) forced Bromby to hoist the Blag Flag to keep the anxious sailors behind the line prior to the start.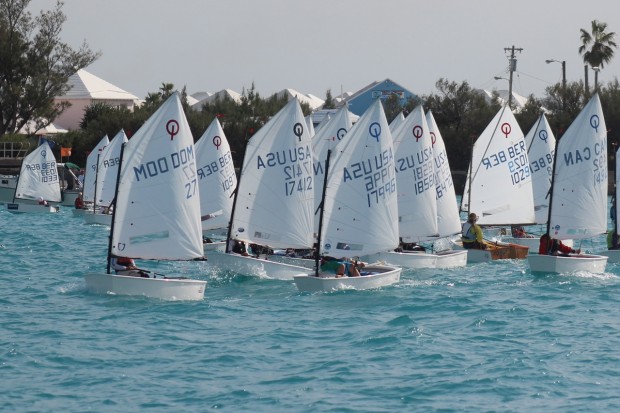 A Blag Flag Penalty is given to a boat who is over the starting line within a minute of the start gun. Boats getting one of these penalties must retire from the race by the first mark and are given maximum points. 14 such penalties were given in Race 1 which set the no-nonsense tone.
Once the first race was completed, Bromby realized that he would need more space for the large fleet and headed to the Great Sound for 5 more races. The Great Sound provided ideal 8 – 12 knot conditions from the NNW.
At the end of 6 races American visitor Will Logue from Riverside YC in Connecticut finds himself at the top the leaderboard with 13 points. Logue was winner of the 2011 US Team Trials and was also the runner up at the U.K. Nationals this summer.
Close behind is Dominican National Champion Justina Pacheco with 15 points, followed by Audrey Giblin of the Shewsbury Sailing and Yacht Club in New Jersey with 16 points.
Top Bermuda sailor and contender for the 2011 National Championship title is the RHADC's Rory Caslin who is in sixth place with 39 points. Chase Cooper of the RBYC is 2 points behind in seventh and Ceci Wollmann (RHADC) is in ninth with 51 points.
The 28 boat Green Fleet for novice sailors raced in Hamilton Harbour on Saturday. Part regatta and part clinic, the 'fun' aspect of racing is emphasized as sailors get pointers and encouragement from Tom Coleman, the "Green Fleet Guru" from the U.S. SBC Race Officer Lisa Siese completed 5 races.
The RBYC's Grace Reeves is currently the leader with 6 points and has Jordan Etemadi right on her heels with 7 points. Jordan is the grandchild of RBYC Past Commodore Jordy Walker. In third place with 12 points is Sean Tucker, also from the RBYC.
Racing continues today. Prizes will be presented at the Sandys Boat Club starting at 5pm.
Results:
Championship Fleet link.
Green Fleet link.
Live updates during the day link.
Read More About