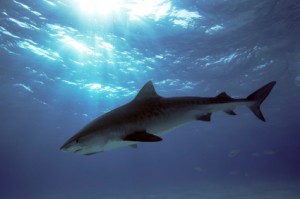 What's being described as a "safe and sane" tiger shark encounter is one of the prizes on offer in a new on-line Bermuda Zoological Society [BZS] silent auction.
The auction is dedicated to the memory of former BZS president Bill Scott and is aimed at raising $100,000 in his name to help fund the society's ongoing education projects at the Bermuda Aquarium, Museum & Zoo.  The Bermuda Tiger Shark Project will take the winning bidder for that prize off the island on a boat trip to watch the great fish swimming near the surface of the ocean.
The Bermuda Shark Project was founded by Choy Aming and Neil Burnie and is an independent research programme aimed at discovering more about the habits and migratory patterns of tiger sharks.
"We satellite tag tiger sharks that are caught and released within the territorial waters of Bermuda," said Mr. Aming. "The project started in 2005 and rapidly developed. In 2008 we started to use satellite tags as well as National Oceanic & Atmospheric Administration number tags.
"By the 2010 season we saw over 20 sharks tagged and transmitting data about the shark movements. The tags are paid by the generous support of our sponsors."
Other prizes include a week-long New Hampshire vacation, a behind-the-scenes visit to the world renowned Sarasota Dolphin Project in Florida and activities with the Bermuda Turtle Project which measuresm tags and releases sea turtles in Bermuda waters.
To participate in the auction, go here.
Related Posts
Category: All, Environment