A group of nearly a dozen people comprised of Tomorrow's Voices' staff and young people from around Bermuda converged on John Smith's Bay Beach to participate in a cleanup of the beach, with many of the young people participating in the beach cleanup were students with autism and other developmental disabilities.
The beach cleanup was organized through an initiative launched last year by Tomorrow's Voices called the Saturday Social Skills Group which is supported in part through grant funding from the Capital G Giving Back programme as well as the Ross "Blackie" Talbot Charity.
Students, volunteers and staff from Tomorrow's Voices, Dame Marjorie Bean Hope Academy and MSA showing off the trash they picked up from John Smith's Bay: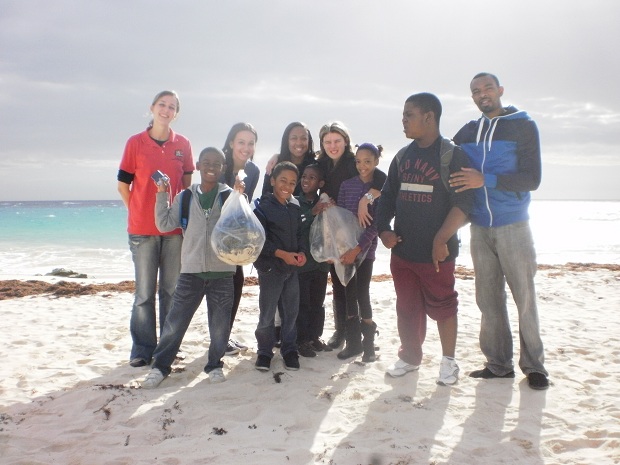 The Saturday Social Skills Group is designed to allow students with disabilities to practice social skill development and community exploration in a safe and supervised setting.
The unique aspects of the programme are that it is staffed not only by Tomorrow's Voices' therapists, but also by young people who are typically developing as well as those with exceptionalities. Many of the teenage volunteers in the programme are also people with disabilities.
Laura Repose, a teenage volunteer with special needs who attends Dame Marjorie Bean Hope Academy stated "I enjoyed looking after the children. It made me feel happy."
Dr. Kimberly Mills, Executive Director of Tomorrow's Voices stated "Although these young people may have disabilities this beach cleanup and other initiatives of Tomorrow's Voices helps them to feel empowered to take an active role in helping to build a better community."
A parent of a child involved in the social skills programme, Vernette Deshield, had this to say. "Tomorrow's Voices Saturday Social Skills Group means a lot to me as my son is able to attend a safe environment and they assist him with developing his social skills.
"They also go on outings in the community. He enjoys attending the social skills group and he had lots of fun and learns at the same time. It gives me time to run errands or relax for a few hours."
Anyone interested in participating in the Saturday Social Skills group should contact Dr. Kimberly Mills at 297-4342 or email kmills@tomorrowsvoices.bm.
Read More About
Category: All, Environment