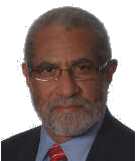 The PLP confirmed that Randolph Horton will be their candidate for Constituency 32, Southampton West. Mr Horton is the incubment, having won 69.03% of the vote vs the UBP's Charlie Swan [629–366] in the 2007 General Election.
Mr Horton was first elected to Parliament in 1998 in the Hamilton West constituency. In 2003, he was elected Member of Parliament for Constituency 32, Southampton West, and was subsequently reelected in 2007.
Mr Horton was appointed Minister without Portfolio in February, 2001 and Minister of Community Affairs and Sport in November of that year. In July 2003, he was appointed Minister of Labour, Home Affairs and Public Safety and in November 2006, he was appointed Minister of Education, Sports and Recreation.
Mr. Horton has taught at both the elementary and high school levels in Bermuda, and at College level in the USA, and served as the Principal of Warwick Secondary School for ten years.
Well known for his athletic accomplishments, Mr Horton has played professional football with the New York Cosmos; the Washington Diplomats and the Hartford Bicentennials. He was also Assistant Coach at Jersey City State College and as the Women's Varsity Coach at George Washington University. In Bermuda, he was both player and coach of the Somerset Trojans and represented Bermuda in both football and cricket.
Read More About