S.A.C. Re, Ltd. has commenced operations with $500m of contributed capital, raised in a private placement of the equity securities of its parent, S.A.C. Re Holdings, Ltd.
S.A.C. Re Holdings' founding investors include Steven A. Cohen and Capital Z Partners III, L.P. ("Cap Z"). Mr. Cohen is Chief Executive Officer and Chairman of S.A.C. Capital Advisors, L.P., a global investment management firm headquartered in Stamford, Connecticut.
Front row: CEO Simon Burton, General Counsel Victoria Guest, CFO Jonathan Reiss. Back row: Office Manager Jessica Crumley, Head of Risk and Analytics Pete Skerlj: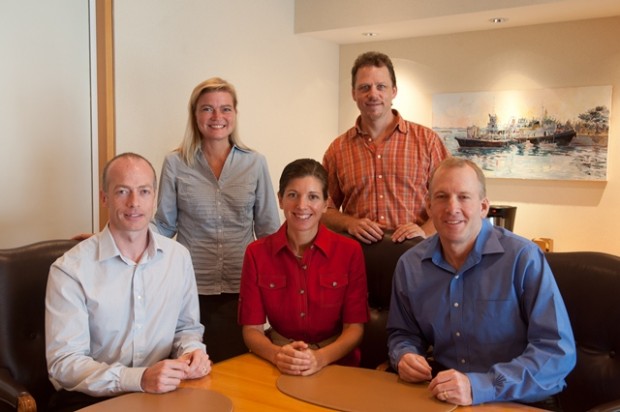 Cap Z is a major investor in the Bermuda reinsurance market, having been a founding investor in Endurance Specialty Holdings Ltd. and Lancashire Holdings Limited.
S.A.C. Re is a Bermuda-based Class 4 reinsurer formed to generate attractive risk-adjusted returns by combining the strengths of an experienced management and underwriting team and S.A.C. Capital's asset management capabilities.
Simon Burton, Chief Executive Officer, will lead the senior management team, which includes Jonathan Reiss, Chief Financial Officer; Claude Lefebvre, Chief Underwriting Officer Casualty; Victoria Guest, General Counsel; and Peter Skerlj, Head of Risk & Analytics.
Kathleen Reardon will be joining the team later this year as Chief Underwriting Officer Property, subject to Bermuda Department of Immigration approval. Kenneth J. LeStrange will serve as Chairman of the Board of Directors of S.A.C. Re Holdings.
S.A.C. Re Chief Executive Officer, Simon Burton, said: "We are delighted to commence operations in Bermuda with a unique business plan that leverages the combined strength of our reinsurance executive team and S.A.C. Capital's asset management capabilities."
S.A.C. Re will target a mix of high margin property catastrophe and other property classes and low severity casualty reinsurance business. S.A.C. Re's investments will be managed by S.A.C. Capital. S.A.C. Re is rated "A-'' (Excellent) with a stable outlook by A.M. Best Company, Inc.
Related Posts