[Updated: Arantxa King jumped three times, with her best jump of 6.4m earning her a 13th place finish, missing the finals by one spot as the top 12 go through. This is a substantial improvement on her 36th place finish at the 2008 Olympics. The 22-year-old was the final Bermudian to compete in these Olympic Games.]
Arantxa King — the final Bermudian to compete in these Olympic Games — will take the track at 3.05pm Bermuda time today [Aug 7] for the women's long jump.
Ms King, the Bermuda record holder, received a wildcard entry with her personal best of 6.5m. You can follow the long jump action live on the Olympic website here, and view all our Olympic coverage here.
Ms King and American basketball star Kobe Bryant at the Olympic Opening Ceremony: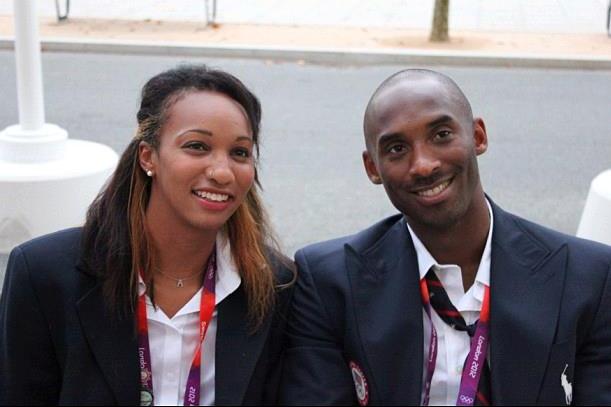 Update 3.04pm: They have shown the start list on TV so it appears they will be be showing the women's long jump, so tune into channel 11. It appears the commentator originally credited Ms King as being from another island initially, however they straightened that up and noted she was from Bermuda the second time they mentioned her.
Update 3.28pm: Ms King has completed her first jump, which was 6.4m. They did not show it on TV, as they cut to the hurdles at the time she was jumping. She has two more jumps.
Update 3.38pm: IMC showed many of the other long jumpers, but none Ms King's jumps. She fouled on her second attempt, and hit 6.2m on her third attempt – leaving her first attempt of 6.4 as her best jump. The other jumpers are still competing so we have to see how they do to find out Ms King's final placing.
Update 3.57pm: Ms King is maintaining her 10th place after a few more jumpers. We still have to wait for the final jumpers to get her final result, but it looks as though she will achieve a very solid placing.
Update 4.16pm: Ms King finished 13th, an impressive showing from the 22-year-old Bermudian and a substantial improvement over her 36th place finish in the 2008 Olympics.
She only missed the finals by one spot as the top 12 go through. Her 6.4m jump was actually tied with Veronika Shutkova's from Belarus, however Shutkova gained the 12th place qualifying spot as her second jump was further than Ms King's…by only one centimeter. Bermuda has now concluded competition at the 2012 Olympic Games.
Update 8.17pm: Ms King's latest tweet below.
God has a funny way of showing his humor.Tied for 12th ended up 13th! Finished the season as an Olympian can't be too mad about that#blessed

— Miss King (@arantxaqueen) August 7, 2012
Read More About