[Updated] There is a fire at Bermuda Mechanical Company on Marsh Lane in Devonshire this afternoon [Nov 17] .As of 1.30pm there appears to be at least three fire trucks on the scene, and at least a dozen firefighters.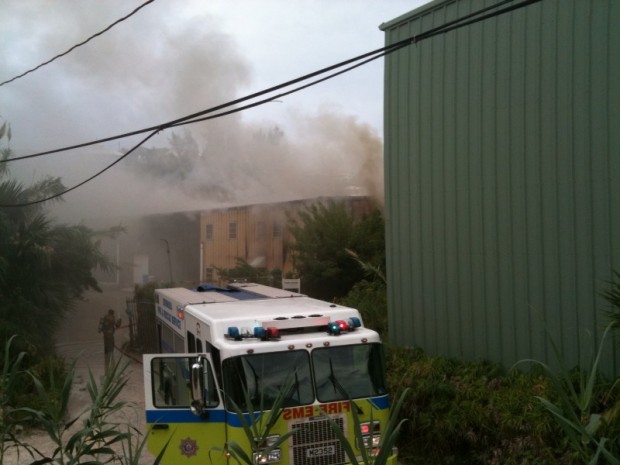 Smoke can be seen pouring over the Middle Road Devonshire area. Details are limited at this time, however we will update as able.
Live video stream from the scene turned off at 4.15pm, replay available below:
Update 1.51pm: The fire is still blazing, and firefighters continue to soak the building with water.
Update 2.02pm: Unofficial reports indicate that no one been injured. More firefighters have arrived on scene, with it understood crews have come from the fire stations at the end of the island. We are being told it is expected to take some time to bring the fire fully under control.
Update 2.22pm: The surrounding area has been blocked off by the police. There are now at least five fire trucks and three police cars on scene.
Update 2.37pm: The police said the smoke may be toxic. Their full statement follows below.
Police and Bermuda Fire & Rescue Service personnel responded to a fire at Bermuda Mechanical Supply Company Ltd. on Marsh Lane in Devonshire this afternoon.

Details are limited at this time; however area residents are being advised to stay inside and close their windows at this time and members of the public are encouraged to stay clear of the premises as smoke from the fire may be toxic.

We will update with additional information as it becomes available.
Update 2.46pm: Firefighters are setting up a line to pull water from a nearby warehouse water tank
Update 3.28pm: The smoke has reduced quite considerably, and fire officials appear to be inspecting the inside of the building from the doorway. An area in front of the building is flooded with water.
Update 3.50pm: The Bermuda Fire Service said that 30 personnel battled the blaze, which was brought under control at 3.30pm leaving one third of the building completely destroyed. The full official statement follows below.
This afternoon at 12.59pm a 911 call was received reporting a structural fire at #10 Marsh Lane known as the Bermuda Mechanical Building.

Bermuda Fire and Rescue Service responded with 4 fire appliances, 4 support vehicles and 30 personnel. The first fire appliance arrived on scene at 1 07pm to find a 2 story commercial warehouse completely involved in smoke and flames. Initially 2 firefighters in breathing apparatus proceeded to force entry into the building and fight the fire.

Once more resources arrived on scene the fire was successfully brought under control with 6 firefighters in breathing apparatus and the use of an additional water source.

At 3.30pm the fire was successfully bought under control and only hot spots were being attended to. One third of the building was completely destroyed, and it appears that two thirds remain unaffected by the fire.

Thankfully no one was in the building at the time and no injuries were reported. A complete and thorough investigation will be conducted to determine the cause.
Update 3.35pm: Someone from BELCO has arrived on the scene, and a video statement from Police Inspector Andy Morgan is below
Update 4.15pm: The live video feed has been turned off, and a replay is available above. A full photo gallery and summary report has been posted here.
Read More About
Category: Accidents and fires, All, News, Videos