Following the delivery of the 2013/14 Budget this morning [Feb 22] by Minister of Finance Bob Richards, PricewaterhouseCoopers Bermuda released a highlights summary.
Tom Miller, PwC Partner, commented on the budget: "It's a budget that recognises the seriousness of our fiscal situation, while taking actions to make the Island more competitive and stimulate foreign investment, and still meeting the immediate needs of Bermudians."
The summary below was provided by PwC, click to enlarge: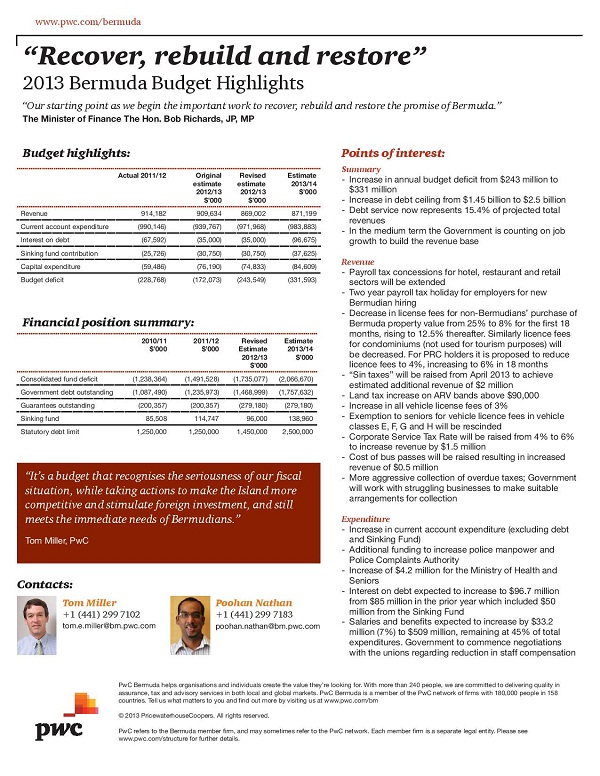 Mr. Miller also commented about the Government's plans to manage the deficit: "As presented, the Government's deficit management plan balances the need to stimulate growth and create jobs while cutting spending and increasing revenue."
PwC said notable actions within the budget include:
Starting negotiations with unions regarding a reduction in staff compensation
Raising the debt ceiling to $2.5 billion
Keeping public debt at such a level that the net debt/GDP ratio does not exceed 38 %
Implementing tax policies to promote tax growth and create jobs:
two year payroll tax policy for new Bermudian hires
reduce license fees for non-Bermudians purchasing property
Extending payroll tax concessions to the hotel, restaurant and retail sectors
Raising duty on cigarettes, tobacco, beer, wines and other spirits
Increasing vehicle license fees and rescinding senior citizen car licensing exemptions
Raising the cost of bus passes
Raising the Corporate Service Tax Rate
Promising to use all available means to collect overdue taxes
"The Budget addressed all priority areas of the Island's social economy – health and safety, senior citizens, and education, committing additional funds to police manpower, increasing the budget for the Ministry of Health and Seniors, and the Education Ministry – to help expand its services to special needs students," said PwC.
"What is clear from this Budget is that the solutions to Bermuda's challenges also go beyond the Government. It's up to all of us to do our part to help develop a more attractive Bermuda marketplace, while tightening our belts to get us through this difficult economic climate together," Mr. Miller concluded.
View all our coverage of the 2013 Budget here.
Read More About