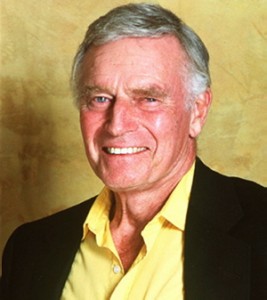 There's a reason actors refer to Shakespeare's "Macbeth" as the play that dare not speak its name — and an accident-plagued Bermuda production only added to the superstition.
According to a theatrical superstition called the "Scottish Curse", speaking the name "Macbeth" outside a theatre will cause disaster.
A variation of the superstition forbids direct quotation of the play — except during rehearsals — while inside a theatre.
Because of this longstanding theatrical tradition, the tragedy play is called "The Scottish Play" and the lead character is most often referred to by the cast and crew as the "Scottish King" or "Scottish Lord."
Productions of "Macbeth" — which involves withcraft, the unbridled political ambitions of a Scottish warlord and murder — are said to have been plagued with accidents, some ending in death.
According to legend, this dates back to the premiere of the play in the early 17th century: an actor is said to have died because a real dagger was mistakenly used instead of the prop
Academy Award-winning actor Charlton Heston [1923-2008] played the title role in "Macbeth" in 1953 in an open-air production at Fort St. Catherine directed by Burgess Meredith.
During the first performance, when he was riding a horse bareback around the East End fort's ramparts, Mr. Heston  [pictured above] suddenly rushed off stage, pointing at his tights, writhing in pain and yelling: "Get them off me!"
According to the actor's autobiography, whoever had laundered his tights had dipped them in kerosene and the sweat of the horse and the heat caused serious burns to Mr. Heston's legs and groin.
Later, the wooden facade of Macbeth's castle came down burning as planned, but the wind blew flames and smoke into the Bermuda audience. Fortunately, nobody was injured.
Despite these mishaps, Mr. Heston — who went on to appear in such films as "The Ten Commandments" [1956], "Ben-Hur" [1959] and "Planet of The Apes" [1968] — returned to Bermuda the following year to appear in a production of "Born Yesterday" with original Broadway stars Jan Sterling and Paul Douglas.
He said that the worst thing to happen to him on this second visit was getting sunburned at the Coral Beach Club when he was posing for publicity photographs with his co-stars [below].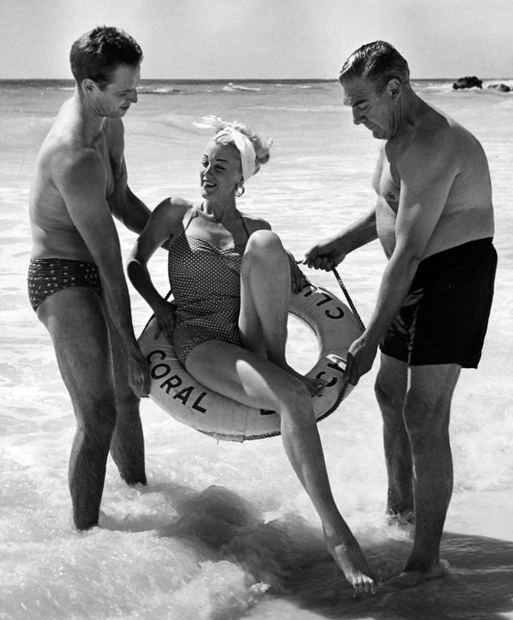 Read More About
Category: All, Entertainment