The Department of Civil Aviation announced that Bermuda Aerial Media has been granted an Aerial Work Certificate [AWC] to conduct operations with their remote controlled helicopters for filming aerial photography. Bermuda Aerial Media are the first, and at present only, company permitted to conduct such operations in Bermuda.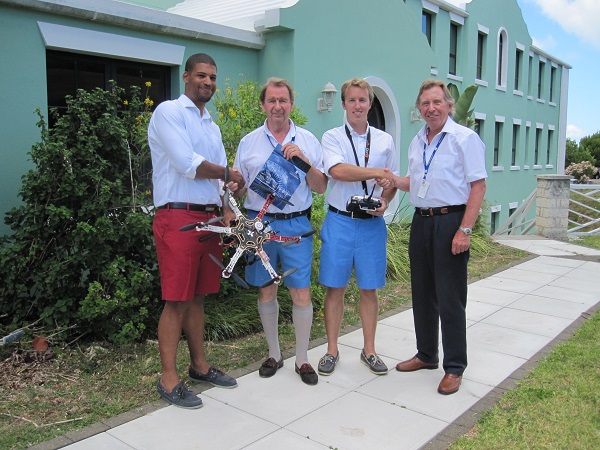 Dr Grant Gibbons, Minister of Economic Development, congratulated the owners of Bermuda Aerial Media, Connor Burns and EJ Burrows, for their proactive approach to gain this certification. He stated, "By achieving this distinction, they have demonstrated to the Civil Aviation technical staff, their ability to develop safe and comprehensive operating procedures. They have also demonstrated, by a series of flight tests, their ability to handle their aircraft in a variety of emergency situations."
Dr Gibbons added, "This is an open market for young entrepreneurs, photographers and videographers. It should be noted that the Department of Civil Aviation is willing to work with any individuals to assist with getting the aerial work certification. It is vitally important to maintain safety standards and strict regulations regarding the operation of small unmanned aircraft in a congested island such as Bermuda."
A spokesperson said, Approximately one third of the airspace above the island lies within the airfield Air Traffic Control zone and flying these unmanned aircraft or drones in such airspace could pose a hazard to conventional air traffic. It is essential that comprehensive procedures are established, which are acceptable to the Department of Civil Aviation and Air Traffic Control. Use of these vehicles for commercial gain, for example aerial photography, is only permitted when approval has been granted in the form of an Aerial Work Certificate.
"The Department would also like to take this opportunity to advise the public that all forms of aerial activity are subject to regulatory control and restrictions."
Read More About