The Department of Community and Cultural Affairs today [July 25] announced the official programme to commemorate Emancipation Day 2013. The programme will honour Community Heroes from Pembroke Parish and will be held at The Berkeley Institute on Sunday [July 28] commencing at 7.00pm.
Heather Whalen, Senior Community and Cultural Affairs Officer, stated, "Last year, we shifted the programme focus and it was well-received by the audience.
"Instead of featuring aspects of slave experiences, we have refaced the event to bring attention to those people of African descent who have contributed significantly to the development of their respective communities."
She added, "Last year, we focused on Sandys and St. George's Parish residents, clubs and organizations. This year, we will celebrate the contributions of "Community Heroes" from Pembroke Parish whose selfless efforts helped to build their communities."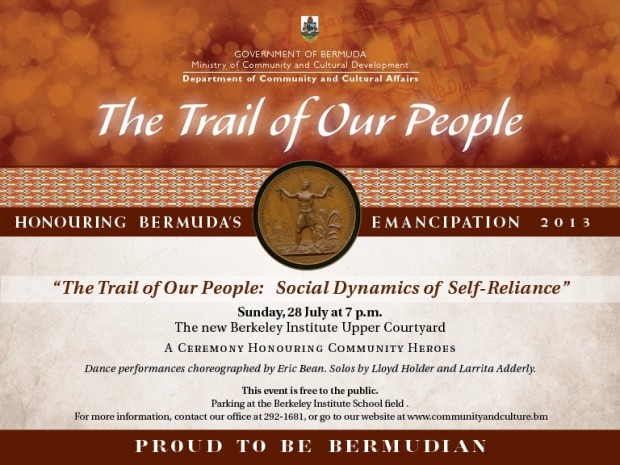 A spokesperson added, "The Department of Community and Cultural Affairs along with the members of the Emancipation Committee are of the view that the Emancipation Act of 1834 offered so much more to the black community than freedom.
"It gave each individual the opportunity to make a difference and affect their personal sphere of influence. Thus, with the theme "The Trail of Our People: The Social Dynamics of Self-Reliance" it is our aim to raise awareness about the people who have shaped and molded our island home, Bermuda.
"Families of the honourees will be acknowledged and are encouraged to attend. The programme will feature music, entertainment and dance as well as the biographies of the Community Heroes".
This year's Community Heroes are:
Individuals
Dame Marjorie Bean
Dr. Kenneth E. Robinson
Victor and Edna Mae Scott
Rev. Dr. Merle Brock Swan Williams
Millie Neverson
Julian Tucker
Alpheaus 'Ardie' Black
Mayor Cecil Dismont
Alfred Brownlowe Place
William Henry Thomas Joell
Vernon Jackson
Horace Francis Leopold Musson
William Francis Wilson II
Agnes Mae Robinson
Canon Thomas Nisbett
Lancelot Hayward
Earl Cameron
Alma "Champ" Hunt
Ruth Seaton James
Judge Earle Seaton
Wesley Leroy Tucker
The Brangman Sisters – Olga, Mona, Mary
Groups
Founders of the Berkeley Institute
Samuel David Robinson
Joseph Henry Thomas
Richard Henry Duerden
William Henry Thomas Joell
Eugenius Charles Jackson
Charles William Thomas Smith
William Orlando F. Bascome
John Henry Jackson
Samuel Parker Sr.
Samuel Parker Jr.
Henry T. Dyer
Founders of the Progressive Labour Party
Wilfred "Mose" Allen
Walter N. H. Robinson
Hugh " Rio" Robinson
Robert Austin Wilson
Albert "Peter" Smith
Dilton Cann
Edward deJean
Founders of the Bermuda Workers Association
Gerald Brangman
Robert Austin Wilson
William A. Davis
Founders of the Bermuda Union of Teachers
Adele Tucker
Matilda Crawford
Edith Crawford
Rev. Rufus Stovell
Leaders of the Bermudiana Theatre Club Protest
Carol Hill
Hilton Hill
Georgine Hill
Eva Robinson
Young Men's Friendly Institute
Read More About