The Bermuda women's gymnastics team — Gabby Vincent, Tabytha Hofheins, Sydney Mason, Zantae Dill, Danielle Wall and Sadia Wilson — won silver in the 2013 Island Games team event this afternoon [July 14], with Isle of Man taking the gold and Faroe Islands winning the bronze.
The Isle of Man finished with 101.500 points, Bermuda with 98.650 points, and Faroe Islands had 93.450 points. Jersey was in 4th, Aland placed 5th, Ynys Môn placed 6th, while the Cayman Islands placed 7th.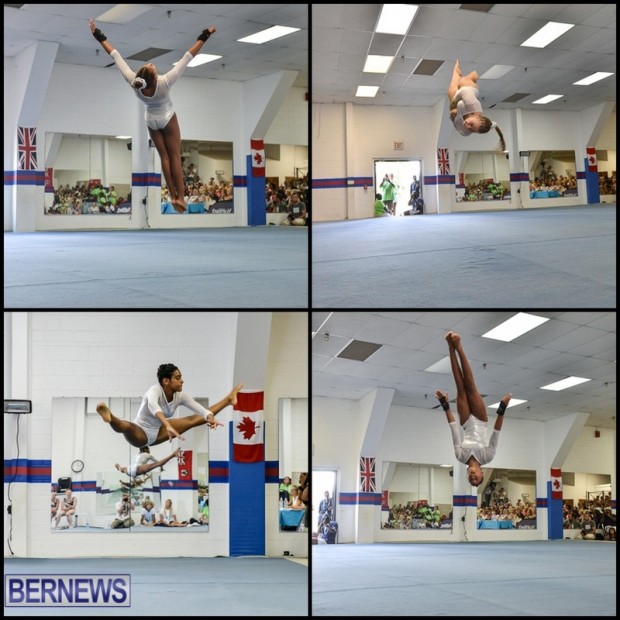 The gymnasts competed in the vault and floor, with the top four scores for each event counting towards the team total. Bermuda started on vault with a total of 50.7. Sadia Wilson led the way with a 13.25, the highest vault score of the day. The team then moved to floor exercise and earned a 47.95 in front of a crowd some 300 people strong. Wilson was again the team's top scorer, earning a 12.4.
The Isle of Man team turned in great performances on both events, notching a 50.9 on vaulting and a 50.6 on floor. IOM's top performer on vaulting was Nicole Burns with a 12.9 and on floor was Grace Harrison with a 13.05.
On the men's side of the competition, Bermuda was proud to enter a squad for the first time in the NatWest Island Games. Unfortunately, one of the team members, Charles Lowery, was unable to compete due to an injury, but Oliver Binns and Marcus Smith took on the floor and vault routines. Both gentlemen are assistant coaches for the Bermuda Gymnastics Association, and their students cheered them to a 3rd place finish – earning 38.95 points.
The race for the gold was competitive between Isle of Man and the Faroe Islands. After a dynamic vault round, Faroe grabbed first place with a 76.05, and Isle of Man took second with a 75.0.
The gymnasts return to action on Tuesday, with the men from 9am-1pm and the women from 4pm – 8pm at the St. David's National Training Center. They will compete in the FIG round, the round that showcases the most exciting and daring elements on the vault, bars, beam, and floor. Admission is free.
The silver medal won by the gymnasts was the 6th medal for Bermuda today, following after Nicole Mitchell's gold in the women's individual cycling road race, Karen Bordage's silver in the women's cycling individual road race, the gold medal in the women's cycling team event, Laurie Orchard's bronze in the women's triathlon and the silver medal in the women's triathlon team event.

Read More About