[Updated] An eel was recently spotted in Bartram's Pond at Stokes Point Nature Reserve in St. George's, with Bermuda Audubon Society President Andrew Dobson capturing the photo below as the eel slithered through the water.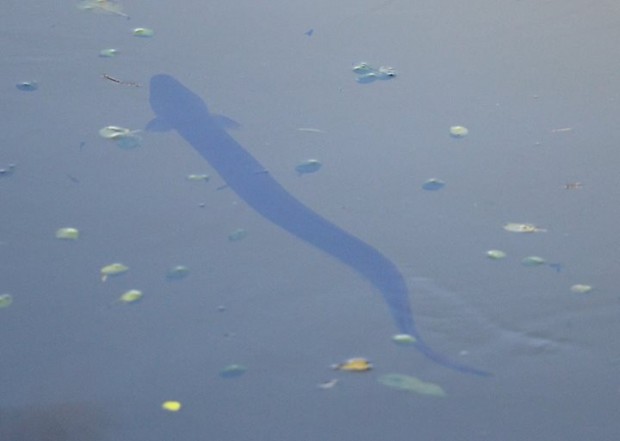 Writing for the Winter 2011 Bermuda Audubon Society newsletter, Alison Copeland reported that in March 2011 Dr. Philippe Rouja and Mr. Robert Fisher explored Bartram's Pond following a reported sighting of eels, and were able to capture some great images of a large eel.
Ms Copeland said that she and Dr Rouja returned to Bartram's Pond and when they arrived at the pond a medium sized eel could be clearly seen swimming along the surface.
The eel above is certainly doing better than the last eel spotted in Bermuda, with a 5 foot long Moray eel washing up dead in Bailey's Bay in August.
Update: The Department of Conservation Services is keen to hear from anyone who sees an eel, and sightings can be reported to the Department by emailing conservation@gov.bm.
A spokesperson said if anyone has photos that would be much appreciated, and they also would like to know the date and location of the sighting.
Read More About
Category: All, Environment, News