Digicel Bermuda today [Dec 22] announced the grand prize winner of their 'Brighten Someone's Christmas' campaign – Ebony Sousa, who has won a new Kia Soul from Bermuda Motors.
The promotion launched on November 8th offering all new and existing Digicel Prepaid, Postpaid and Internet customers the opportunity to participate and win one of 60 weekly prizes including: one month free Digicel Service, $50 Digicel Prepaid Credit, $50 iTunes Cards, Samsung Galaxy S4 Smartphones, Google Chromebooks, spa vouchers and $500 vouchers to spend at any local business.
Digicel CEO Wayne Caines, winner's proxy Kenneth Sousa, winner's son Dante' Sousa, Winner's son, Bermuda Motors' Derrick Simons: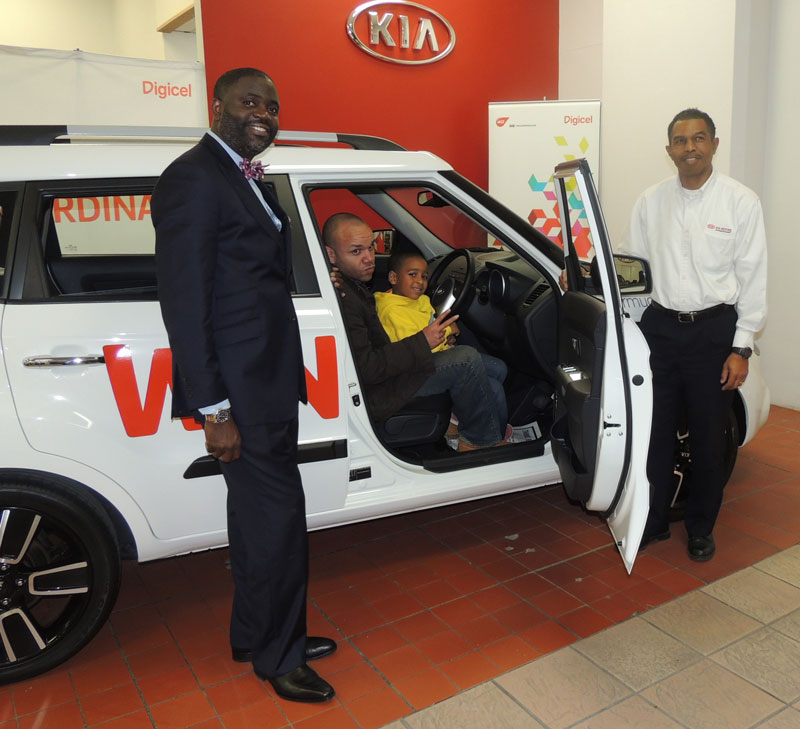 Digicel Prepaid customers were asked to Top Up with $20 or subscribe to a Digicel Prepaid Daily Plan. Digicel Postpaid customers in good account standing were automatically entered and those who purchased a featured device, activated a new account or signed up for Digicel Internet or a Bundle gained entry.
Over 300 Digicel customers have won more than $20,000 in weekly prizes and these 15 were randomly selected to participate in the grand prize draw to win a new Kia Soul.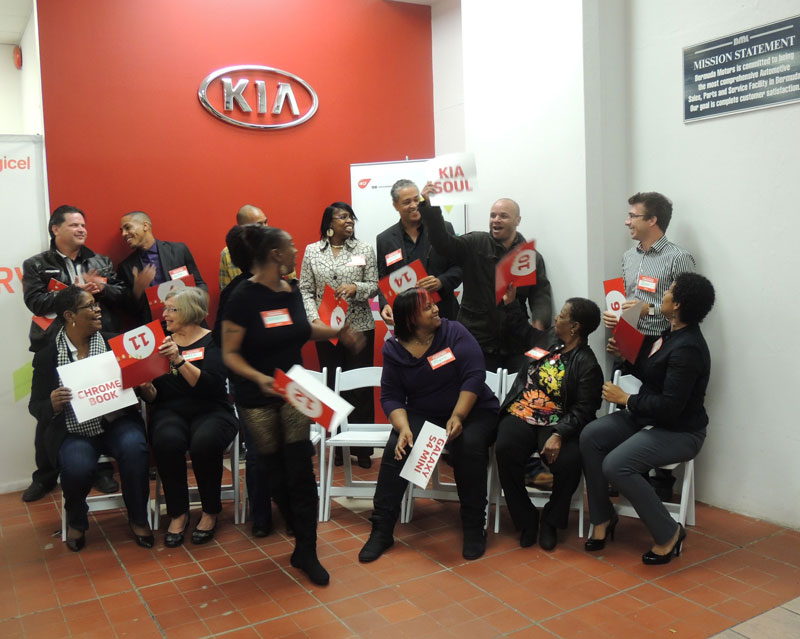 Digicel Postpaid Customers
Milina Williams
Airlie Arton
Newton McLean
Irene Richardson
Ebony Sousa
Digicel Prepaid Customers
JeanAnn Liburd
Teayona Gilbert
Saje Nearon
St. Garfield Hall
Marcus Brown
Digicel Internet Customers
Marshall Weller
Lynette Davis
Andrew Scaife
John Stathakis
Karen Santucci
Shane Mora, Marketing Director of Digicel Bermuda explains, "The selection process was designed to ensure that all of our customers had equal opportunity to win. Whether Postpaid, Prepaid or an Internet customer, we randomly selected 5 customers from each segment who participated per the terms of the promotion."
"We invited the 15 finalists to attend a live draw, which took place at the Bermuda Motors' showroom Friday evening. A coin toss determined the order in which each finalist chose a mystery card and once all cards were distributed, each finalist revealed their prize," continued Mr Mora.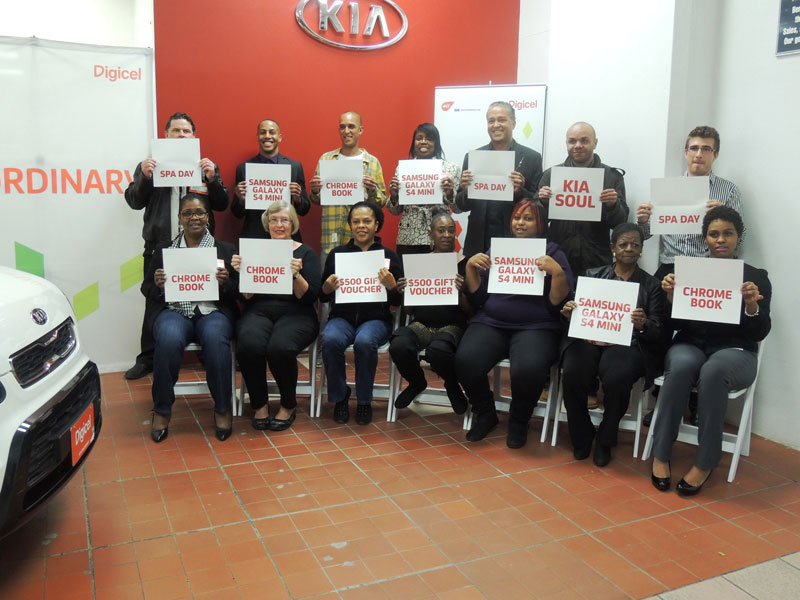 All winners were quite happy to walk away with prizes valued at approximately $500 apiece. While, the overjoyed grand prize winner, Ebony Sousa says, "On behalf of myself and my family, I'd like to express my deepest gratitude to both Digicel and Bermuda Motors for this unforgettable Christmas Miracle. Words can't begin to express how appreciative we are, and the phrase 'Thank you' somehow doesn't seem to suffice."
During the promotion period, Digicel also launched a #BrighterChristmas Facebook App which saw a number of their social media followers nominate those who have made an extraordinary impact on their year.
Three lucky nominees, Glenda Simons, Anne Hyde and Gene-Anne Bean were each recipients of $450 to assist in making theirs a brighter Christmas and a final candidate will be announced on Christmas Eve.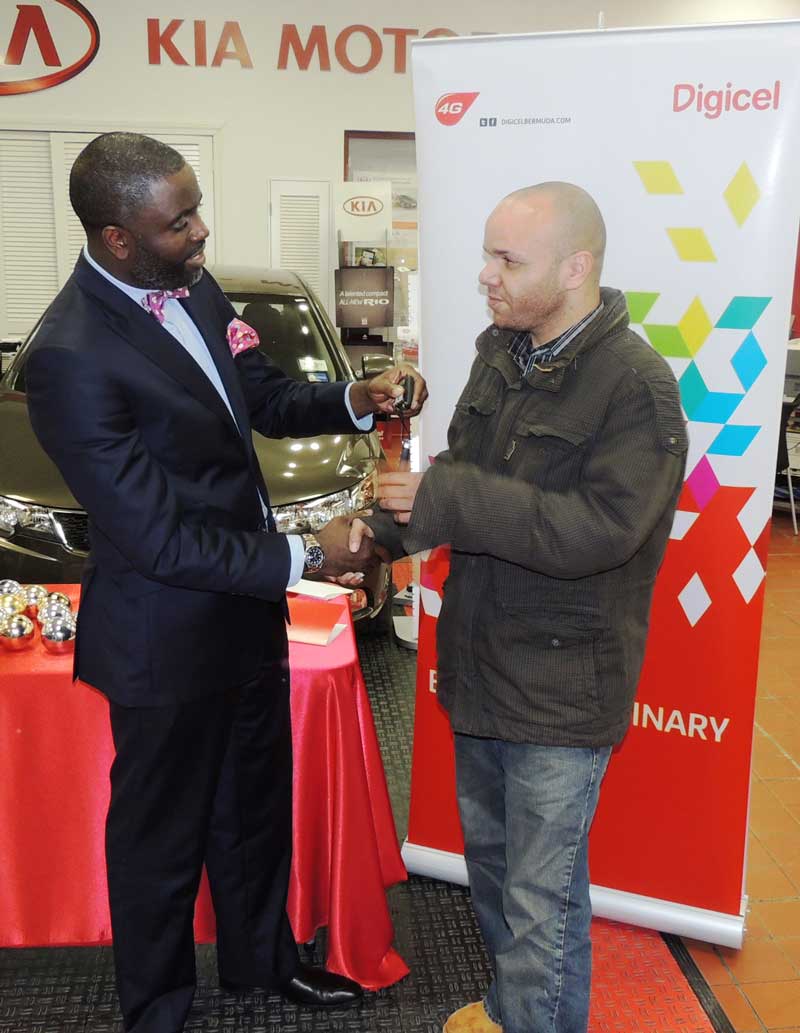 "We are delighted to have brought this exciting offer to our customers this holiday season," comments Wayne Caines, CEO of Digicel Bermuda. "The campaign was well received and we'd like to take this opportunity to thank Bermuda Motors for partnering with us as well as all of our customers for participating. We wish all of you the happiest of holidays and a wonderful 2014."
Read More About