[Updating] The ferry service appears to still be suspended this morning [Feb 21], with an ongoing labour dispute causing interruption to the service.
We are unable, at this time, to get official confirmation, however the Hamilton Ferry Terminal has a sign saying "All Ferries Cancelled", the Ferry Terminal phone is not being answered and there is no sign of any activity.
This is the third day of disruption to the ferry service, with Marine & Ports staff citing longstanding issues with management and ferry maintenance that they have been attempting to resolve for some time.
Sign on the Hamilton Ferry Terminal's door this morning: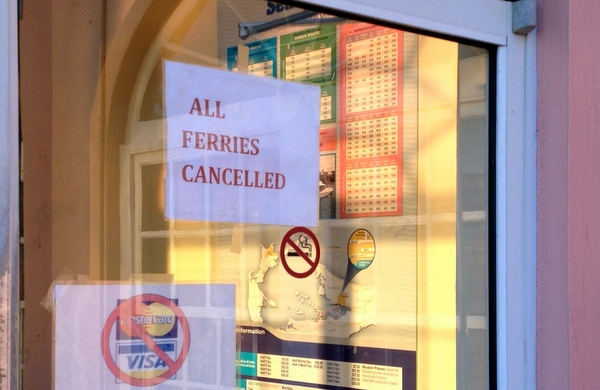 Minister of Tourism & Transport Shawn Crockwell obtained an injunction from the Chief Justice, which specifically related to those workers engaged in port and dock services including pilotage, tug and line boat operation.
"It is understood that pilotage services in this area have largely resumed. However other workers remain out," a Transport Ministry spokesperson said.
The Hamilton Ferry Terminal this morning, showing no signs of activity: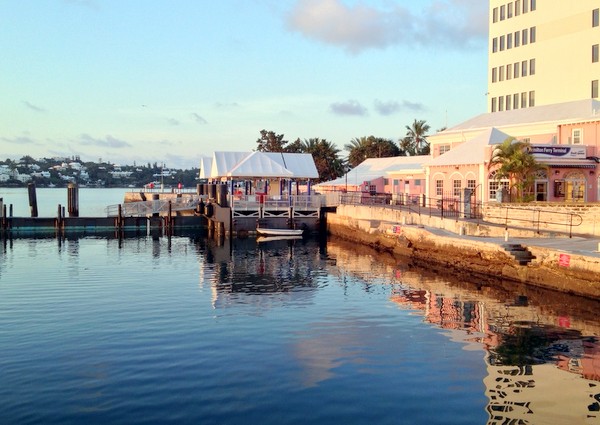 Shadow Transport Minister Lawrence Scott said this industrial action Bermuda should have been avoided, saying "Minister Crockwell's continued mismanagement and inattention to ferry worker's legitimate concerns at the Ministerial level was a significant contributing factor to this labour action…."
Update 8.37am: The Transport Ministry confirmed that ferry service remains suspended.
Update 9.24am: It appears there may be another labour dispute brewing with the Parks Department, as Parks workers could seen gathered outside Union headquarters this morning, and were just called inside.  Unofficial reports indicate they have downed tools.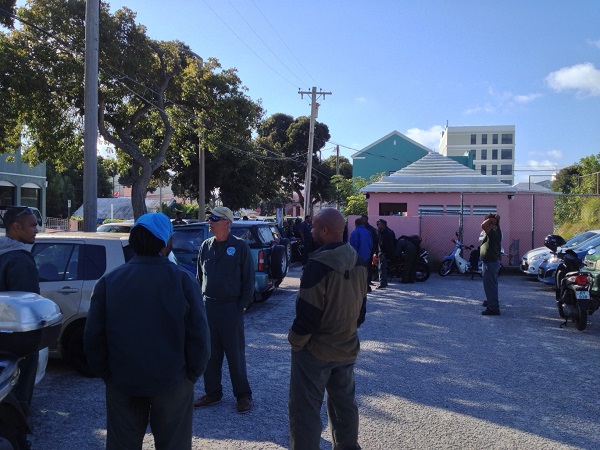 During the industrial action over the Hamilton Princess issue earlier this month, BIU President Chris Furbert had warned that there were concerns with both Marine & Ports and the Parks Department.
Update 4.17pm: The Ministry of Public Works confirmed that there has been an interruption to services today as a result of what they termed an "irregular industrial action" by Department of Parks staff.
"Areas affected primarily involved Parks employees working out of the Marsh Folly Facility. It is understood however, that some staff members remained on duty," a spokesperson said.
"The Ministry advised that discussions are underway between representatives from the Department of Workforce Development and the Bermuda Industrial Union to seek a resolution. The Department of Parks is also willing to continue discussions with the Union.
"As it relates to Ministers of the Government being involved in dispute mediation the Government wishes to clarify that there will be no direct involvement or action taken by any Government Minister in the discussions surrounding the dispute as Ministers do not have authority or responsibility for staffing issues. Such matters are the responsibility of the Public Service.
"Government also clarified that those workers who engaged in today's irregular industrial action will not be paid for the work hours missed – this is in keeping with Government's "No Work; No Pay" Policy.
Minister of Home Affairs Michael Fahy assured the public that he is monitoring today's developments closely.
Minister Fahy said, "Today's actions are regrettable, as there should have been adequate notice given to management about any proposed industrial action. We're hoping that we can resolve this matter as soon as possible to avoid any further disruption of service."
Read More About