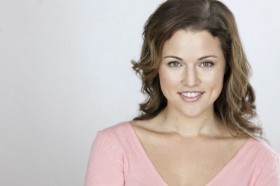 Bermudian Broadway star Rebecca Faulkenberry will headline an event in Hamilton to mark Earth Hour on March 29, 2014, helping to remind Bermudians about the importance of reducing our reliance on fossil fuels.
A spokesperson said, "Ms. Faulkenberry, who played Mary Jane Watson in the Broadway smash hit Spider-Man: Turn off the Dark, has agreed to perform some songs from the musical on March 29 alongside co-star Reeve Carney, who has just finished filming in Ireland for the new HBO series Penny Dreadful.
"Earth Hour should just be the start. People must realize that it takes more than just one hour to make a difference and that it involves everyone coming together and taking a real interest in our future, changing their behaviour and practices in support of sustainability," said Ms. Faulkenberry.
"I was approached to take part, and I had no hesitation in saying yes. It is so important that Bermuda and Bermudians understand the need to reduce their reliance on fossil fuels. If my appearance at the Earth Hour event helps that just a little bit, then great."
"Earth Hour is a global event involving more than 7,000 cities and millions of people coming together on March 29 from 8.30pm to 9.30pm. In Bermuda there will be events at the Washington Mall and City Hall including a Walk of Flame through Hamilton's darkened streets.
"From 12.00pm to 5.00pm, the upper level of Washington Mall will host a Living Green Expo with vendors showcasing their 'green' products and services. Companies that have committed so far are BES, Butterfield & Vallis, and Orange Bay; the Department of Energy and KBB will also be in attendance.
"From 6.00pm to 9.30pm, City Hall lawn will be the scene of a host of activities ranging from face paintings to entertainment, including Rock Fire, Dancesations, Troika, and In Motion.
"At 7.00pm there will be a film in the City Hall theatre and at 8.30pm there will be the Walk of Flame – a community walk through the unlit streets of Hamilton; participants will be provided with tea lights and are encouraged to bring their decorated jars to illuminate the way.
"There is a $23 entrance fee and people can register online. People can also register their support for the event at the Earth Hour event Facebook page.
"The event is being organized by Greenrock, and its executive director Gordon Johnson thanked Washington Properties for providing the space in Washington Mall.
"I also want to thank Rebecca for her support. To get someone like her involved is fantastic, a real boost for us. I am sure she will be a real crowd-puller," added Mr Johnson.
"Her appearance helps to raise the profile of this event which is designed to raise awareness of the need for Bermuda to look to sources other than fossil fuels for its power sources as well as the need to conserve energy use.
"Many people in our community are having a hard time right now meeting all their bills. Reducing the use of electricity, or finding alternatives, can also help all of us," said Mr Johnson.
"If you want to take part in the Living Green Expo contact Ashley Gillis via email at a.gillis.08@gmail.com or via telephone at 333 6097."
Read More About
Category: All, Entertainment, News