Yesterday [June 2], Premier and Minister of National Security Michael Dunkley welcomed several hundred captive insurance professionals at the Bermuda Captive Conference [BCC].
The Bermuda Captive Conference is currently taking place at the Fairmont Southampton Princess and is considered one of the foremost events for industry professionals. At yesterday's opening, Premier Dunkley took the opportunity to extend his thanks and appreciation to BCC Chairman Tom McMahon for his hard work in attracting hundreds of key stakeholders to Bermuda's shores.
Premier Dunkley said, "I understand that you have a record number of room nights booked here at the Fairmont Southampton this year, and without question this event serves as an excellent boost for our economy by generating significant revenue for our hospitality and business sectors."
A spokesperson said, "Also at the event yesterday was Ms. Carolyn Snow, the President of the Risk and Insurance Management Society [RIMS]. Ms. Snow joined Minister of Finance Bob Richards in a panel discussion to discuss the current global economic recovery. Premier Dunkley said that he was pleased to "roll out the red carpet" for Ms. Snow as she has been very hospitable to the Bermuda delegation when they visited the RIMS conference.
"The Premier also went on to impress the importance of Bermuda's captive sector to the island. He touted the fact that Bermuda is an innovative, experienced and mature jurisdiction. And he highlighted encouraging statistics which indicate that despite the global competition, Bermuda is still viewed as an attractive place to conduct business."
Premier Dunkley said, "For more than 50 years, Bermuda has been at the forefront of global finance, and we have come a long way since our humble beginnings. Our business institutions are among the world's best, and as a place to do business, Bermuda is still viewed as a destination with an excellent capacity for innovation with a very sophisticated business culture."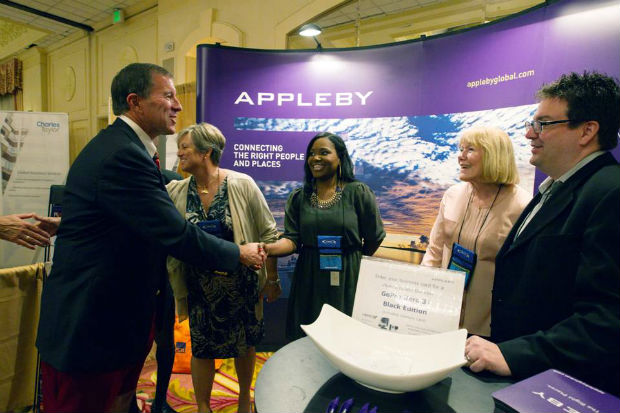 "The 2013 statistics shared by the Bermuda Monetary Authority indicate that Bermuda closed out last year on a particularly high note with a significant number of new insurance company registrations. The stats indicated that 91 new insurers were registered, including 24 new captives and a record 51 special purpose insurers were formed, along with 16 commercial insurers.
"As the world's leading provider of property catastrophe reinsurance and home to many of the top 40 global reinsurers, Bermuda continues to excel in global risk management, making us the jurisdiction of choice."
"Additionally, the Premier highlighted Minister of Education and Economic Development Dr. Grant Gibbons' announcement, shared a few weeks ago, that noted that the increase in the number of new registrations in 2013 has continued into the first quarter of 2014. In fact, a snap shot reveals that new company incorporations, both local and international, for the first quarter of 2014 were 17 percent higher than in the first quarter of 2013.
"However, in this current economic climate, the Premier cautioned that it would be dangerous for Bermuda to become complacent, stressing that "we cannot rest on our laurels."
"Over the past five and half years, since the global economic collapse, we have seen an increase in competition, with jurisdictions aggressively jockeying for precious business," Premier Dunkley said. "With our financial services sector being the single largest contributor to Bermuda's prosperity, this Government recognizes the critical importance of nurturing and protecting our relationships with our industry partners – most particularly those of you in the captive sector.
"We understand that if Bermuda is to be successful then we will need to get fresh, new injections of business and capital into our economy."
"The Premier referenced the Government's Economic Development Committee, which comprises of key Cabinet Ministers as one of the initiatives aimed at attracting direct inward investment."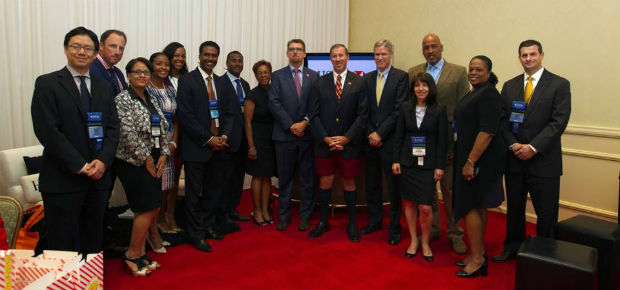 The Premier said, "Our mandate is to compress the time taken to obtain the necessary approvals to stimulate and encourage direct inward investment into our island. We have had some significant success with improving the pace of approvals required for a wide range of circumstances, from work permits to planning approvals to company formations.
"Improving the efficiency of these procedures is aimed at breaking down the barriers that formerly impeded business. And the end results not only serve to increase our competitiveness, but they serve to stimulate our economy, which in turn facilitates job creation – and ultimately these elements ensure a successful Bermuda for all."
"The Premier closed out his welcome by pledging to work with all industry partners to grow and and strengthen the economy and and reinforced the fact that Bermuda continues to be open for business."
Premier Dunkley said, "I feel quite confident that Bermuda is poised to succeed in the global arena despite increased competition in a fluctuating economic environment.
"We are a competitive, efficient, and stable financial centre operating with integrity and we are open for business. Government will continue to listen, collaborate and take action to keep our doors open. We appreciate that positive partnerships have been and will continue to be critical to the overall success of all of the representatives at this conference. We are very pleased the Bermuda Captive Conference has recognized us as a committed partner in this initiative.
"I hope that by the end of this event you will not only have learned more about what we can offer in terms of being a viable business destination, but also that our welcoming and hospitable environment is conducive to fostering partnerships that I believe will be mutually beneficial to us all in the future."
Read More About