[Updated] A group from the Rainbow Alliance of Bermuda, in collaboration with the Centre for Justice, the Human Rights Commission, Kinsfolk Bermuda, and Two Words and a Comma, are in Toronto, Canada taking part in the Annual Pride Parade today [June 29]
A spokesperson said, "Pride events take place worldwide, celebrating the 1969 Stonewall Riots in New York City's Greenwich Village, which marked the beginning of the modern gay liberation movement that has transformed the oppression of LGBTQ [Lesbian, Gay, Bisexual, Transgender, Queer] communities into pride.
"The WorldPride movement began as a way to connect global Pride events, and provide a platform and space for them to come together at one time. WorldPride 2014 Toronto is shaping up to be one of the biggest international events of our times. Bermuda was previously represented during WorldPride in London 2012.
The Bermuda contingent at today's march: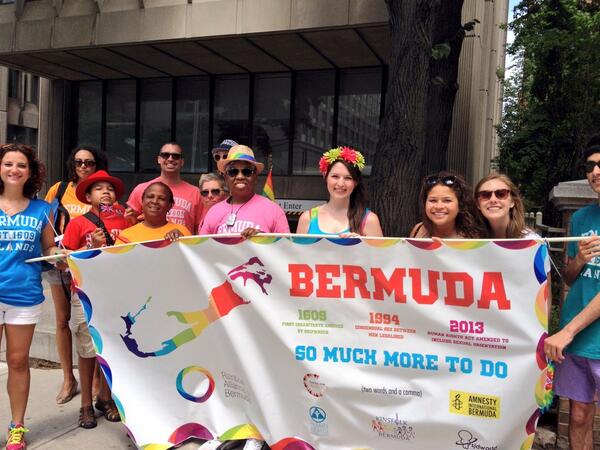 "The Bermuda LGBTQ community has much to celebrate, including the long-awaited passing of the Human Rights Act amendment in June 2013. Unfortunately, however, this amendment falls short when it comes to protection with regard to discrimination on the grounds of gender identity and gender expression. The Human Rights Act also fails to provide legislation necessary for protection against hate crimes."
"It is obvious that, while Bermuda has taken a large step forward in protecting its citizens, there are still heterosexist, homophobic, and transphobic attitudes towards our LGBTQ communities. Rainbow Alliance of Bermuda is committed to seeking safer spaces for the LGBTQ communities in Bermuda and advocating for further legislative protection."
In addition, Mark "Sybil Barrington" Anderson is also taking part in the Pride Parade and will also be performing as part of a Cabaret doing his signature number as Patti La Belle.
Tweets from Rainbow Alliance of Bermuda and Two Words and a Comma:
Tweets from https://twitter.com/bernewsdotcom/lists/worldpride-2014
Update June 30, 10.46am: A report from the Canadian media has highlighted Bermuda and Mark "Sybil Barrington" Anderson. An excerpt is below and you can read the full article here on The Star's website.
Sybil Barrington in the Parade, photo courtesy of the Rainbow Alliance: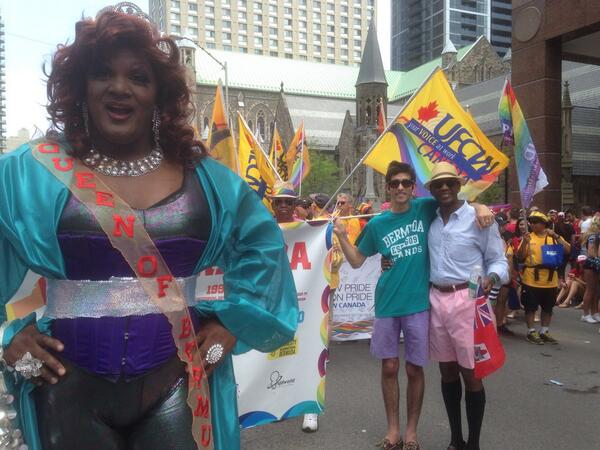 Excerpt from The Star:
The "Queen of Bermuda" came ready to talk politics as well the importance of celebrating World Pride and, unsurprisingly, showed up dressed to kill.

"I'm from a country that at one time it was legal to discriminate based on sexual orientation," said Sybil Barrington, one of an estimated 12,000 people who walked, danced and rode along the parade route that capped off 10 days of Pride celebrations.

Barrington, clad in tight iridescent pants, a sash and tiara, explained that a little over a year ago the government in Bermuda amended the human rights act to legally protect people against discrimination because of their sexual orientation when they are seeking employment or housing.

"So we are here celebrating that," said Barrington, who was born in Bermuda and, after establishing a career as a drag queen in New York City, returned there to live.

Bermuda has become a more tolerant place, but as a country they still have a long way to go, said Barrington…