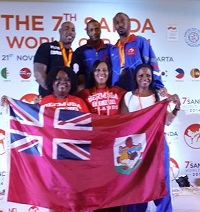 Both Bermuda fighters — Sentwali Woolridge and Jermal Woolridge — have captured medals at the 7th Sanda World Cup in Indonesia, with Sentwali winning silver, while Jermal won bronze.
Sentwali Woolridge defeated Achraf Haddadi from Tunisia with a TKO result. Woolridge lost the first round, but he came back strong in the second round forcing Haddadi off the platform twice to claim the round.
In the third round the Bermuda fighter forced Haddadi off the platform yet again, resulting in Haddadi's coach throwing in the towel to call off the fight.
Sentwali Woolridge fought again, taking on Li Shen from China, and although he put up a battle, Sentwali Woolridge went down 2 rounds to 0.
Sentwali Woolridge finished second in his division claiming the silver medal, while Jermal Woolridge won the bronze medal after finishing third in his division.
The 7th edition of the Sanda World Cup opened in the Indonesian capital, Jakarta, on November 20, with almost 20 nations represented in the tournament.
Read More About