[Updated] As of 6.30am this morning [June 23] there are traffic delays on South Road in Devonshire due to a collision that the police said involved a truck and two pedestrians.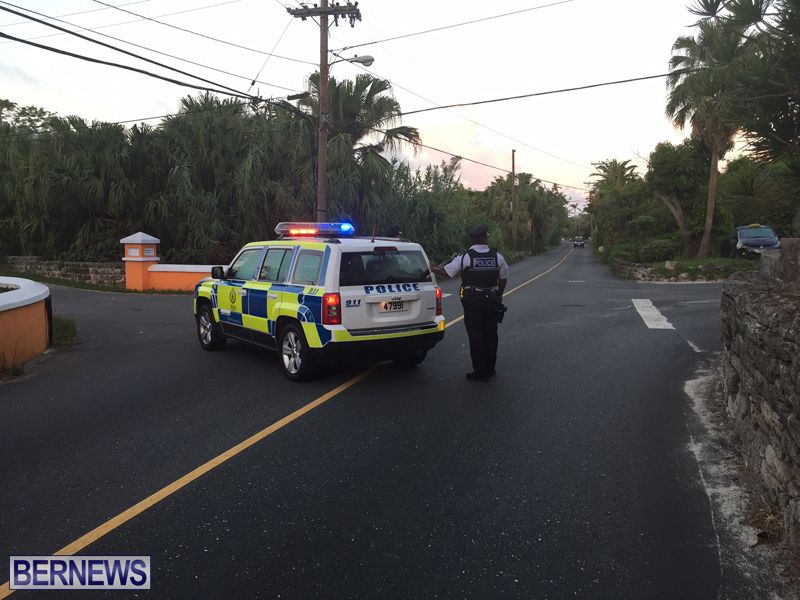 The police said the two pedestrians have been taken to the hospital and their condition at this point is unknown.
The police also advised the motoring public that the road will be closed for up to an hour while scene is being processed.
Update 7.20am: Police Media Manager Dwayne Caines said that a truck driver has been "arrested on the scene for driving whilst impaired".
"First responders attended a report of a road traffic collision that took place at 5:39am in the area of South Road and Vickers Bay Road in Devonshire," Mr Caines said.
"It appears that a truck was travelling west on South Road when the driver lost control of his vehicle and collided with two walkers, a 52 year old woman and a 32 year old man.
"Both were taken to KEMH and are being treated injuries that are believed to be serious but not life threatening. The driver was arrested on the scene for driving whilst impaired.
"The scene is currently is being processed by forensic officers and traffic collision investigators and traffic is being diverted in the area."
Update 10.32am: The police said, "The section of South Road in Devonshire between Tee Street and Brighton Hill Road temporarily closed after a 5:39am collision involving a truck and two pedestrians has since been re-opened to normal traffic flow.
"An update on the condition of the two injured pedestrians will be provided in due course and inquiries regarding this incident continue."
Update 4.46pm: A police spokesperson said, "At last check the 52 year old woman and 32 year old man injured when a truck collided with them around 5:39am Tuesday, June 23rd in the South Road, Vickers Bay Road Devonshire area were both recovering in stable condition on a general ward at the hospital.
"Meanwhile, the 22 year old male truck driver arrested on suspicion of impaired driving remains in police custody pending further inquiries.
"The investigation regarding this collision continues and witnesses that have not already come forward should contact the main police telephone number 295-0011."
Read More About
Category: Accidents and fires, All, News