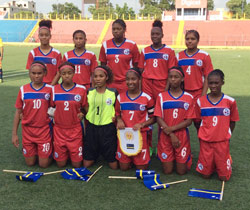 The Bermuda Under 17 Women's National Team has opened its World Cup Qualifiers with a convincing 6-1 victory over Curaçao.
In the 14th minute, Bermuda's Teyah Lindo sent a pinpoint pass diagonally to Symira Lowe-Darrell, who took one touch and smashed the ball far post to the top of the net; two minutes later it was 2 – 0 when Lindsey Hart latched onto a misplaced Brianna Swainson header and calmly placed the ball in the net.
Curaçao against the run of play pulled a goal back in the 23rd minute, making the score 2 – 1, but in the 27th minute Curaçao had a free-kick which fell to Ember Butterfield, who played it forward to Lindo, who again played a diagonal ball to Lowe-Darrell, who crossed it in for Leilanni Nesbeth to finish.
Bermuda was awarded a corner kick just as half-time was approaching, and Lowe-Darrell played a short ball to Zakiyah Durham who controlled and shot hitting the underside of the bar before dropping over the line and out. There was some confusion as to whether the ball crossed the line, but the ref signaled goal.
Bermuda started the second half much like the first half; it took 22 minutes before the Bermuda girls were able to score. Nesbeth received a superb through ball and outpaced her defender to calmly slip the ball past the advancing Curaçao goalkeeper Tihainy Nicolaas.
In the 55th minute, Lindo took a ball out of the air dropped it to the ground, rounded her defender, and struck the ball from 22 yards out, hitting the back of the net. Nesbeth scored her hat trick in the 59th minute before being substituted.
National Coach Naquita Robinson said after the game, "I think that the game was a success. We began with a rough start however we were able to settle down the game and start to play basic football. We used a lot of the tactical components that we worked on in training proving that our hard work paid off.
"Even though we faced some challenges throughout the game, we were able to pick our heads up and have a good game. In the end, we had a great result and came out on top."

Read More About