[Updated with videos + audio] Saying she wants to show "solidarity with her fellow Bermudians," a woman has stationed herself on the House of Assembly grounds and has launched a hunger strike, effective today.
Enda Matthie said she has launched a hunger strike, starting today, with no end date in mind. She has a suitcase packed, and books and pillows on hand, with intentions to make herself seen on the grounds.
Update: Video comment from Ms Matthie:
"I am for Bermudians first," she told Bernews. "I am in a state of solidarity with my fellow Bermudians. I participate in the marches and protests, but feel like things need to go to next level, it's what I feel that I can do."
Asked what she would like to see the Government do, she said she would like them to listen and care.
"We want to feel that we are a part of this island that we live on," added Ms Matthie. "I want Government to see that the everyday Bermudian is feeling the brunt."
Update: Video comment from Minister of Health, Seniors & Environment Jeanne Atherden and Junior Minister of Community, Culture & Sports Nandi Outerbridge:
Ms Matthie also has signs with her, outlining her 'Hunger Strike for Change' as aiming for "comprehensive change" to the "judicial system, airport, affordable housing, reform in all areas, economic and social equality, immigration, affordable healthcare, education, Black Watch Pass, Age Concern."
Another sign reads, "Put Bermudians first. Affordable healthcare for seniors, comprehensive bi-partisan immigration reform, equality for all, non-discriminating loan process for black businesses and home ownership, affordable housing."
Update 2.11pm: Claudette Fleming of Age Concern stopped by to visit Ms Matthie this afternoon, with Ms Fleming saying she was alerted to the Bernews article, and noted that one of Ms Matthie's signs cited Age Concern, so she thought it was "appropriate to drop everything and come down and show her our support."
Ms Fleming and Ms Matthie: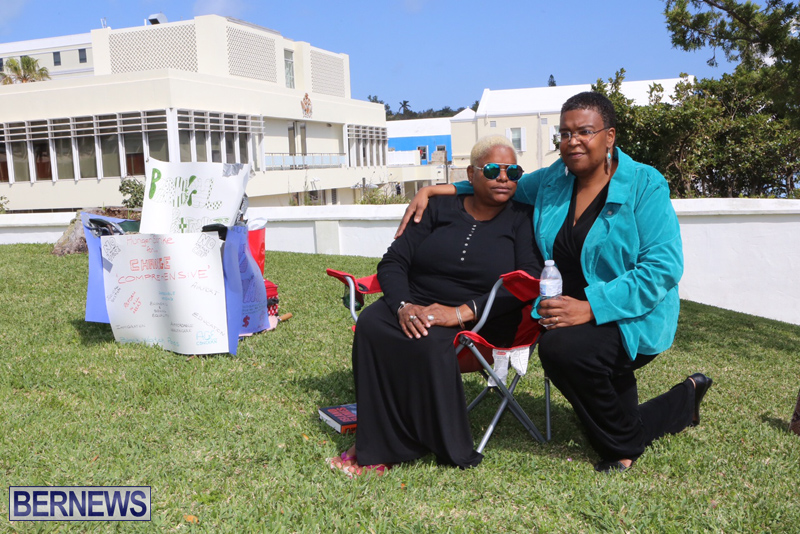 Ms Fleming told Bernews, "This is not an easy thing to do, but we recognize these are times where people are being driven to do things they wouldn't normally do because Bermuda is becoming a very scary place for the working class person."
Audio comment from Ms Fleming
Ms Matthie has also been visited by officials, including Minister of Health, Seniors & Environment Jeanne Atherden, and we will have a video posted later today.
Update 3.48pm: Ms Matthie said that the Premier stopped by to see her, and tell her that he is "listening and does care."
Update 6.01pm: More people have gathered with Ms Matthie, who is appears to be prepared for colder weather as she is now wearing a scarf with a blanket wrapped around her.
Update 6.23pm: A tent is being set up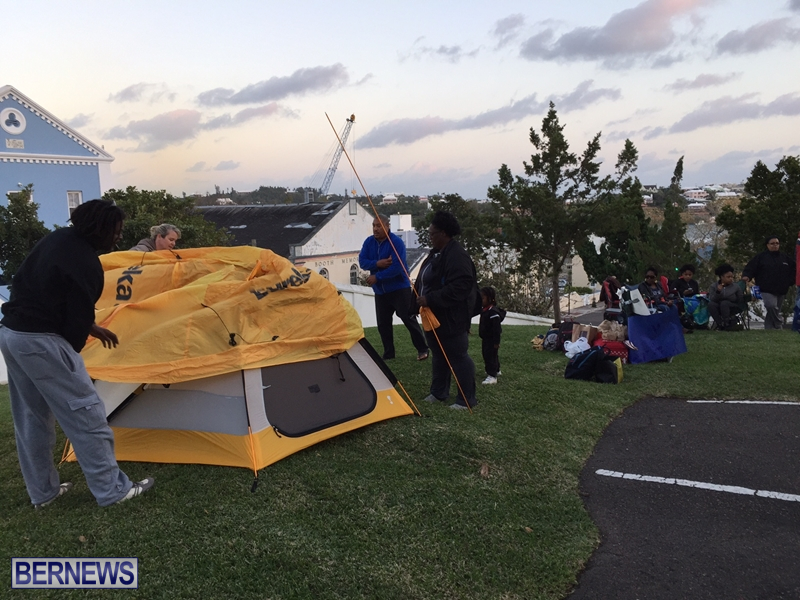 Update 10.14pm: People remain on the grounds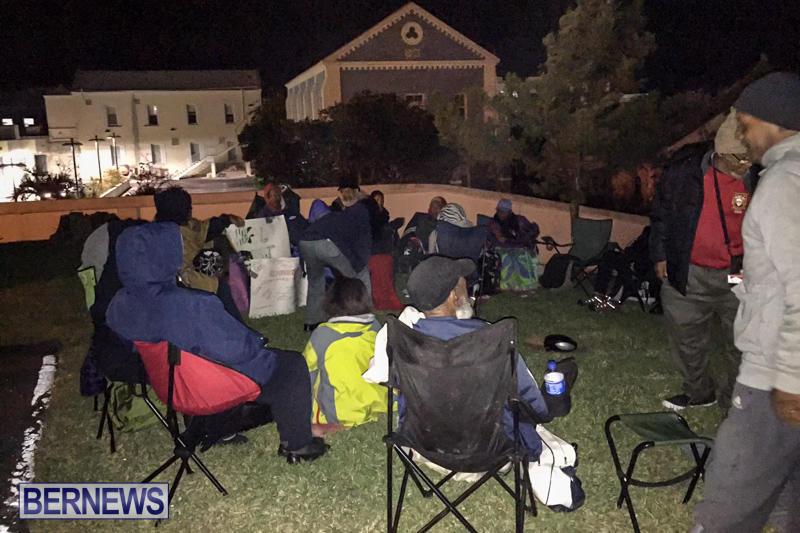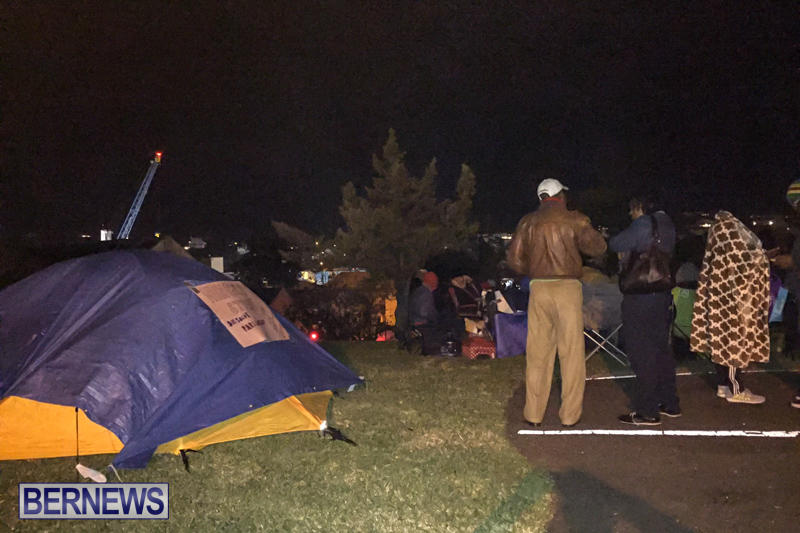 Update 10.40pm: Deputy PLP Leader David Burt also stopped by to see Ms Matthie this evening, and has tweeted a photo of the sign on the tent which says to "dissolve Parliament" and "call an election now", with his tweet saying he "let the voters decide if Bermuda supports OBA's Pathways! "
Couldn't agree with Ms. Matthie any more. @BermudaPremier let the voters decide if #Bermuda supports OBA's Pathways! pic.twitter.com/NcP7jBXNte

— David Burt, MP (@DavidBurtMP) March 9, 2016
Photos below are from this morning's story: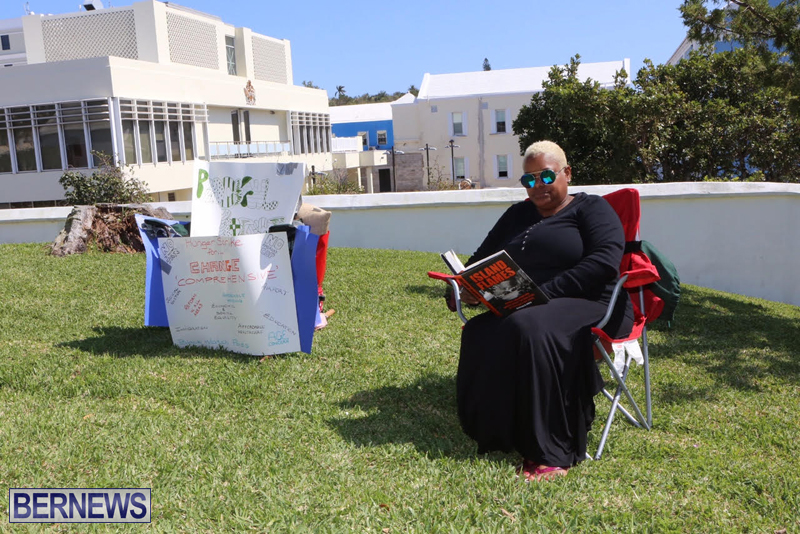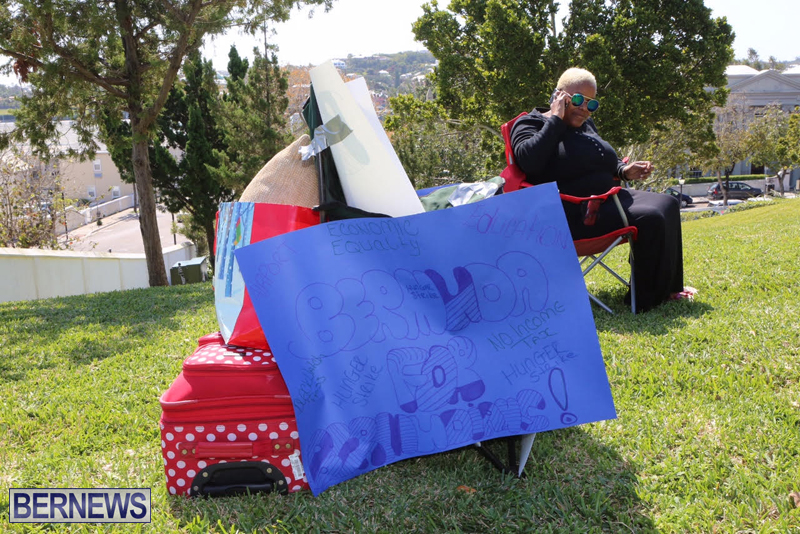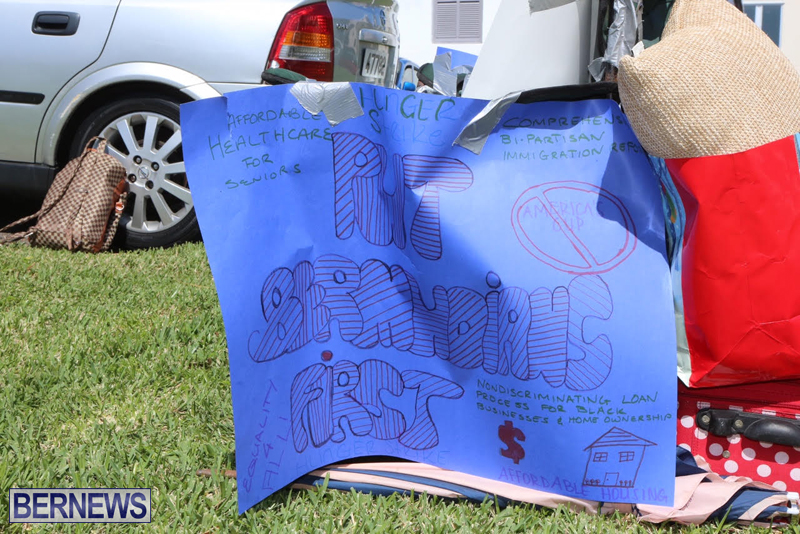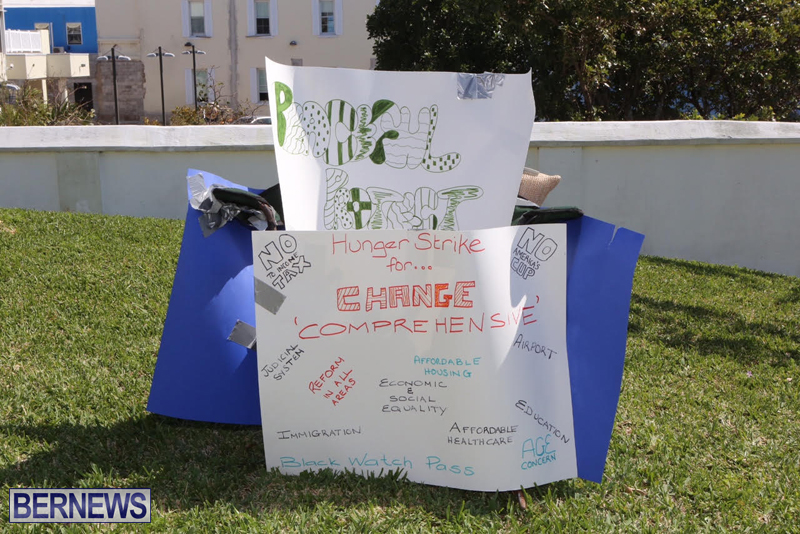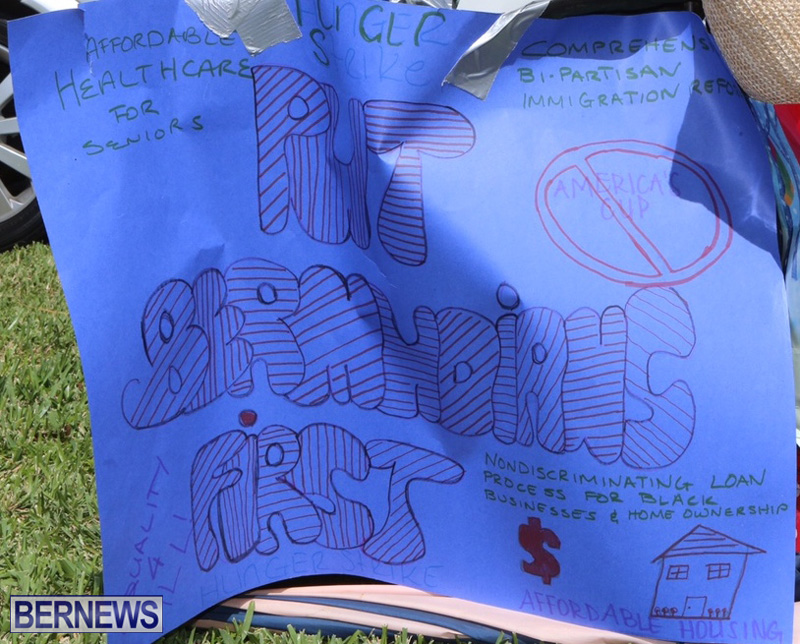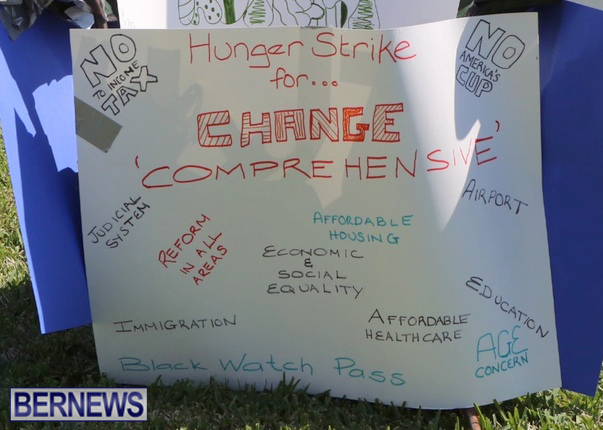 Read More About