The Bermuda Underwater Exploration Institute [BUEI] will screen a film titled "Imagine a World Without Fish: The End of the Line" during an installment of the BUEI Talks series on May 3.
The screening of the film – based on a book by Charles Clover, who will be on hand for a Q&A session – will be held at 6.30pm.
The event poster says, "Charles Clover is Executive Director of the Blue Marine Foundation, an award-winning marine charity. A lifelong author and journalist, he was Environment Editor of the Daily Telegraph for 20 years and still writes for the Sunday Times in London.
"Before writing The End of the Line [2004], which spawned the charity, he co-authored a book with the Prince of Wales, Highgrove: Portrait of an Estate [1993]."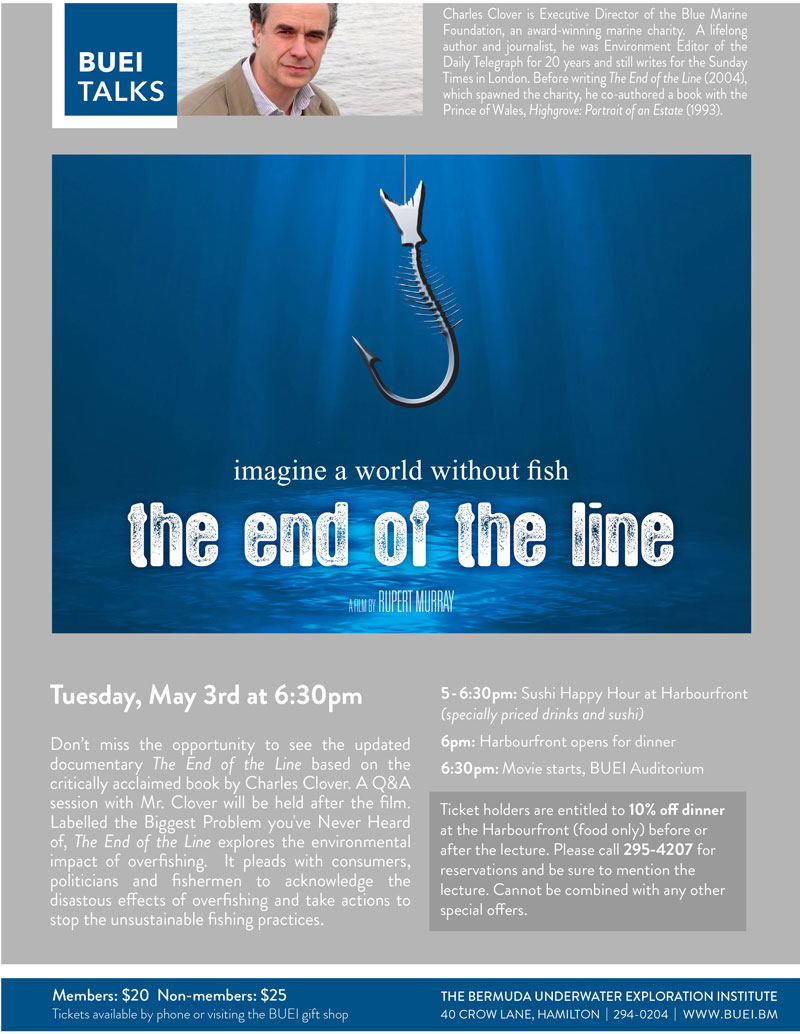 "Don't miss the opportunity to see the updated documentary The End of the Line based on the critically acclaimed book by Charles Clover. A Q&A session with Mr. Clover will be held after the film. Labelled the Biggest Problem you've Never Heard of The End of the Line explores the environmental impact of overfishing.
"It pleads with consumers, politicians and fishermen to acknowledge the disastous effects of overfishing and take actions to stop the unsustainable fishing practices."
Preceding the 6.30pm screening, a Sushi Happy Hour will be held at Harbourfront from 5.00pm to 6.30pm, with dinner opening at 6.00pm.
Tickets cost $20 for members and $25 for non-members, and are available by calling 294-0204 or visiting BUEI's Oceans Gift Shop.
Read More About
Category: All, Entertainment, Films/Movies