News that Bermuda will host the 2018 Moth World sailing event, Bermuda's Muay Thai team won medals in Iowa, Kyrsten Burrows was selected as an XL Catlin Scholar, and Robert Wilson won GSP's "Father Of The Year" title were all some of the positive news stories from the past week.
In other good news, Sinae Smith was awarded the 2016 Deloitte Scholarship, Chioma Nwasike was awarded the 2016 Brown Family Scholarship, a number of students received Richard Eve Scholarships, and 26 students graduated following their General Education Development examination.
Additional good news stories included Summerhaven residents enjoying a fishing trip, the Coach brand launching in Bermuda with an event at Lusso, and specialist insurer Neon opening an office in Bermuda.
We also posted various community photo galleries, including coverage of Greenrock's Eco-School award ceremony, the America's Cup Foil Fest event, Around the Island Seagull Race, Docs for Dinner event, the Bermuda Dance Academy's "In The Movies" recital, as well as tennis, sailing and golf photo galleries.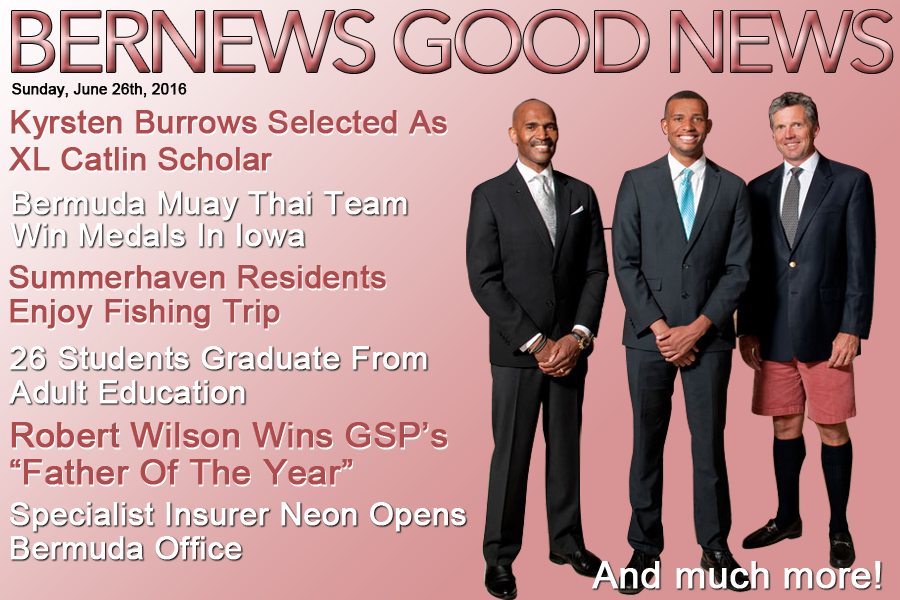 In an effort to highlight some of positive news happening in our community, we supplement our standard morning and evening email newsletters with a special Sunday "Good News" email newsletter edition, which strictly focuses on the positive news from the past week.
You can sign up to have the free newsletter delivered via email here, and/or access the links below. In addition, for those who like positive news, please feel free to visit our sister site ForeverBermuda.com, which seeks to showcase the best of Bermuda as well as provide information and listings for visitor related services.
Links to some of the 'good news' from the past week are below:
Read More About