Team Oni Racing Club is set to host the "TORC Extreme Sport Showdown" on Sunday, June 12th at #1 Car Park on Front Street in Hamilton from 1pm —7pm.
"This event is a 6 category extreme sport competition, similar to the X Games, but using popular Bermudian sports," organiser Jamie Lovell said.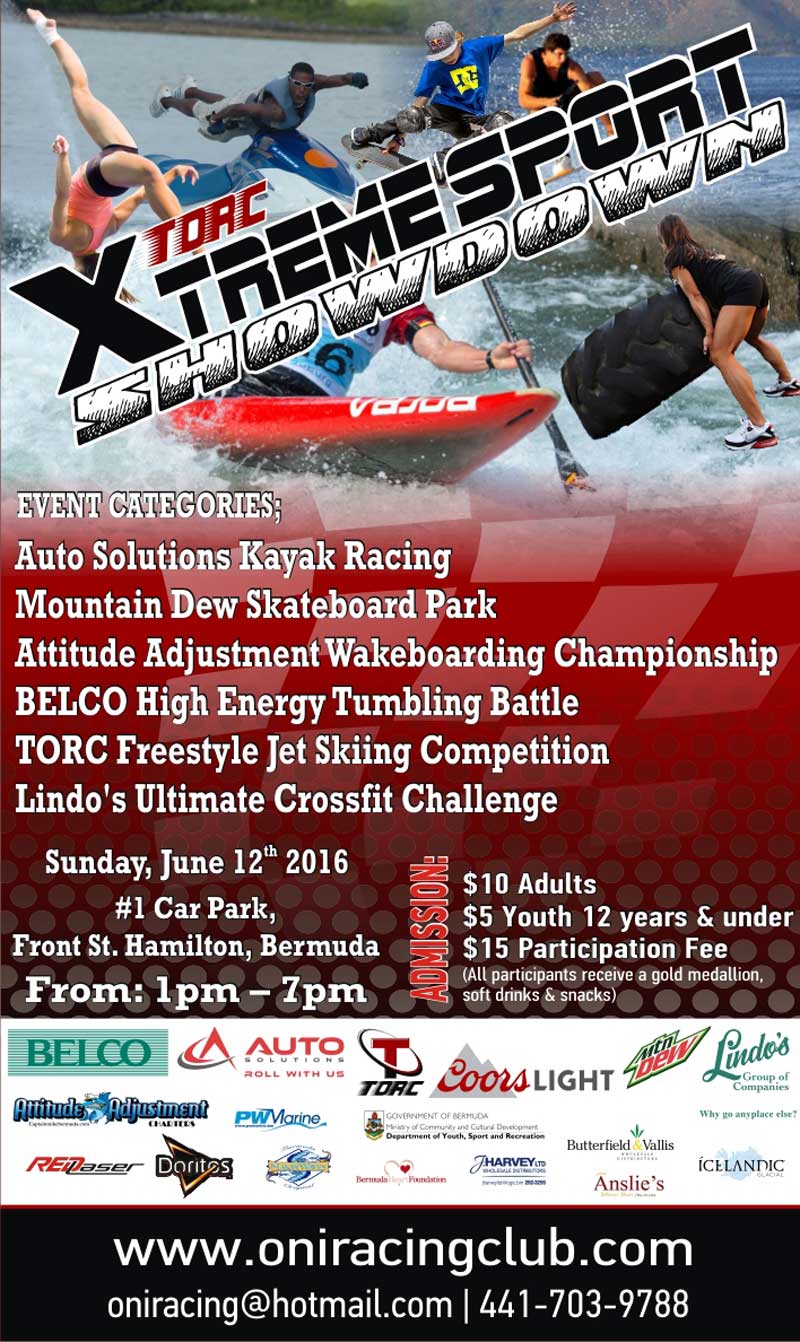 "It costs $15 to participate per event and all competitors receive a gold medallion, soft drinks and snacks. We request the supply their own equipment and safety devices, but items can be rented from our sponsors 1st, 2nd, 3rd place trophies and sponsorship prizes will be awarded in each category. Interested participants can register here," Mr Lovell added.
"General Admission: $10 Adults, $5 Youth 12 years and under, Free for seniors and infants This event also features an exhibition by Jump 2B Fit Bermy Bouncers and Coconut Rocket Flyboarders, an Interactive fun park, sponsor display booths, musical performances from local artists and a food & beverage vendors row."
The event categories are:
Auto Solutions Kayaking Grand Prix:
This is a pack racing event where participant will race 1 laps heats around a 4 corner course. The final will consist of 4 competitors in a 2 lap Grand Prix to see who is the champion.
Mountain Dew Skateboard Park:
Skaters will have up to 5 minutes to show their skills and creativity as they navigate around an obstacle course filled with quarter pipes; kickers, copings and grind boxes. Judging will be based on style, execution, balance and degree of difficulty.
Attitude Adjustment Wakeboarding:
Competitors will have 3 laps to perform as many tricks as they can around 2 pylons set 85 meters apart, 100 yards off hore. Judging will be on style, execution, difficulty and balance.
BELCO High Energy Tumbling Battle:
This is an elimination battle, each gymnast alternating one at a time. After 2 rounds, 5 will go through to the final. Judging will be on skill, difficulty, endurance and execution.
TORC Freestyle Jet Skiing:
Each rider will perform as many tricks as they can one at a time within a regulated zone. They'll have a total of 5 minutes from start to finish to wow the judges and crowed.
Lindo's Ultimate Crossfit Challenge:
A one vs one time trial race where competitors race against the clock and each other in 5 crossfit disciplines. Consisting of a truck pull, tire flip, crossing monkey bars, tire run and ladder climb. 1st to the top wins the race, but the fastest time wines the title.